Roster competition energizing Braves' clubhouse
Gonzalez needs to fill out rotation, bullpen and bench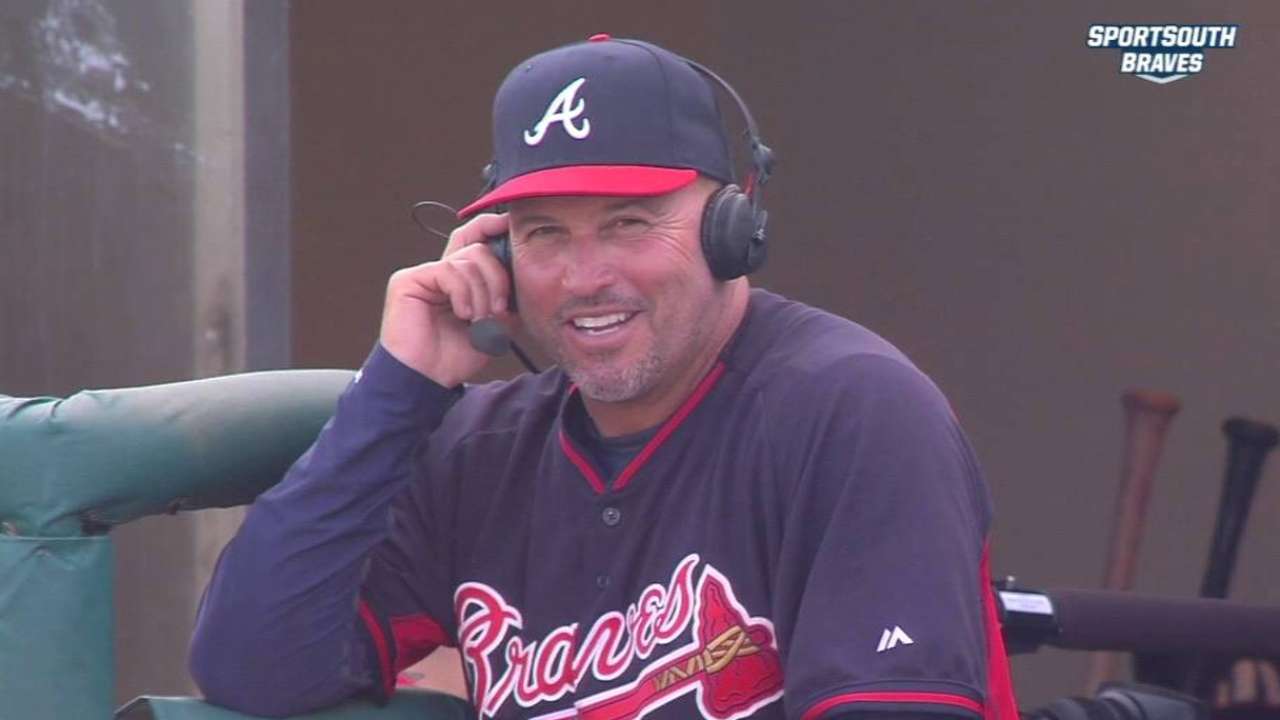 LAKE BUENA VISTA, Fla. -- Braves manager Fredi Gonzalez appears to be energized by the fact that he has approximately two more weeks to evaluate numerous position battles and determine exactly who will fill the final available spots on his Opening Day roster.
"It's added some energy in the clubhouse," Gonzalez said. "It's a good atmosphere because there is competition."
Along with needing to fill two rotation voids and at least two bullpen spots, the Braves will spend the remainder of Spring Training determining exactly how they want to align their bench at the beginning of the upcoming regular season.
Gonzalez said if the season started today, his infielders would be Freddie Freeman, Jace Peterson, Andrelton Simmons, Chris Johnson, Phil Gosselin and Alberto Callaspo. His catchers would obviously be Christian Bethancourt and A.J. Pierzynski.
The outfield mix is influenced by the uncertainty about whether Nick Markakis will be ready by Opening Day.
If Markakis, who underwent neck surgery in December, is indeed ready, he would join Eric Young Jr. and Jonny Gomes to fill three of the five available outfield spots. The candidates for the other two spots are Joey Terdoslavich, Eury Perez, Zoilo Almonte, Kelly Johnson and Todd Cunningham.
There has been some reason to think one of those spots will go to either Terdoslavich or Johnson because both essentially provide the same intangibles -- an ability to play both corner outfield spots and provide the bench with some left-handed power potential. Johnson provides a little more versatility via his ability to play each of the infield positions, including shortstop, if necessary.
But Gonzalez said he might opt to fill these final two spots with a pair of prototypical backup outfielders, a description that would better fit Perez, Almonte and Cunningham. If the Braves choose to leave both Johnson and Terdoslavich off the roster, the switch-hitting Almonte would serve as the bench's left-handed power source.
While Gonzalez has hinted that he will not necessarily use a strict platoon with Gomes in left field, he will want to have a regular option to fill the position on those days when he does not want Gomes to play against select right-handed starters. Perez and Almonte appear to be slightly ahead of Cunningham in the battle to gain this role.
Perez's advantage over Almonte comes via his ability to capably handle the center field position on those days when Young either needs to rest or sit against select left-handed starting pitchers. But because Almonte is out of options, the Braves will give him every chance to prove he can provide more offensively than he has while hitting .212 through his first 14 Grapefruit League games.
Johnson's roster candidacy seemed to be fading when he recorded just two hits through his first 19 at-bats. But the veteran showed some life when he doubled against the Red Sox on Tuesday and homered against the Yankees on Wednesday. Meanwhile, Terdoslavich, who enjoyed some early success, entered Thursday with just two hits in his past 12 at-bats.
Gonzalez is looking forward to seeing how these roster battles unfold as the candidates start facing more accomplished and proven pitchers much more frequently than they did during the early days of camp.
"It really is fun," Gonzalez said. "What you want is for everybody to play well and for us to make the tough decisions."
Mark Bowman is a reporter for MLB.com. This story was not subject to the approval of Major League Baseball or its clubs.