Werth progressing, set to play defense in Minors game
Oufielder, eyeing Opening Day, still has pain while hitting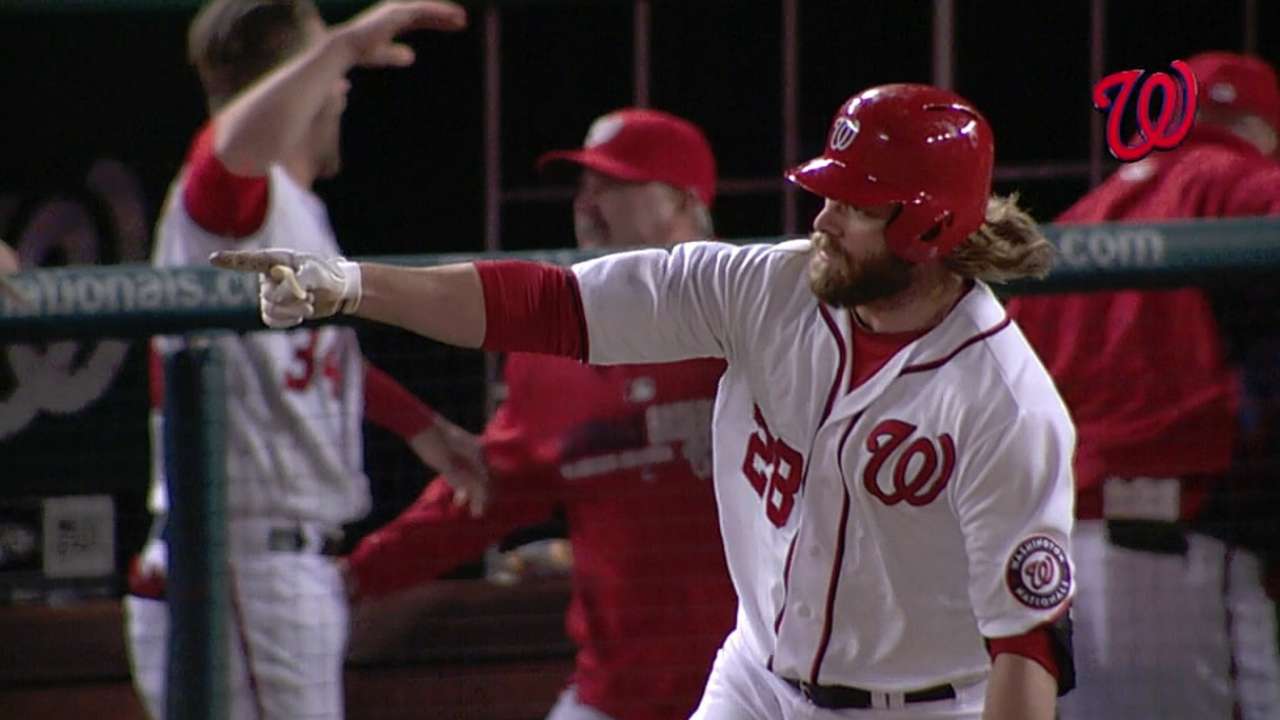 VIERA, Fla -- When he first arrived here for Spring Training, Nationals left fielder Jayson Werth could barely get his right arm in position to throw without his surgically repaired right shoulder tightening up.
"I just wasn't sure if I'd ever be able to really let it go," Werth said.
Now Werth's shoulder has improved quickly enough that he is slated to play defense in a Minor League game on Friday, his first game action of the spring. The Nationals are able to create a more controlled environment there for Werth, who still feels pain while hitting.
Now, when he is able to control his swing, at a pitch down the middle of the plate or off a tee, Werth said he feels fine. It's only when he has to swing at a ball out of the zone, which is bound to happen in a game, that he experiences pain. Werth said he has been told, however, that he will continue to have these slight aches and pains until one day they disappear.
He said his shoulder is now near 100 percent while throwing, and if how he feels swinging also improves at a rapid rate, he expects to be ready for the Nationals' season opener on April 6.
Werth has said he does not need a lot of at-bats during the spring to be ready for the start of the season.
"I don't know, five?" he joked Thursday.
"When your goal is Opening Day, and you watch your guys go out and play everyday, I feel like it's moving slow," Werth said. "At the same time, it's progressing."
Injury roundup
• Closer Drew Storen, who had surgery to remove the hook of the hamate bone in his left hand, is scheduled to throw a live batting practice session on Friday.
• Yunel Escobar took more grounders at second base on Thursday, and he will likely appear in a Minor League game before he returns to action in spring games.
Jamal Collier is a reporter for MLB.com. Follow him on Twitter at @jamalcollier. This story was not subject to the approval of Major League Baseball or its clubs.