Brewers exercise 2016 club option on Roenicke
Players praise manager's communication skills over 4 seasons in Milwaukee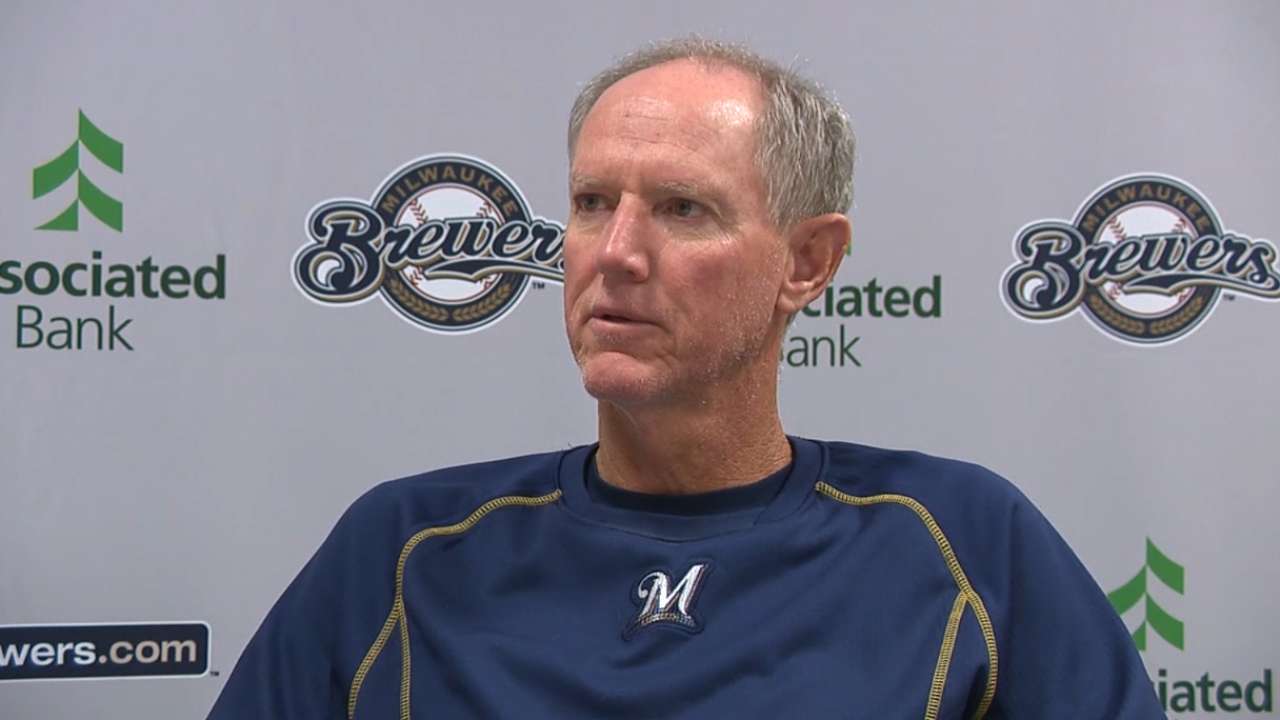 PHOENIX -- The Brewers eliminated a potential distraction Thursday by exercising their 2016 option on manager Ron Roenicke, providing additional security for a skipper who had been entering the final year of his contract.
"You never want to go there," Roenicke said of his former lame-duck status. "It's not comfortable. Especially when I concentrate so much on what I do with my job, and I don't want to have to answer questions about the personal side of it. So this is really good for me."
Brewers veterans greeted the news warmly, lauding Roenicke's communications skills during his first four seasons at the helm. He was a first-time Major League manager when GM Doug Melvin hired Roenicke for the 2011 season, when the team rode a stellar starting rotation and the Ryan Braun /Prince Fielder tandem to within two victories of reaching the World Series.
Since then, the Brewers have missed the postseason three straight years but have posted only one sub-.500 record. Last year, the team spent 150 days in first place before fading down the stretch to an 82-80 finish, leading to a three-week period in October during which Melvin and owner Mark Attanasio considered making changes.
"Of course I was wondering," Roenicke said. "It's part of the job, and if that's just going to crush you and you can't handle it, then you shouldn't be doing the job. I realize it's that way. I realize there's a lot of things that are going to fall on me when they really maybe shouldn't, but that's OK. We know that coming in, and that's OK. If I didn't want to have that challenge and that fell on me, I would have never taken the job."
Melvin approached Roenicke several weeks ago about exercising the option. Melvin's own contractual status remains unchanged; his deal expires after this year.
"Ron was fine going into the last year. We had a discussion back in the fall," Melvin said. "But we talked about it further, and Mark and I visited on it and felt it was the right thing to do. [Roenicke] has had success here. ... Ron has a winning percentage of .517 [335-313]. That's the same as Joe Maddon's. Bob Melvin is .516. [Bruce] Bochy is .502. John Farrell is .497. When you grade it out, [Roenicke] has had some success.
"Clint Hurdle has had three winning seasons in 13 seasons. I know manager's jobs are tough. They're hard. A lot of times, it depends on the players. Ron has done a good job his first few years here, coming in. We felt confident he can build on the relationship he has had with the players and in the organization."
Melvin and the Brewers' core players -- Braun, Carlos Gomez, Jonathan Lucroy and Aramis Ramirez -- all cited the same word in describing Roenicke's best asset: "Communication." Each of those players on Thursday absorbed the blame for last year's collapse.
"It's not his fault, it's not the front office's fault. It's our fault as players," Braun said. "So we were certainly hoping he wouldn't have to take the fall for our poor play the last month. More than anything, we're all thankful that he got an opportunity to come back, because we would have all felt terrible had he been gone."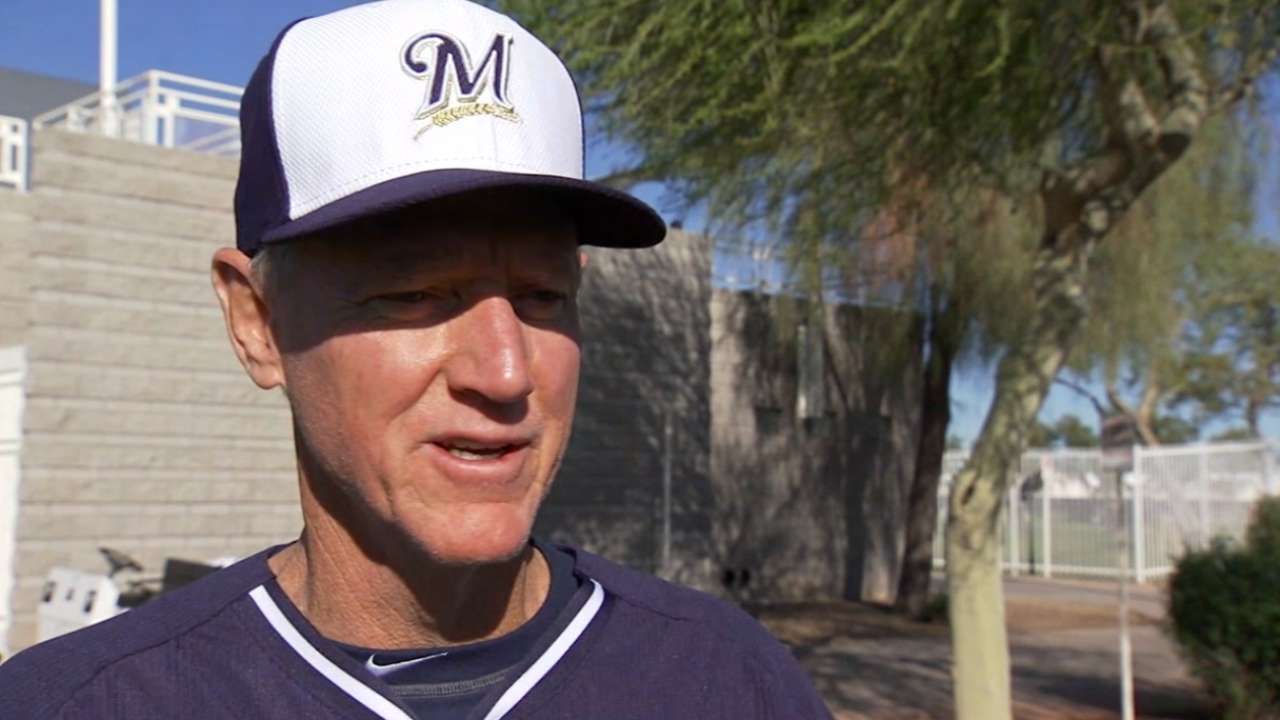 Roenicke, 58, played parts of eight seasons as a big league utility man before entering the coaching ranks. This will be his 10th season as a manager in professional baseball.
"Managers learn, too, in their early years," Melvin said. "The same way players get better, the development of managers takes place. Bob Melvin is a pretty good manager and he has had to do it with two different teams.
"I always go back to the history of Tony La Russa and Bobby Cox. Over 65 years of managing, [they won] four World Series. But they're Hall of Famers. That tells you how hard managing is in baseball."
On Thursday, Roenicke's job became a little easier. No more questions about being a lame duck.
"Anytime we can make things sail smoother, then it's great," he said.
Adam McCalvy is a reporter for MLB.com. Read his blog, Brew Beat, and follow him on Twitter at @AdamMcCalvy. This story was not subject to the approval of Major League Baseball or its clubs.