MLB.com Columnist
Jonathan Mayo
O's Connaughton leads All-Prospect hoops team
Notre Dame forward one of many in MLB pipeline with serious game on hardwood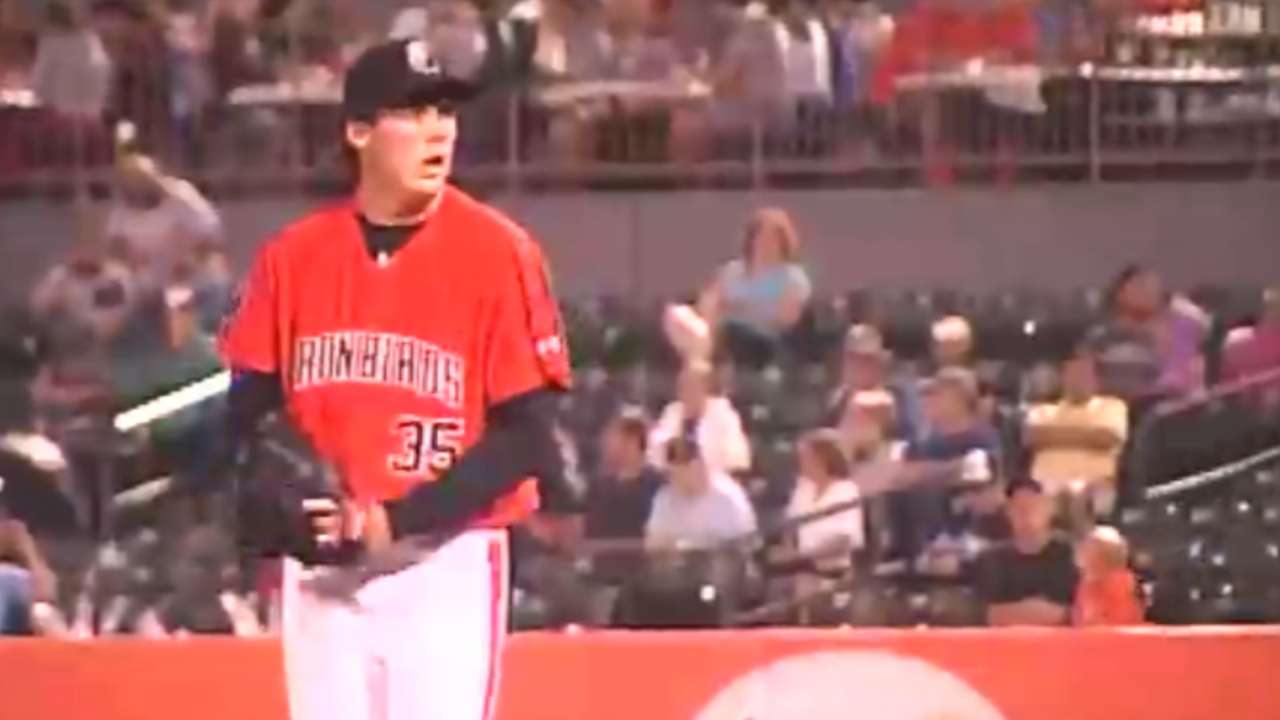 True baseball fans should have Notre Dame going far in their NCAA Tournament brackets. Or at least Orioles fans should.
That's because of Pat Connaughton, resident small forward/right-handed pitcher. A key cog in the No. 3-seed Fighting Irish machine, Connaughton also throws mid-90s fastballs from the mound. That ability led to his being drafted in the fourth round of the 2014 Draft by the Orioles, and it's why he's currently ranked No. 9 on their Top 30 Prospects list. He made his pro debut last summer, tossing 14 2/3 innings for Aberdeen in the short-season New York-Penn League.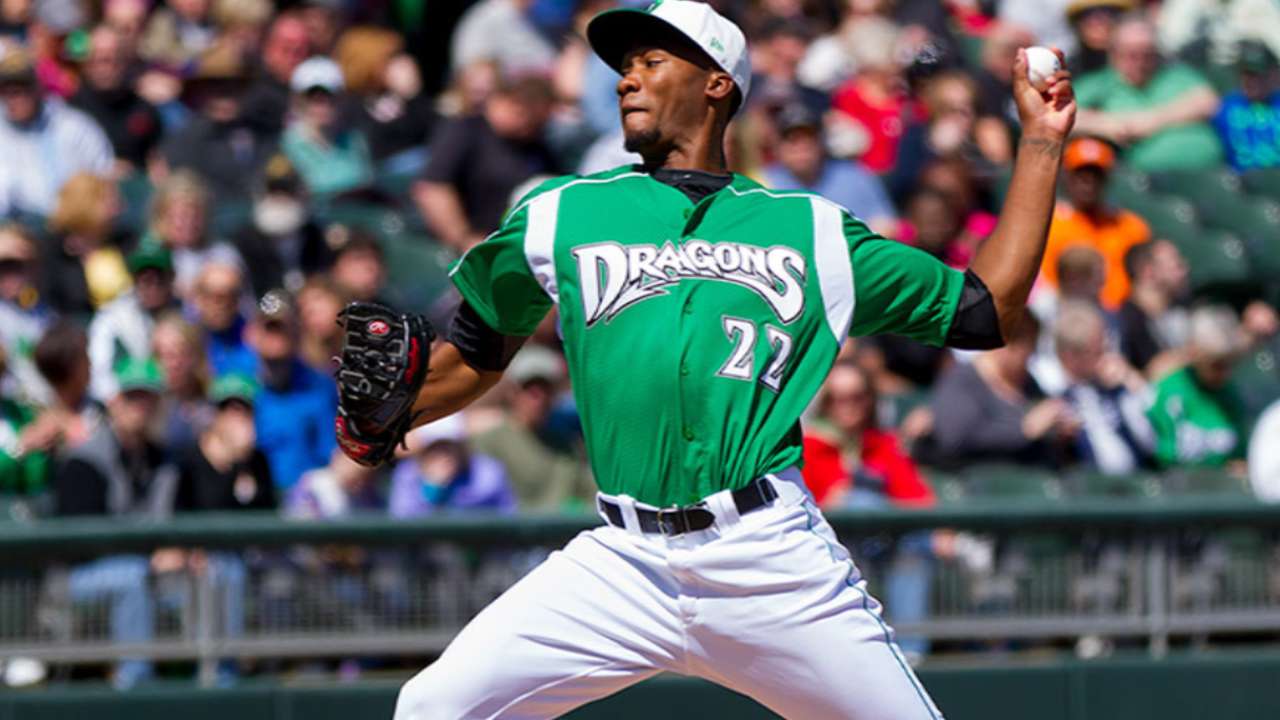 Connaughton isn't the only top-flight baseball prospect who has excelled on the hardwood. The Reds' No. 6 prospect, Amir Garrett, also attempted to play pro ball while continuing to play college hoops. He split his time over multiple seasons developing his skills as a left-handed pitcher and playing basketball for St. John's.
With a nod to March Madness, we take a look at who would join Garrett and Connaughton on an All-Prospect basketball team. Here's our MLB Pipeline Dream Team:
Pat Connaughton, RHP, Orioles (No. 9 on Top 30)
Hoops highlights: Starting small forward for Notre Dame team seeded No. 3 in the Midwest Region. Averaged 11.4 points and 7.5 rebounds this season.
Connaughton has started for Notre Dame's basketball team since he was a freshman, and he became the 56th player in school history to top the 1,000-point mark. He also played three seasons with the Fighting Irish baseball team, totaling 154 2/3 innings and finishing with a 3.03 career ERA.
Amir Garrett, LHP, Reds (No. 6 on Top 30)
Hoops highlights: Averaged 7.4 points per game as a freshman and 5.4 points per game as a sophomore at St. John's University.
Garrett's playing time dipped from his freshman to his sophomore year, and then he transferred to Cal State-Northridge. But after sitting out a year, he hung up the high-tops for cleats for good after two years of squeezing in baseball in the summers.
He and Connaughton did cross paths in the Big East.
"When I was there, he used to always ask me on the court, 'How does that work?'" Garrett recalled. "We're running up and down the court talking. It was pretty cool."
Just this past fall, Garrett let go of his hoop dreams to devote himself to pitching full-time. But, of course, that doesn't mean he's not paying full attention to the tournament.
"I'm going with the Johnnies all day," Garrett said. "They're a 9 seed right now. I'll keep up with them. They play San Diego State."
Monte Harrison, OF, Brewers (No. 3 on Top 30)
Hoops highlights: Drew Division I interest for hoops as a high-flying human highlight reel. Led his team to the Missouri state semifinals as a senior.
Harrison was a three-sport star in high school, and he could've played football and baseball at Nebraska. But, man, can this guy sky.
Taijuan Walker, RHP, Mariners
Hoops highlights: Scored 21 points and grabbed more than 15 rebounds per game as a senior in high school.
Technically, no longer a prospect since he doesn't have rookie eligibility, Walker was No. 1 on the Mariners' Top 20 when he graduated from the list last year. But his hops earn him a spot on the team.
Tim Anderson, SS, White Sox (No. 77 on Top 100; No. 2 on Top 30)
Hoops highlights: Won an Alabama state title with Hillcrest High School in 2011.
Anderson didn't even play baseball until late in his high school career, focusing on his point-guard duties. He went undrafted coming out of high school, then spent two years at East Central Community College before going in the first round of the 2013 Draft.
Spencer Adams, RHP, White Sox (No. 4 on Top 30)
Hoops highlights: Four-year letter-winner at White County High School in Georgia.
Adams was a three-sport star in the Georgia high school ranks, playing football (three years of varsity) along with baseball and basketball. He put the other sports aside and signed with the White Sox as a second-round pick in the 2014 Draft. He's coming off a very solid pro debut, striking out 59 and walking just four over 41 2/3 innings in the Rookie-level Arizona League last summer.
Lane Adams, OF, Royals (No. 21 on Top 30)
Hoops highlights: Set school record by scoring 61 points in a game for Red Oak High School in Oklahoma.
Adams could have gone on to play basketball at Missouri State, but he signed with the Royals after being taken in the 13th round of the 2009 Draft. He made his big league debut in September and brings a lot of speed to the table.
Aaron Judge, OF, Yankees (No. 69 on Top 100, No. 2 on Top 30)
Hoops highlights: Averaged 16.9 points and 11.6 rebounds per game as a junior and senior at Linden High School in California.
Judge was actually a three-sport star at Linden, setting single-season records for receiving yards and touchdowns, as well as the career mark for TDs in football. He was drafted in the 31st round by the A's out of high school, then went in the first round to the Yankees after three seasons at Fresno State. The biggest connection to hoops for the 6-foot-7 Judge might be his striking resemblance to NBA star Blake Griffin.
Bubba Starling, OF, Royals (No. 13 on Top 30)
Hoops highlights: Known more as a top QB recruit, but as a sophomore at Gardner High School in Kansas, he averaged 17.1 points and 11.6 rebounds per game.
Kevonte Mitchell, OF, Cubs
Hoops highlights: A 13th-round pick of the Cubs in the 2014 Draft, Mitchell scored 24.4 points per game and was All-State as a senior at Kennett High School in Missouri.
Keynan Middleton, RHP, Angels
Hoops highlights: The 2013 third-rounder played hoops at Lane Community College, averaging just over 11 points per game while hitting 39 percent from behind the three-point arc.
Jonathan Mayo is a reporter for MLBPipeline.com and writes a blog, B3. Follow @JonathanMayoB3 on Twitter. This story was not subject to the approval of Major League Baseball or its clubs.