Pierzynski's ejection news to Braves manager
Gonzalez initially unaware catcher had been tossed by plate umpire West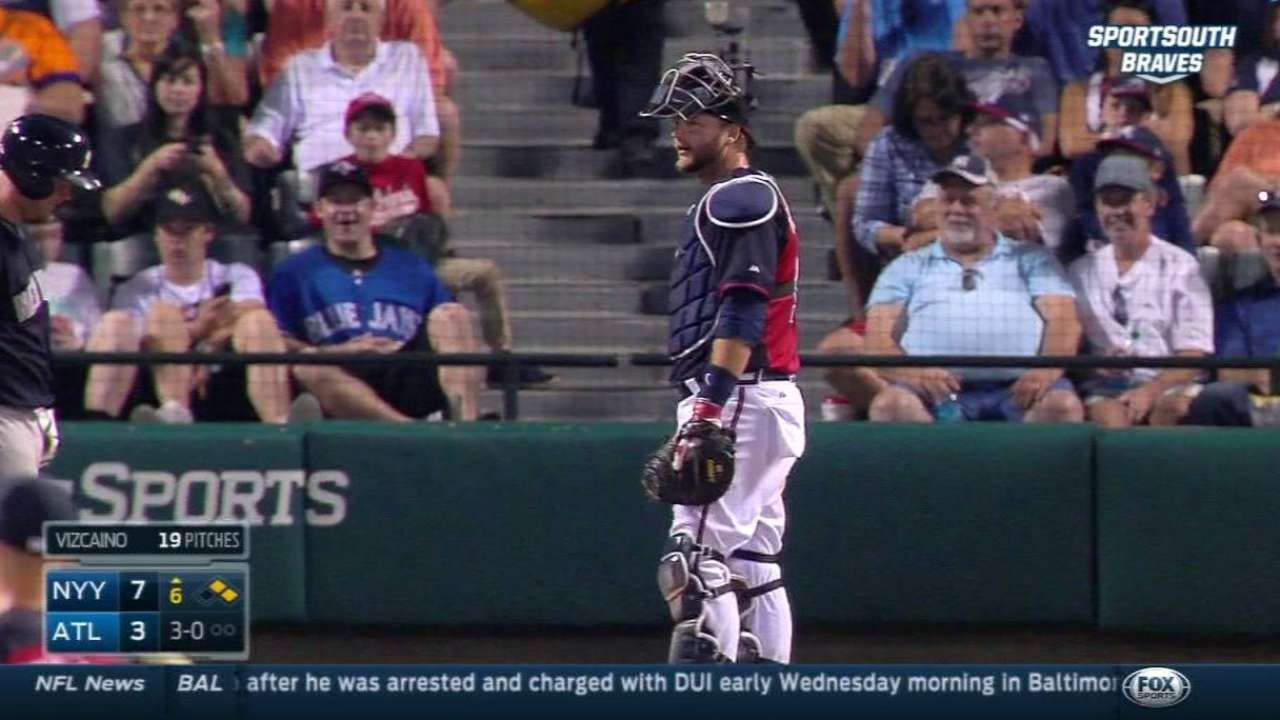 LAKE BUENA VISTA, Fla. -- When A.J. Pierzynski casually strolled toward the Braves dugout during the sixth inning of Wednesday night's 12-5 loss to the Yankees, it initially appeared he might be in need of a new piece of equipment.
Though he had seemingly exchanged some words with plate umpire Joe West during the early innings, there was no apparent sign of an ejection until a video replay showed West casually gesture an ejection by swiping his fingers toward the home dugout.
West informed Braves manager Fredi Gonzalez he would need a new catcher, prompting the skipper to walk toward West for an explanation as first-base coach Terry Pendleton threw his hands up in frustration at the first-base end of the dugout.
"I don't know if it was an ejection or not," Gonzalez said with a chuckle after the game. "Joe asked for another catcher. He said, 'Let's get another catcher in here.' It is what it is."
Pierzynski opted not to address the issue Wednesday night. While playing for the Red Sox last year, the veteran catcher was ejected from a game when he turned to rookie umpire Quinn Wolcott and said, "Give me a ball, a new ball -- one you can see."
Mark Bowman is a reporter for MLB.com. This story was not subject to the approval of Major League Baseball or its clubs.