Tanaka keeps ball on the ground, cruises for second time
Following up perfect spring debut, Yankees righty throws 3 2/3 scoreless innings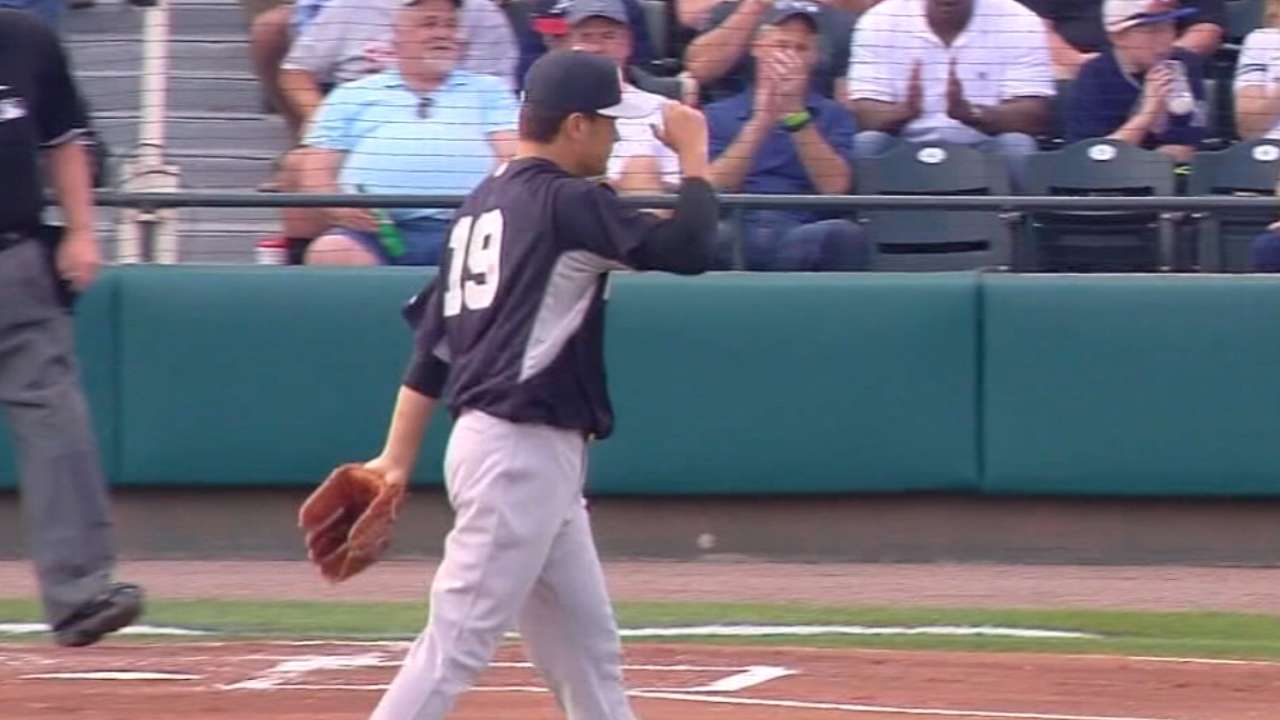 LAKE BUENA VISTA, Fla. -- If Masahiro Tanaka has any lingering issues from the elbow injury that cut short his 2014 season, he sure hasn't shown it this spring.
The Yankees' ace was dominant for the second time in as many outings on Wednesday night, striking out three batters while allowing two hits over 3 2/3 shutout innings in a 12-5 win over the Braves. This, of course, came after Tanaka retired all six batters he faced in his spring debut -- also against the Braves -- last Thursday.
"I'm pleased with the way he's throwing," manager Joe Girardi said. "Since Day 1 of Spring Training, we've been happy with what we've seen. ... He appears to be healthy, he's throwing the ball, so just keep running him out there and keep building him up."
Tanaka was cruising along vs. Atlanta, having faced the minimum, before serving up a hard-hit, two-out double to Freddie Freeman in the fourth inning that ended the right-hander's night. Still, Tanaka has retired 16 of the 18 batters he's faced this spring, while allowing only two of those hitters -- Freeman on his double and Zoilo Almonte on a third-inning flyout -- to hit the ball out of the infield in the air.
The other hit allowed by Tanaka came on a seeing-eye single up the middle by Braves catcher A.J. Pierzynski. Tanaka, however, quickly erased that hit by inducing a double-play ball -- one of the six grounders he induced -- one batter later.
"Nothing special," Tanaka said through an interpreter, when asked if he was focusing on anything specific. "I just wanted to look and see how everything was working, how everything was coming out of my hand. I think it was all good."
As for when Tanaka's next start will come, Girardi said nothing is set in stone yet. This most recent start came on five days' rest, as the Yanks have been handling Tanaka's workload with caution this spring after he missed 2 1/2 months last season due to a partially torn ulnar collateral ligament in his elbow.
"I think it was a plus," Tanaka said of the extra rest. "I've been able to build up pretty well so far, so I think it has helped me."
Paul Casella is a reporter for MLB.com. This story was not subject to the approval of Major League Baseball or its clubs.