Bailey comfortable in first game action since 2013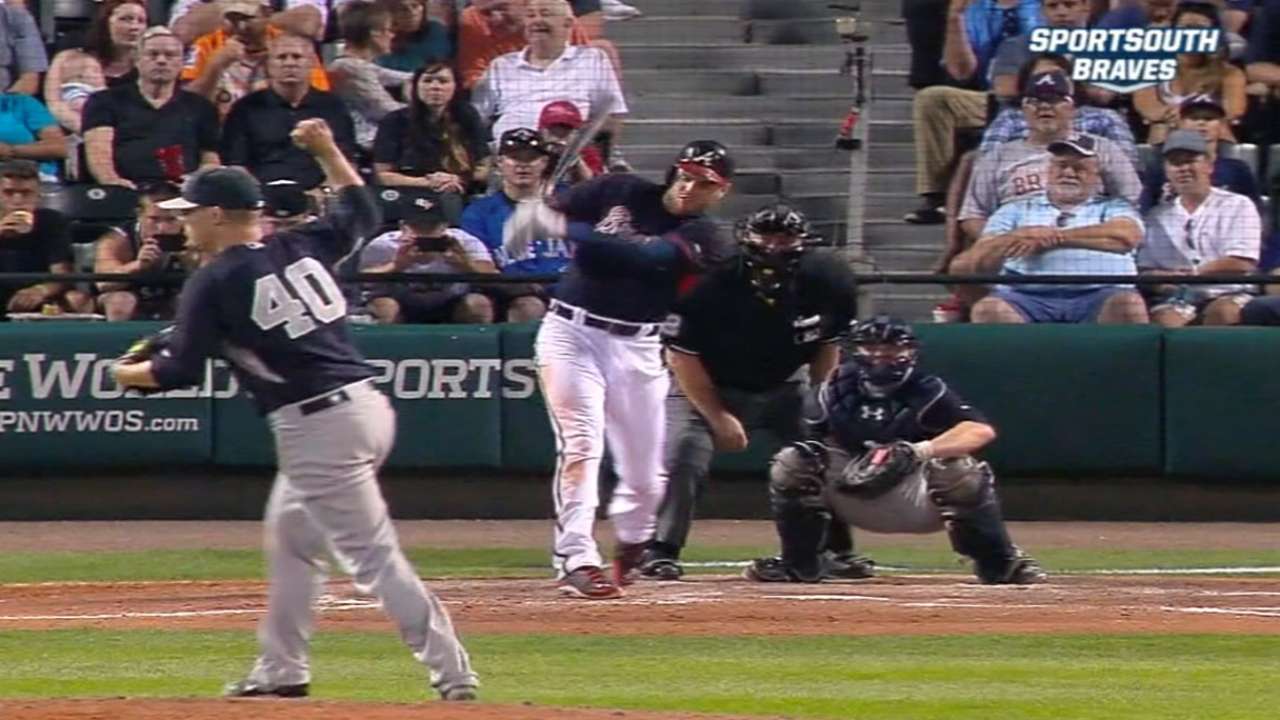 LAKE BUENA VISTA, Fla. -- Despite not toeing the rubber in a Major League game for the last 19 months, Yankees right-hander Andrew Bailey said he felt right at home when he returned to the mound in Wednesday night's 12-5 victory over the Braves.
Bailey, who's still working his way back from undergoing shoulder surgery in 2013, allowed one unearned run on three hits over one inning of work in his debut.
"I actually felt comfortable out there, which is great," said Bailey, who last pitched in a Major League game on July 12, 2013. "I was pumped up. I was excited. The ball was coming out good and it was a lot of fun."
Bailey actually appeared poised for a 1-2-3 sixth inning after quickly retiring the first two batters he faced before forcing Jesus Flores to hit a grounder up the middle. Yankees second baseman Rob Refsnyder flashed some good range in getting to the grounder, only to make a throw in the dirt that first baseman Francisco Arcia couldn't quite handle cleanly.
Flores then advanced to second on an Andrelton Simmons base hit before coming into score on an Albert Callaspo RBI single. Bailey escaped the inning without any further damage one batter later, thanks to a diving catch by center fielder Mason Williams.
"Honestly, I thought [Flores' grounder] was going up the middle for a hit at first, but then Refsnyder came flying over to make a play on it," Bailey said. "So he made a great play just to even get there, and that's just the way baseball goes. They made some good contact after that, but then Mason made that great play to bail me out."
The right-hander was a lights-out closer prior to his shoulder problems, even earning American League Rookie of the Year honors in 2009 after racking up a dominant 1.84 ERA with the Athletics. He continued that success into the following season, posting a 1.47 ERA, before injuries began to derail his career.
"I'm happy for him," Yankees manager Joe Girardi said. "I thought he threw the ball all right. I mean, he hasn't been out there in a long time. He came off and there was a smile on his face. It's a definite step in the right direction."
With another part of the process now out of the way, the next step for Bailey will be proving he's capable of pitching in back-to-back games. It remains to be seen when exactly that might happen, but it'll be a key factor in whether or not Bailey even has a shot to make the roster.
And finally feeling "completely healthy," Bailey is holding out hope that -- even with his late start this spring -- there's still enough time to do exactly that.
"I think everybody's goal here is to make the team Day 1, and mine obviously still is too," he said. "If I need more time, I totally understand that. Or if they feel I need more time, I understand that too. But I want to be there Day 1, for sure, just as everybody in this room does."
Paul Casella is a reporter for MLB.com. This story was not subject to the approval of Major League Baseball or its clubs.