MLB.com Columnist
Mike Bauman
Pederson letting play make case for starting job
Rookie center fielder impressing, but Dodgers in no hurry to anoint him
GLENDALE, Ariz. -- This is the progression of March 2015 on the topic of who might be the starting center fielder for the Los Angeles Dodgers:
1. The rookie could start.
2. The rookie should start.
3. How can anybody possibly keep the rookie from starting?
Joc Pederson, who will turn 23 in April, has consistently impressed the Los Angeles club with his play in all facets of the game during Spring Training. That positive impression was taken to another level Wednesday at Camelback Ranch.
With the Dodgers trailing the Cubs, 5-1, in the second inning, Pederson hit a three-run, opposite-field homer off a highly reputable starter, Jake Arrieta.
In the fourth, with the Dodgers down, 6-4, Pederson encored with a double off Arrieta that was pulled over first base. That led to another run. In the sixth, Pederson singled sharply up the middle off reliever C.J. Edwards.
The Dodgers eventually lost, 7-5. Pederson left the game after the third hit with a Cactus League slash line of .429/.467/.750. It is not his fault that the sample size is still small.
"What I like with Joc now is he's staying in the middle of the field; earlier on, it was a little bit pull," Dodgers manager Don Mattingly said. "His at-bats are good and he seems to be able to get himself a good pitch to hit. That's as key as anything."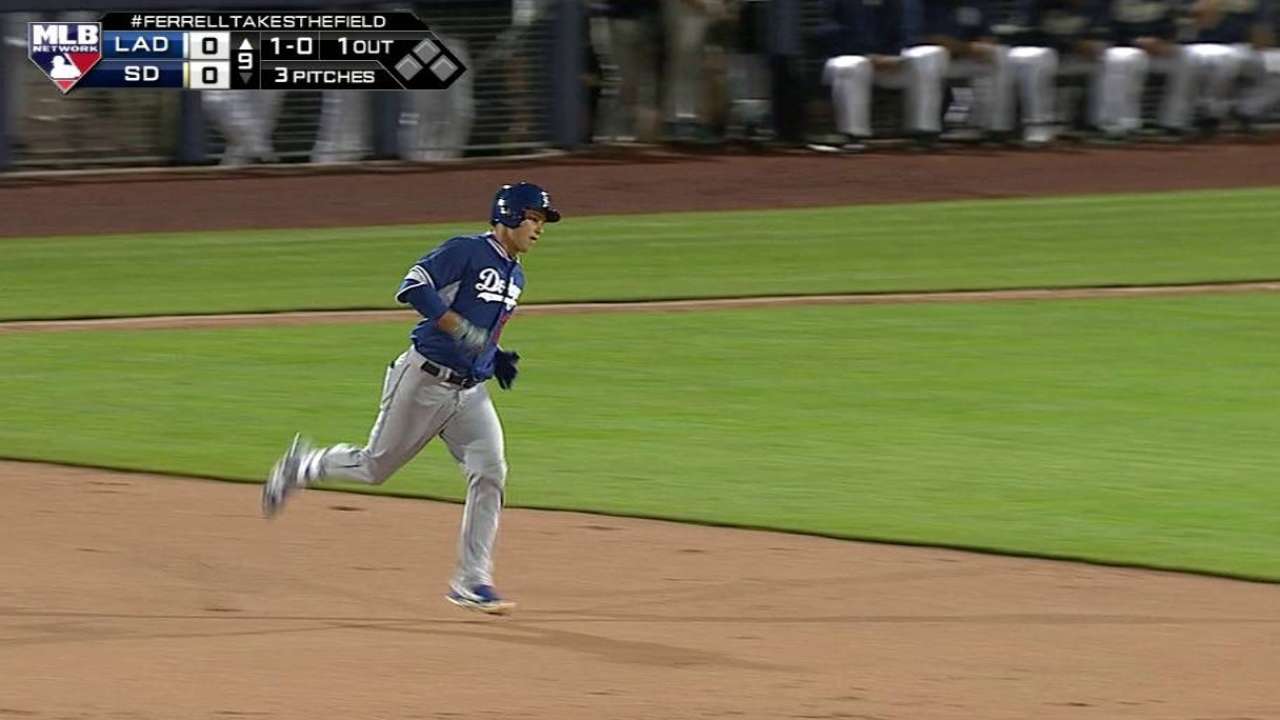 Pederson in conversation is a fellow who does not give you any indication of self-importance. His underlying view of his career at this juncture, for instance, is: "I need to continue to grow as a player."
As far as the kind of successful day he had Wednesday, Pederson said: "I think it comes from preparation. I've been working hard with Mark McGwire and the other hitting coaches to best prepare myself. I think the preparation leads into the in-game results.
"I was in the cage before the game, trying to get my feet wet, trying to realize, put good swings on good pitches."
Pederson's Minor League pedigree is impressive. He has hit at every level over the last four Minor League seasons, and in a particularly encouraging development, his power numbers have increased as he has progressed through the Dodgers' system.
Last season at Triple-A Albuquerque he was a 30-30 man with 33 home runs and 30 stolen bases. There may not be much left for him to prove in the Pacific Coast League.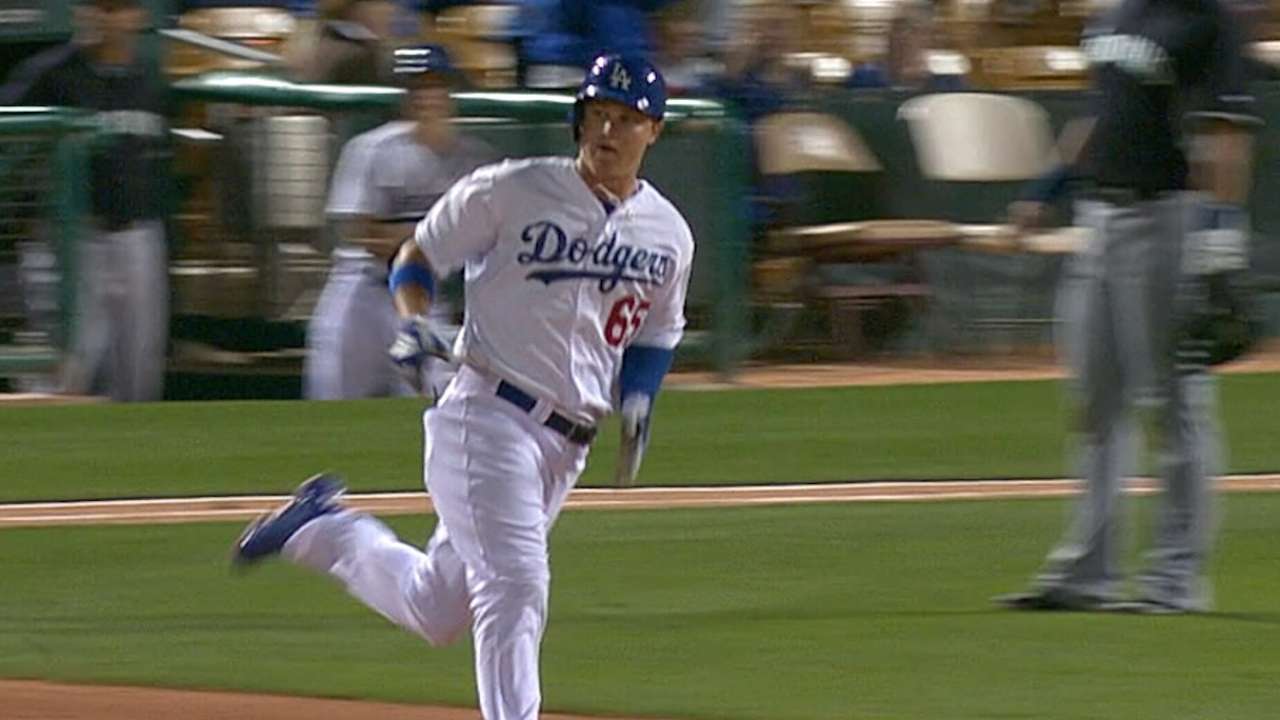 The emergence of Pederson made it possible for the new Dodgers baseball administration to trade Matt Kemp to the San Diego Padres in a deal in which the Dodgers got catcher Yasmani Grandal.
This was not a timid move, trading a run-producing outfielder to a division rival. But it speaks of the Dodgers' confidence that the leading edge of a new group of prospects, in the person of Pederson, is ready to deliver.
The Dodgers are not yet ready to officially anoint Pederson as the starting center fielder, but they like what he brings, tangibly and intangibly, through the rest of his game.
"We think Joc's really good defensively," Mattingly said. "He gets good jumps on the ball. He's shown us that he knows where to throw it. As far as game awareness, outs and situations, he's been good.
"Really, his whole game is like that, from the standpoint of the way he runs the bases. He's shown us game awareness and that's really what you like. You look at the whole baseball player, not just the talent."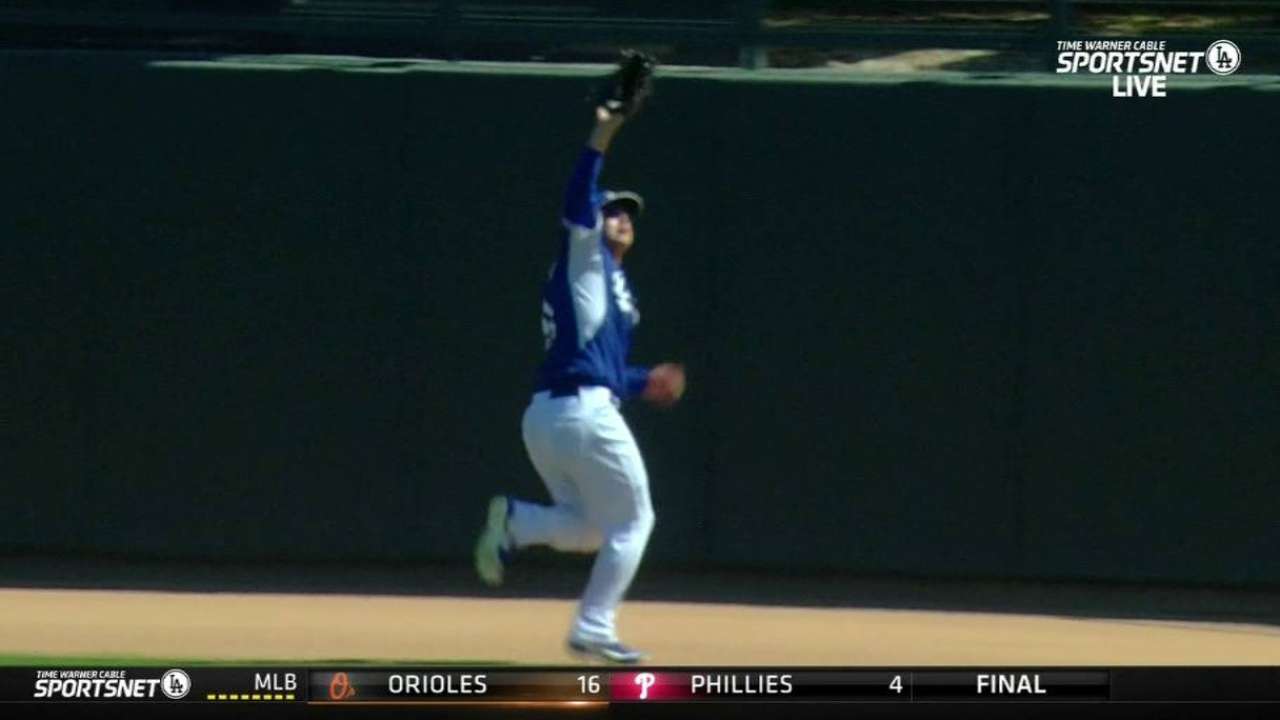 Pederson may be a rookie, but he demonstrates maturity by not getting caught up in the discussion about whether he will be the starting center fielder.
"I don't think that changes how I need to approach my work," he said. "Whether it's Spring Training or the season, you still need to prepare so that you can be the best player you can be to help the team win. So it's not about getting named starter or bench or Triple-A. It's about helping the team win."
Mattingly says there is no rush in naming Pederson as a starter. Asked what more he had to see from Pederson to make that decision, the manager responded:
"I just think we let him keep playing. Lots of times as camp gets late, you start seeing different things out of guys. I just want to let him keep playing, let him keep going through the process, making sure that we're staying true to what we're looking for from him: his work, is he seeing the ball, is he having good at-bats? More the basics than anything else."
The pace at which Pederson is being brought along certainly seems to be an effective one now. And the question of his presence as a big league starter in the middle of the outfield seems to have become one of when, not if.
Mike Bauman is a national columnist for MLB.com. This story was not subject to the approval of Major League Baseball or its clubs.