MLB.com Columnist
Jonathan Mayo
Breaking down the Twins' 2015 Top 30 Prospects
Stacked farm system, led by Buxton, ranked No. 3 among all teams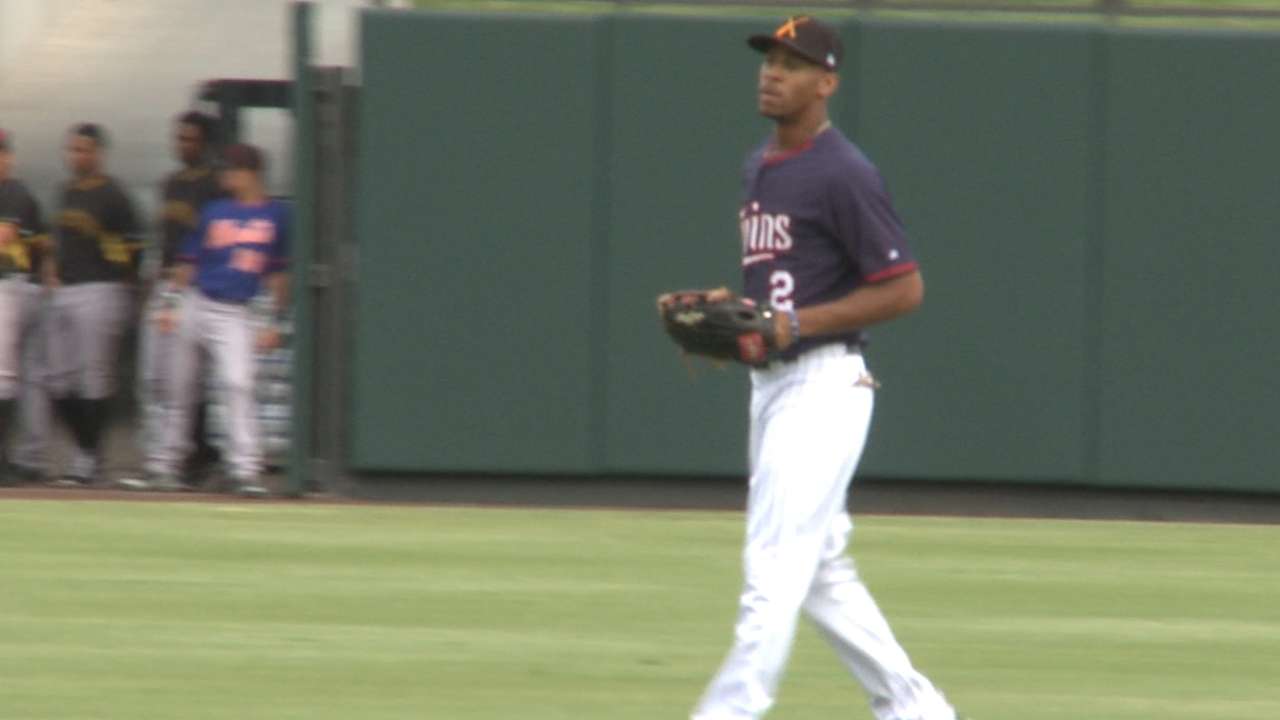 Any system with Byron Buxton is going to stand out. Yes, the multitooled outfielder has had some issues with injuries, but he still has the best all-around package of skills in the Minor Leagues.
The Twins organization, of course, goes well beyond the center fielder; otherwise its system wouldn't be ranked as the third-best in baseball. Five other players are not only in the Top 100, they're in the top 36.
MLB's Top 10 farm systems
The team's top 10 is rounded out by two hitters who have a chance to impact the big league lineup as everyday players, a left-handed starter with a relatively high ceiling and a future closer obtained in the 2014 Draft. The latter would be Nick Burdi, who joins shortstop Nick Gordon (part of that half-dozen in the Top 100) to leap from last June's Draft into Minnesota's top 10. They are also the only two newcomers to that top group, replacing the graduated Josmil Pinto and Felix Jorge, who have dropped off the list.
• Twins' 2015 Top 30 Prospects list
Biggest jump: Stephen Gonsalves, LHP (2014: 18 | 2015: 12); Stuart Turner, C (2014: Unranked | 2015: 15)
Biggest fall: Felix Jorge, RHP (2014: 10 | 2015: Unranked)
Best tools
Players are graded on a 20-80 scouting scale for future tools -- 20-30 is well below average, 40 is below average, 50 is average, 60 is above average and 70-80 is well above average.
Hit: Byron Buxton (70)
Power: Miguel Sano (80)
Run: Buxton (70)
Arm: Buxton (70)
Defense: Buxton (70)
Fastball: Nick Burdi (80)
Curveball: Jose Berrios (55)
Slider: Alex Meyer (65)
Changeup: Lewis Thorpe (55)
Control: Tyler Duffey (55)
How they were built
Draft: 20
International: 7
Trade: 2
Rule 5: 1
Breakdown by ETA
2015: 9
2016: 8
2017: 9
2018: 4
Breakdown by position
C: 1
2B: 1
3B: 1
SS: 2
OF: 7
RHP: 12
LHP: 6
Jonathan Mayo is a reporter for MLBPipeline.com and writes a blog, B3. Follow @JonathanMayoB3 on Twitter. This story was not subject to the approval of Major League Baseball or its clubs.