Kinsler's spring tear continues against Pirates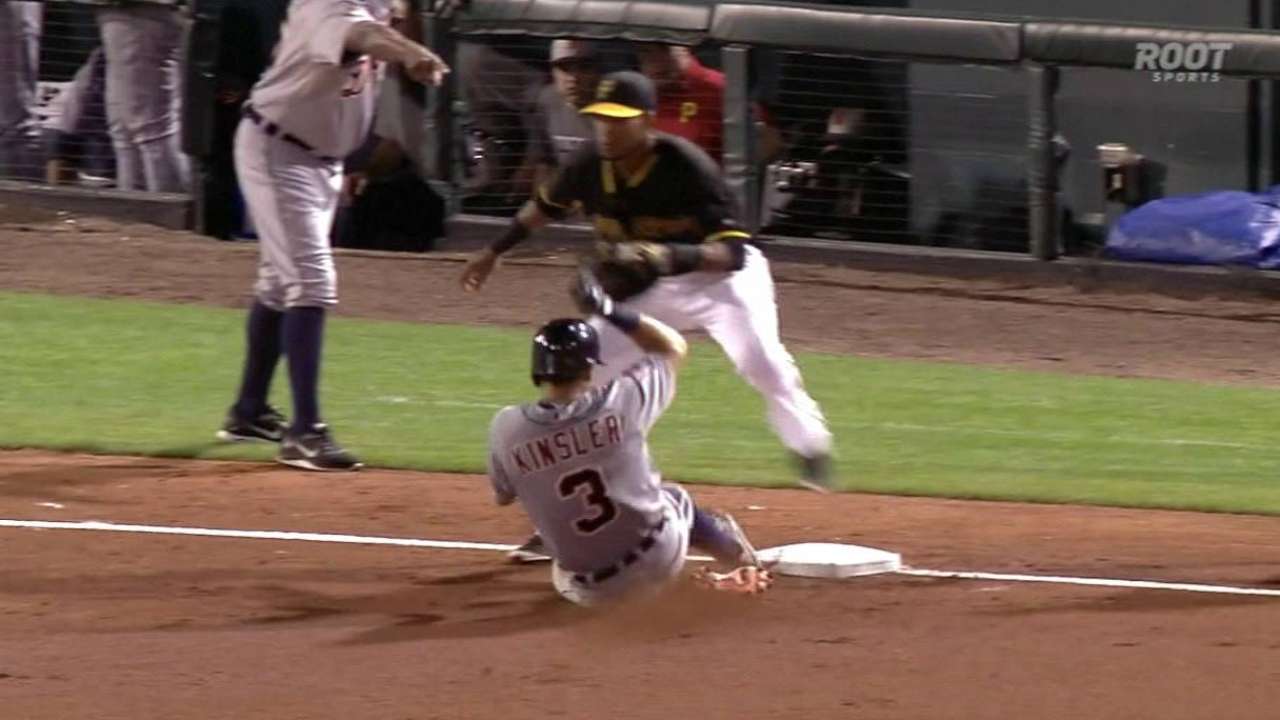 BRADENTON, Fla. -- Starling Marte hit a two-run homer in the sixth off lefty Tom Gorzelanny and the Pirates went on to defeat the Tigers, 8-7, in Grapefruit League play on Wednesday night.
A record crowd of 9,018 in 92-year-old McKechnie Field saw Marte connect for his third straight hit of the game to give the Bucs a 5-2 lead after Gorzelanny issued a leadoff walk to Neil Walker. Willy Garcia's three-run homer in the seventh gave the Pirates enough of a cushion to withstand a ninth-inning rally by the Tigers.
After being blanked the first three innings by A.J. Burnett, the Tigers drew into a 2-2 tie in the fourth on Tyler Collins' RBI single and, after lefty reliever Charlie Leesman's entrance, a bases-loaded walk by Jordan Lennerton. Ian Kinsler went 3-for-4 for Detroit, with a pair of doubles. He's hitting .409 this spring.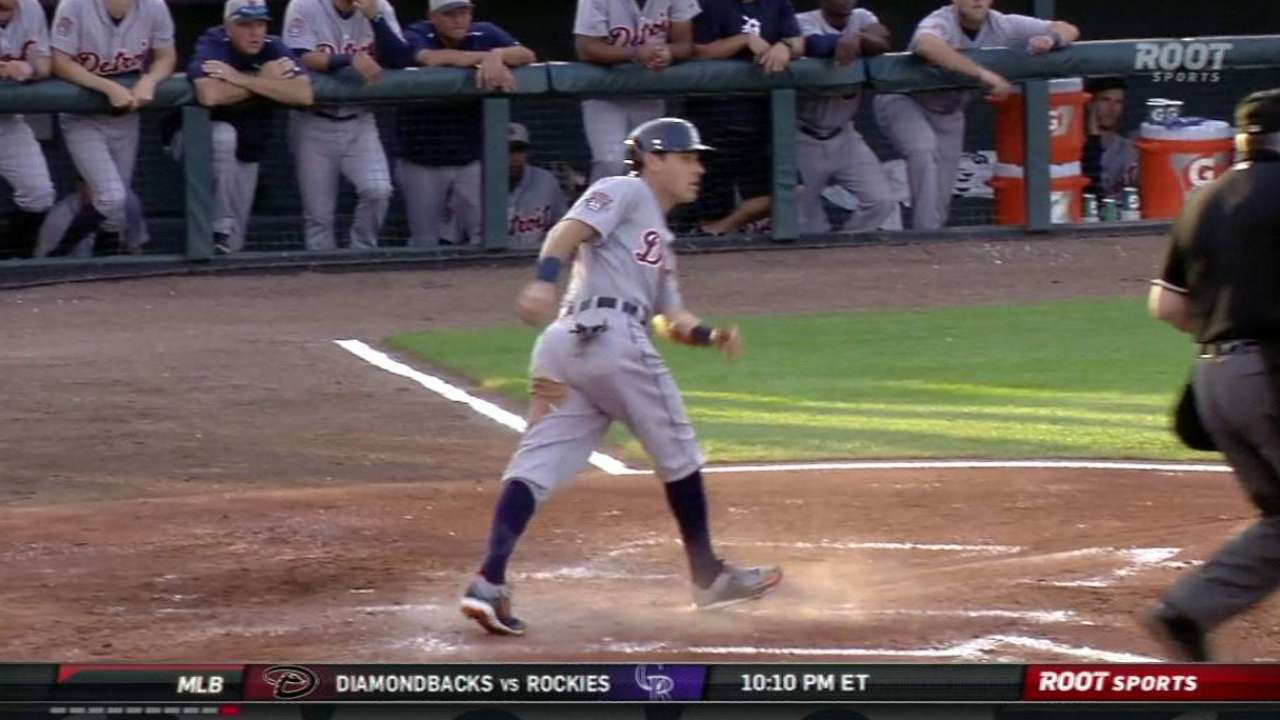 • Collins trying to make case for spot on Tigers' bench
MOMENTS THAT MATTERED
Little relief from lefties: The Tigers had three lefty relief candidates on their travel roster. Two of them, Gorzelanny and Kyle Ryan, pitched in Wednesday's game, largely against right-handed hitters. Gorzelanny retired both left-handed hitters he faced in the sixth, including a strikeout of Sanchez, but he gave up Marte's two-run homer. Kyle Ryan pitched the seventh and gave up Garcia's three-run homer, his first runs allowed this spring. Gorzelanny is believed to be safe, but Ryan and Ian Krol are fighting for a second lefty relief spot.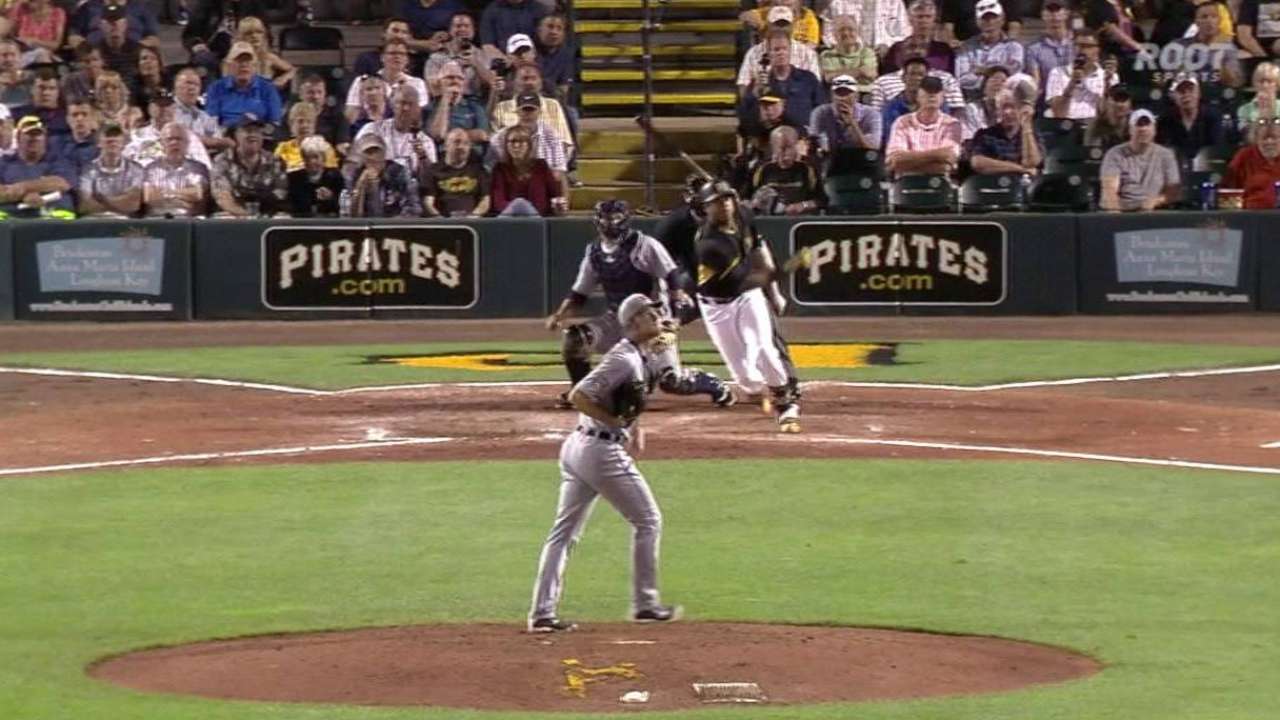 • Ausmus reviewing lefty options
Sanchez on fire: Pirates catcher Tony Sanchez continued his torrid hitting with a two-run home run in the second, his eighth hit -- and second homer -- in his last nine at-bats. Even when they get him out, they can't get him out, as Sanchez struck out with two down in the fourth but reached base as the pitch eluded catcher Alex Avila for a passed ball, loading the bases and leading to a run on Alberto Cabrera's wild pitch.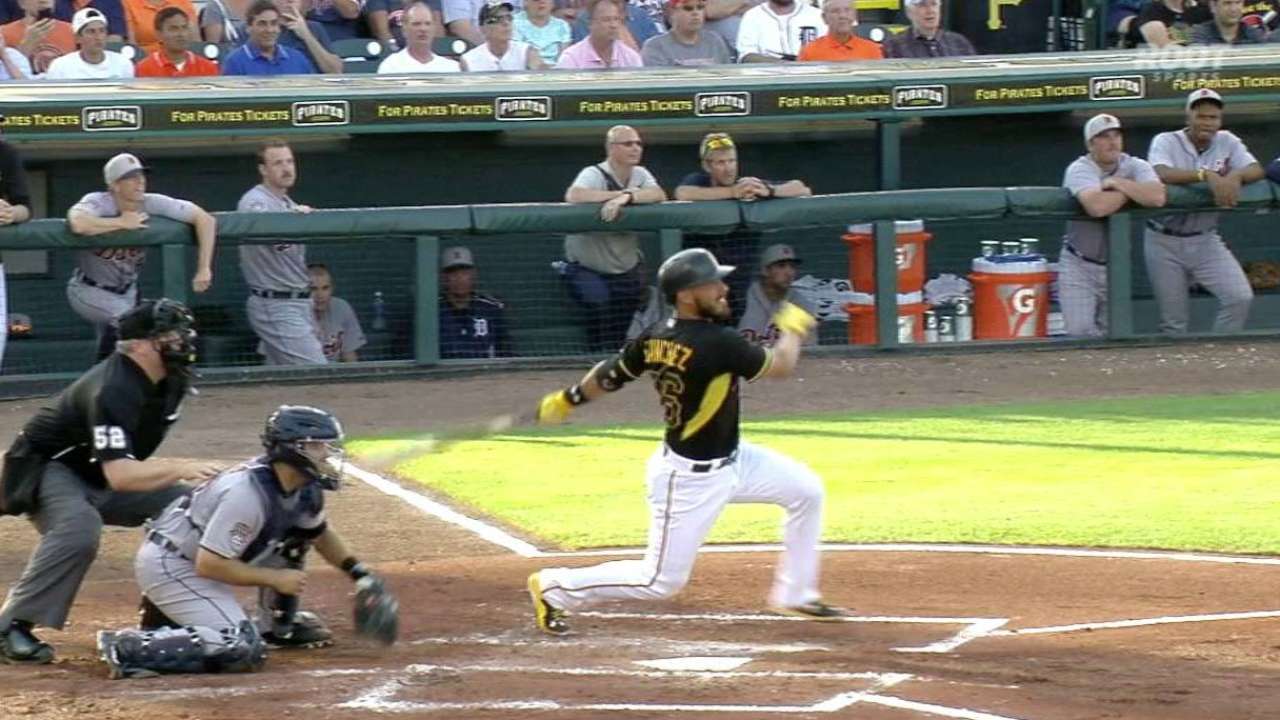 Iglesias' D on point: Tigers shortstop Jose Iglesias looked like a healthy, mobile, strong-legged shortstop when he ranged to his right on Jose Tabata's first-inning ground ball. The former highlight-reel regular could have shaken third baseman Nick Castellanos' hand from where he fielded the ball, then flicked a strong throw to first for the out. For a shortstop who missed last season with stress fractures in both shins, the range looked good.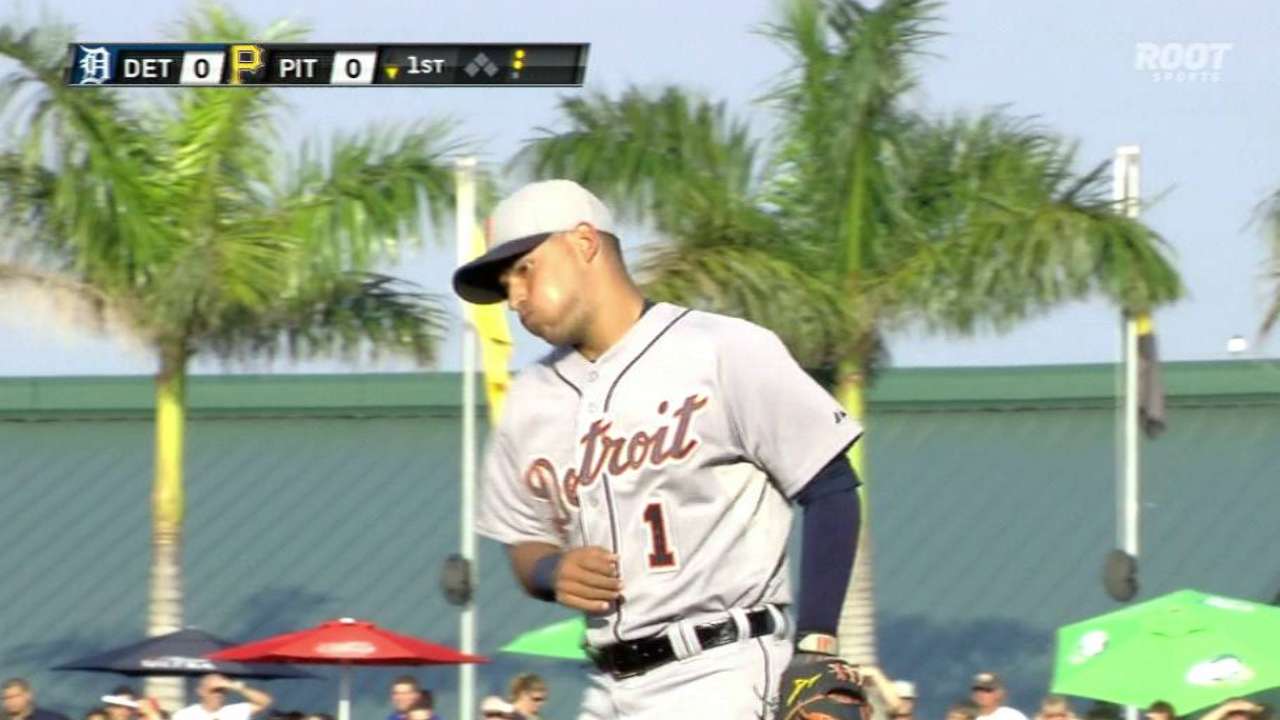 Tabata makes painful exit: Tabata left the game after directly fouling a third-inning pitch off the inside of his left ankle. Tabata, an outfielder in camp on a non-roster invite, had to be helped as he limped into the dugout and was transported to the clubhouse in a golf cart after the inning. He was replaced in left field by Mel Rojas Jr., also in camp on a non-roster basis.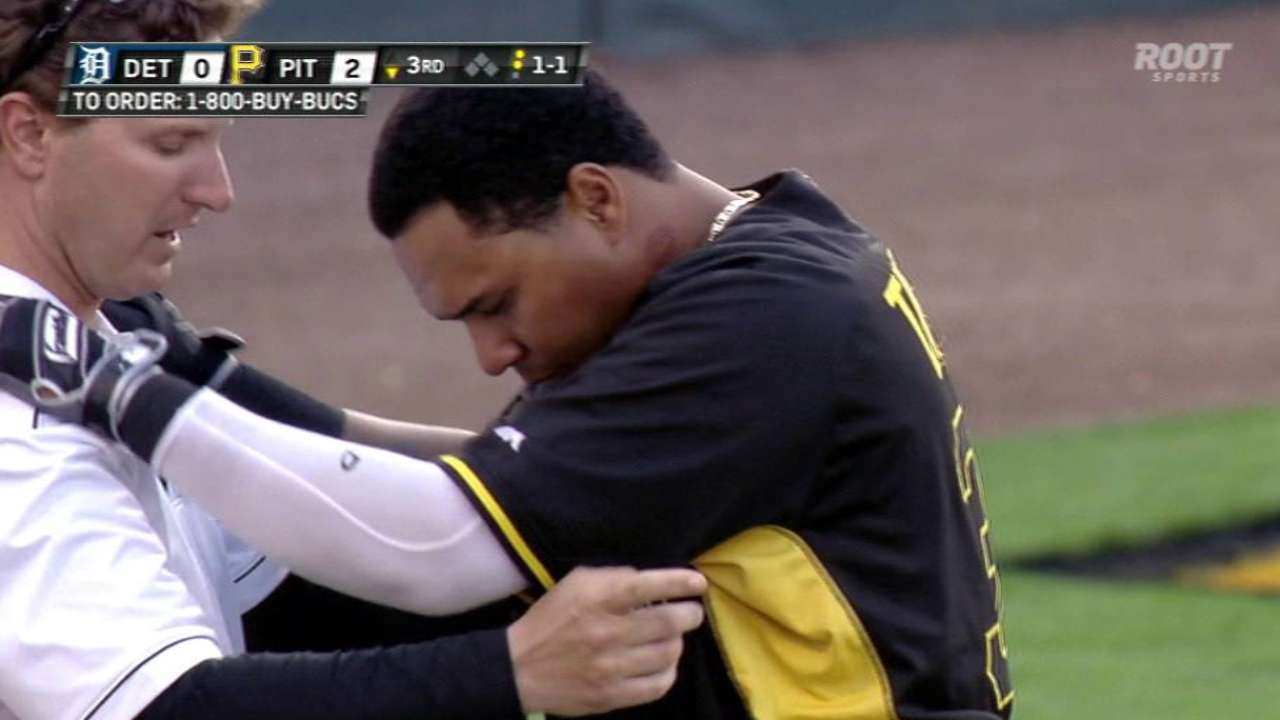 Lennerton doesn't give in: Tigers first baseman Jordan Lennerton's return to Triple-A Toledo looks more likely by the day as Miguel Cabrera gets closer to returning to action. But for a guy with no big league experience trying to prove himself, Lennerton doesn't chase many pitches outside the strike zone. He turned a lefty-lefty matchup with Leesman into a four-pitch bases-loaded walk to tie the game in the fourth.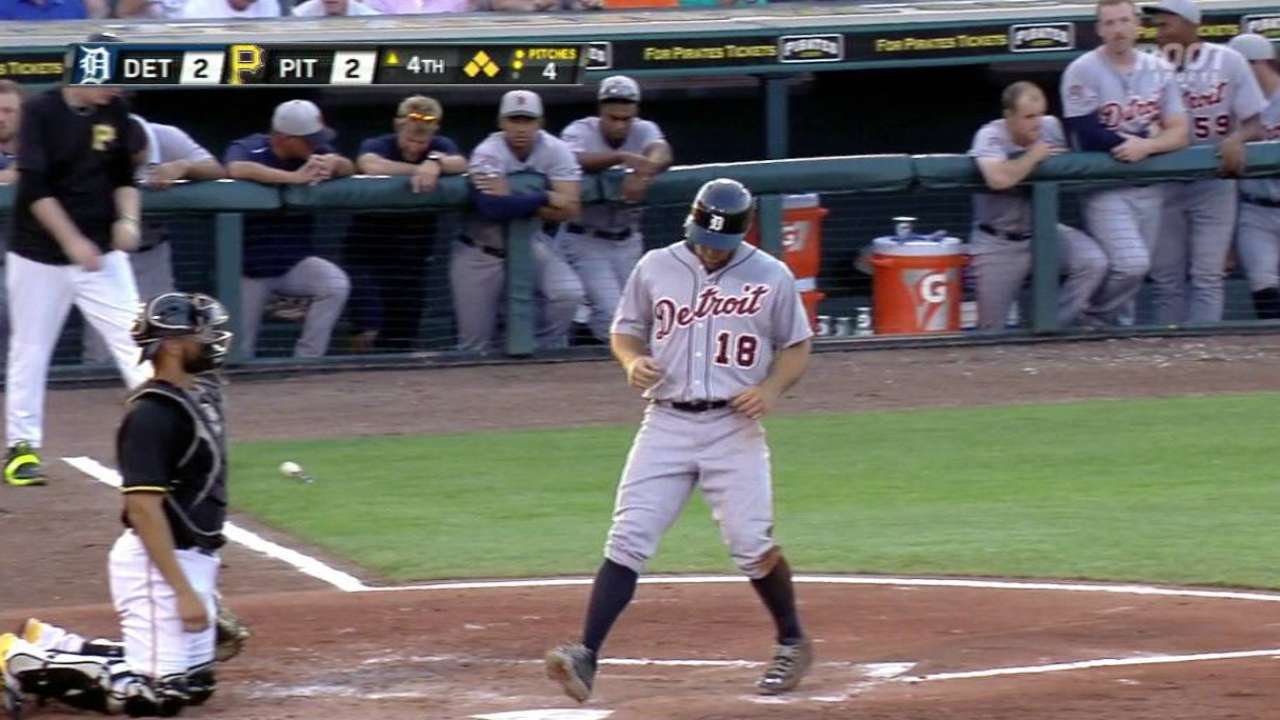 Kang, bat both silent: Pirates infielder Jung Ho Kang, the MLB rookie from Korea who has been a go-to guy for media all spring as he tries to become the first KBO position player to transition to the Majors, is refraining from any interviews this week in an effort to focus on the game. It has not been an instant cure; Kang went 0-for-3 with two strikeouts on Wednesday and has one hit in his last 17 at-bats.
• Rogers: Kang's struggles aren't concerning
Resume builder: Angel Nesbitt continued to build his dark-horse case for a spot in Detroit's bullpen, tossing a hitless fifth inning with a walk and two strikeouts. The former Double-A Erie closer has tossed six innings of one-run ball this spring on three hits with two walks and five strikeouts.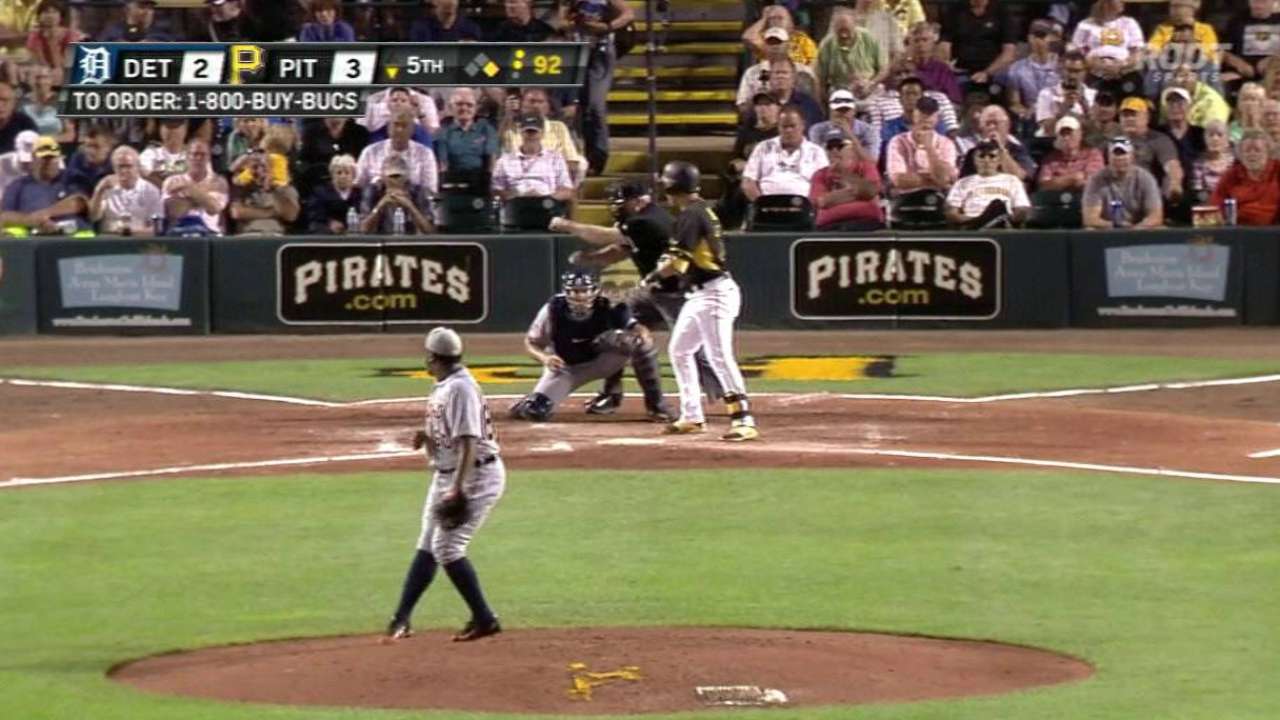 QUOTABLE
• "Cold." -- Burnett, in response to how his arm, wrapped in ice at the time, was feeling after his 3 2/3-inning outing Wednesday night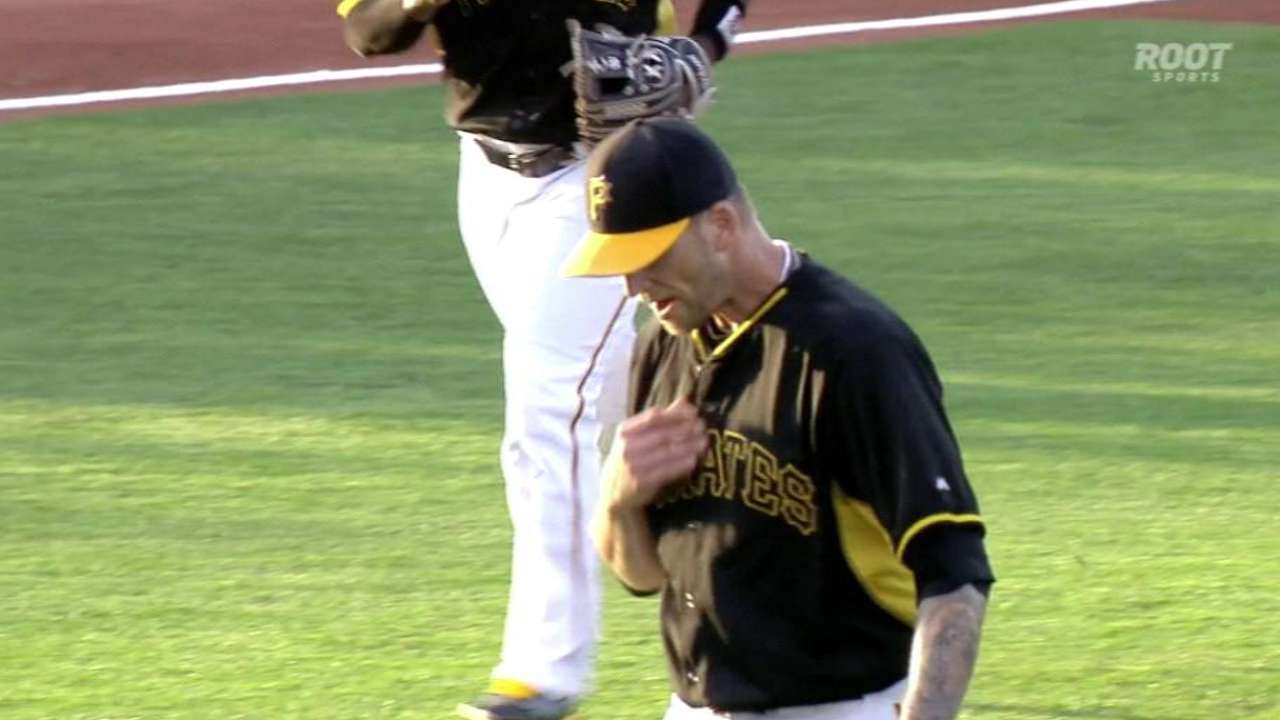 • "He's all over the field. It's almost like he's a defensive football player and he's just chasing the ball." -- Tigers starting pitcher Shane Greene on Iglesias
SOUND SMART WITH YOUR FRIENDS
• In three weeks, Francisco Liriano will become the first Pirates pitcher to make consecutive Opening Day starts since Oliver Perez in 2005-06. In between, the Bucs have handed Game 1 balls to: Zach Duke, Ian Snell, Paul Maholm, Duke, Kevin Correia, Erik Bedard and Burnett.
• Lennerton had more walks (16) than hits (12) with runners in scoring position and two outs last season for Toledo. He struck out just nine times in 67 plate appearances in those situations as a Mud Hen.
WHAT'S NEXT?
The Tigers go from one coast of Florida to the other to finish off a stretch of four road games in five days, culminating with a 1:05 p.m. ET matchup against the Nationals in Viera on Thursday. Anibal Sanchez will make his fourth start of the spring, while Washington will go with Gio Gonzalez. Yoenis Cespedes is expected to be on the Tigers' travel roster, along with Rajai Davis, Anthony Gose and J.D. Martinez.
Jason Beck and Tom Singer are reporters for MLB.com. This story was not subject to the approval of Major League Baseball or its clubs.