MLB.com Columnist
Jonathan Mayo
Breaking down the Pirates' 2015 Top 30 Prospects
Glasnow takes Polanco's vacated throne atop Bucs system ranked No. 4 in baseball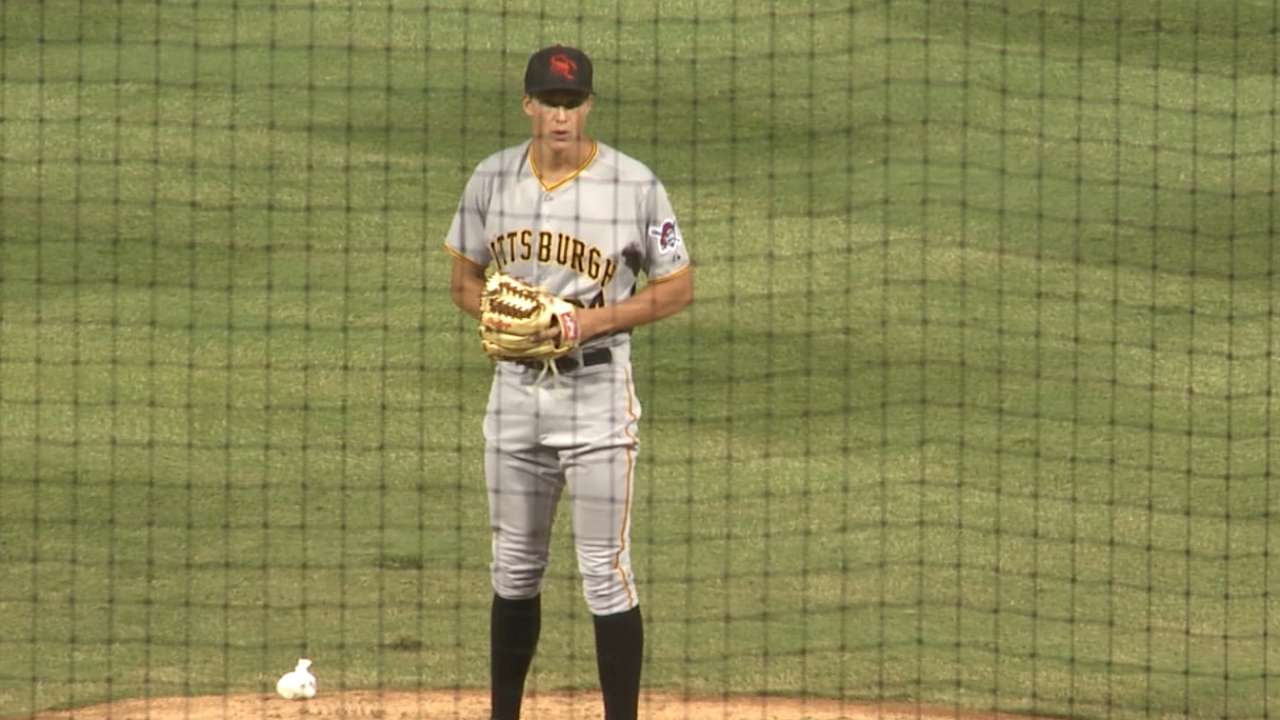 There's a new king in town, at least as far as the Pirates' farm system is concerned.
Last year's No. 1 prospect, Gregory Polanco, has graduated to the big leagues. No. 2 prospect Jameson Taillon missed all of 2014 following Tommy John surgery, so he wasn't going to ascend to the top spot. Up stepped big right-hander Tyler Glasnow, who led the organization in ERA, strikeouts and batting average against, further cementing himself as one of the top pitching prospects in the game.
MLB's Top 10 farm systems
In addition to Glasnow and Taillon, six members of the 2014 Top 10 are still ranked in that neighborhood. Two new additions arrive courtesy of the 2014 Draft, in Cole Tucker and Mitch Keller. Elias Diaz made the biggest jump on the list, going from unranked a year ago to just outside of the Top 10.
The 2014 Draft produced four additional new names for the rankings, and the Pirates added a pair of Top 30 left-handed pitchers -- No. 23 Stephen Tarpley and No. 29 Steven Brault -- in the trade that sent Travis Snider to the Orioles this offseason.
• Pirates' 2015 Top 30 Prospects list
Biggest jump: Elias Diaz, C (2014: Unranked | 2015: 11)
Biggest fall: Jin-De Jhang, C (2014: 19 | 2015: Unranked)
Best tools
Players are graded on a 20-80 scouting scale for future tools -- 20-30 is well below average, 40 is below average, 50 is average, 60 is above average and 70-80 is well above average.
Hit: Austin Meadows (60)
Power: Josh Bell (60)
Run: Alen Hanson (60)
Arm: Willy Garcia (65)
Defense: Reese McGuire (60)
Fastball: Tyler Glasnow (75)
Curveball: Jameson Taillon (60)
Slider: John Holdzkom (50)
Changeup: Nick Kingham (55)
Control: Kingham (60)
How they were built
Draft: 21
International: 5
Trade: 3
Free agent: 1
Breakdown by ETA
2015: 6
2016: 6
2017: 11
2018: 7
Breakdown by position
C: 3
1B: 2
3B: 2
SS: 3
OF: 6
RHP: 11
LHP: 3
Jonathan Mayo is a reporter for MLBPipeline.com and writes a blog, B3. Follow @JonathanMayoB3 on Twitter. This story was not subject to the approval of Major League Baseball or its clubs.