Collins trying to make a case for a spot on Tigers' bench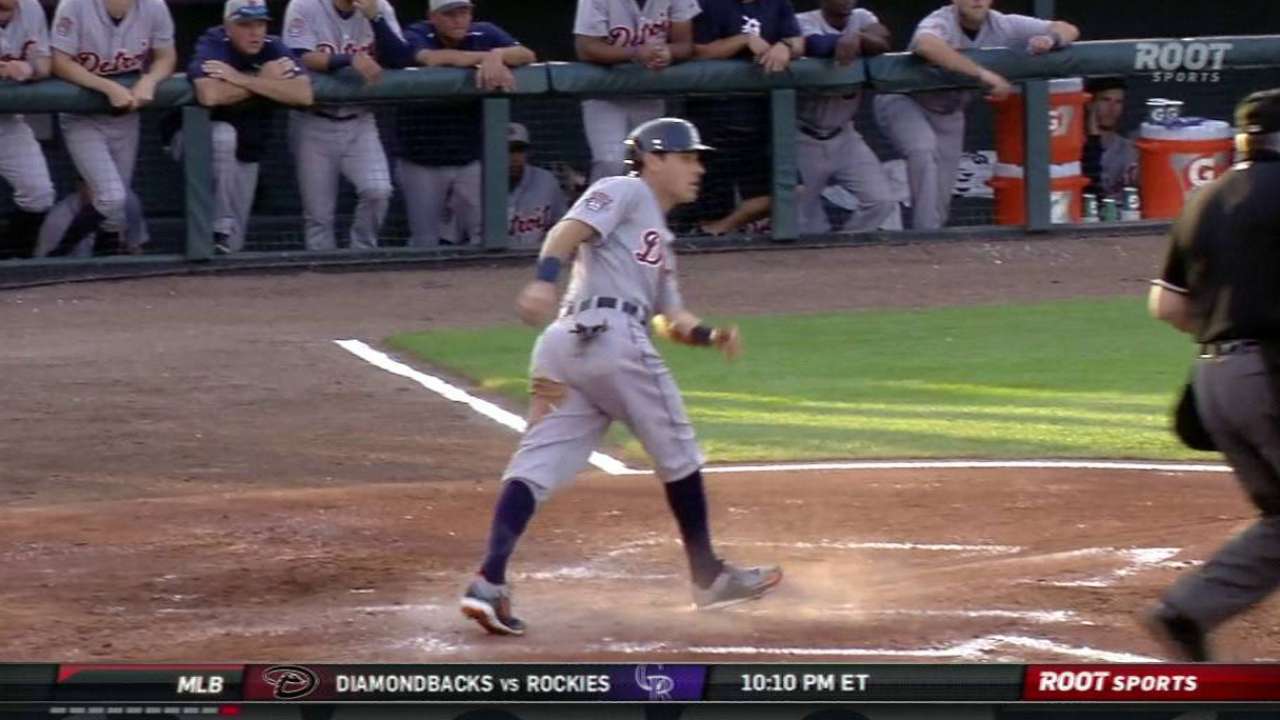 BRADENTON, Fla. -- Tigers manager Brad Ausmus raised the question aloud regarding Tyler Collins.
"If you look at our team, we have [Yoenis] Cespedes, J.D. Martinez, Rajai Davis, Anthony Gose," Ausmus said Monday. "We have four outfielders. So if you carry a fifth outfielder, when is he playing? Maybe he can pinch-hit here and there. Maybe if one of the corner guys needs a day and there was a really tough righty, maybe a guy like Collins fits in that role. But you assume, barring an injury, that between those four outfielders, the vast majority of the playing time is already consumed."
Ausmus was presenting the case for why he's considering carrying both utility infielders Andrew Romine and Hernan Perez. In the process, he might well have been raising the challenge to Collins, the club's No. 11 prospect in 2014. The last couple of days, Collins seems intent on trying to meet it.
He hit a three-run homer the day after those comments off a lefty, Nationals reliever Jerry Blevins, and he threw a runner out at home plate. He followed it up on Wednesday night with an RBI single off Pirates right-hander A.J. Burnett. In the process, Collins rejuvenated his spring after a statistically slow start.
To him, however, the numbers are irrelevant.
"Spring Training's always going to be Spring Training," Collins said. "It's always going to be getting ready for your endeavors for the season."
That's fine, but Collins' work last spring earned him an Opening Day roster spot. His limited playing time, affected in part by Davis' hot start, scuttled platoon plans. His struggles in those limited at-bats led to a trip to Triple-A Toledo, where he spent most of the season.
This time, there are no grand ideas about Collins' potential role. If Collins is going to make the team, he's going to have to keep his bat fresh in limited playing time.
"A guy like Collins, it would be nice to have that bat sitting on the bench," Ausmus said, "but the question is: How long do you want him sitting on the bench? We have to wait and see."
Collins believes he can handle it.
"I know what to expect from it now," Collins said. "They threw all the curveballs at me last year. There's nothing new. I know how to program myself to get ready to play."
He's not necessarily a righty killer, but his numbers off right-handed pitchers were solid in Toledo last year, including a .274 average, 15 home runs and a .785 OPS. In 2013, however, he hit 70 points higher off lefties (.289) than righties (.219).
Jason Beck is a reporter for MLB.com. Read Beck's Blog and follow him on Twitter @beckjason. This story was not subject to the approval of Major League Baseball or its clubs.