MLB.com Columnist
Jonathan Mayo
Breaking down the Mets' 2015 Top 30 Prospects
Nearly half of players on list boast ETAs of this season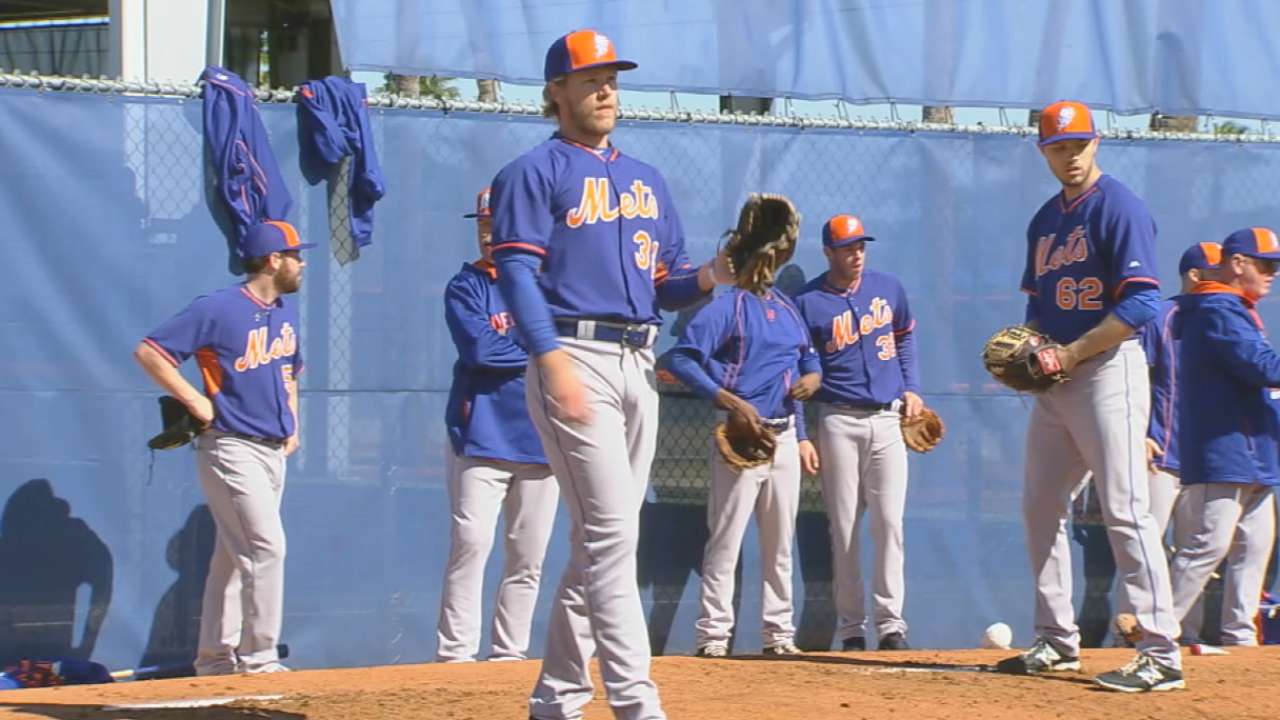 Not only do the New York Mets have a strong farm system, they have one primed to feed talent to the big league club in the very near future.
The organization, ranked as the No. 5 system in baseball, has talent up and down all levels, but it's more top-heavy at the moment. A total of 12 players in the Top 30 have ETAs of 2015. Obviously, it's unlikely that all 12 will make it up this season, but there certainly is a deep pool for the big league club to draw from if and when the needs arise.
MLB's Top 10 farm systems
Most of the talent ready to contribute now comes courtesy of the Draft, starting with right-hander Noah Syndergaard and catcher Kevin Plawecki at the top of the list. But the Mets have also been busy internationally, with overseas signings like Amed Rosario and Marcos Molina a few years away, but with perhaps as much upside as anyone in the system.
• Mets' 2015 Top 30 Prospects list
Biggest jump: Marcos Molina, RHP (2014: Unranked | 2015: 9)
Biggest fall: Domingo Tapia, RHP (2014: 15 | 2015: Unranked)
Best tools
Players are graded on a 20-80 scouting scale for future tools -- 20-30 is well below average, 40 is below average, 50 is average, 60 is above average and 70-80 is well above average.
Hit: Michael Conforto (55)
Power: Conforto (60)
Run: Champ Stuart (80)
Arm: Rosario (65)
Defense: Milton Ramos (65)
Fastball: Syndergaard (70)
Curveball: Syndergaard (60)
Slider: Dario Alvarez (60)
Changeup: Akeel Morris (60)
Control: Gabriel Ynoa (60)
How they were built
Draft: 19
International: 7
Trade: 3
Free agent: 1
Breakdown by ETA
2015: 12
2016: 5
2017: 6
2018: 7
Breakdown by position
C: 1
1B: 1
2B: 2
3B: 1
SS: 4
OF: 5
RHP: 12
LHP: 4
Jonathan Mayo is a reporter for MLBPipeline.com and writes a blog, B3. Follow @JonathanMayoB3 on Twitter. This story was not subject to the approval of Major League Baseball or its clubs.