MLB.com Columnist
Anthony Castrovince
Braves better off than many believe
Expectations low after busy offseason, but club still has core, improved farm system, payroll flexibility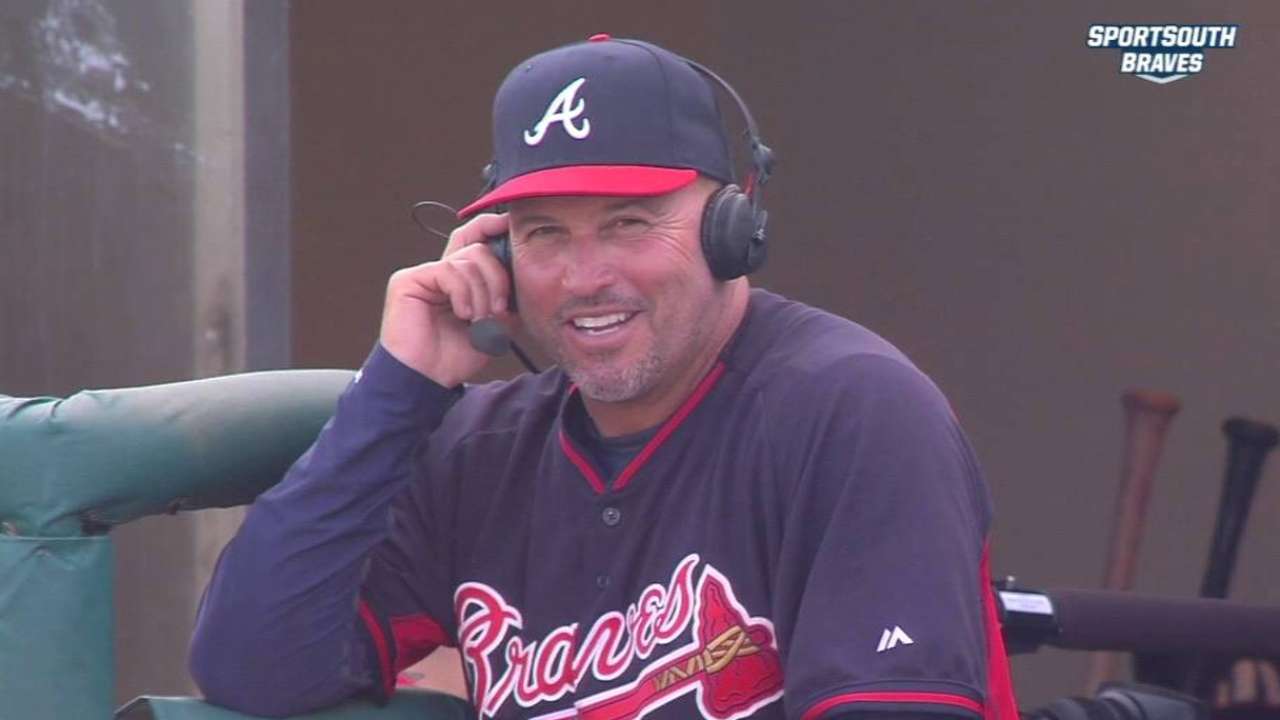 LAKE BUENA VISTA, Fla. -- All right, let's just start with the observation that the Braves are a bit of a mystery at the moment. They lost 83 games last year, and it's an open question whether they'll move north or south of that mark after a wild and maybe even a little weird offseason.
Internally, the Braves think they project to be better than anticipated, squeaking past .500 and maybe getting into the National League Wild Card mix. Externally, little is expected of these Braves, and that's just fine.
The reason it's fine is you look at a club that shed some $22 million in expiring contracts, improved its farm system arguably from a third-tier to top-tier standing in the MLB Pipeline and shored up its immediate rotation depth at the expense of an offense that already ranked 29th in runs scored last year, and you come away with the conclusion that the Braves are doing things right.
I'd put it this way: The Braves are probably in better shape than the division-rival Phillies right now. They don't have the bad contracts weighing them down, and they've got an infusion of youth and energy that can take them far. It might not happen in 2015, but the very near future (particularly the 2017 season in which SunTrust Park will be unveiled) is looking pretty darn bright.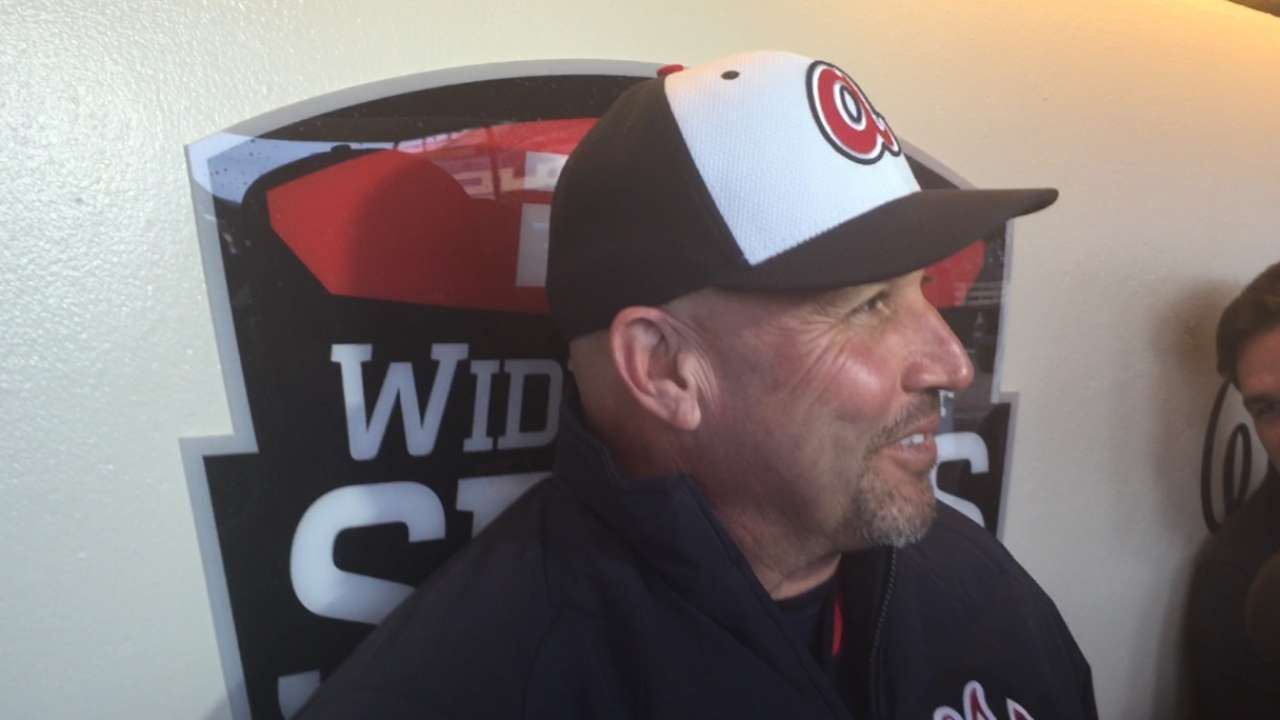 "Quite frankly," said team president John Hart, who gave up his perfect retirement life to take on this challenge, "if we were going to take a year to do it, this was a good year."
Yeah, things are looking pretty rosy for the Nationals at the moment (though it's worth noting they've got contractual issues of their own to iron out at year's end), and the Marlins and Mets both appear improved. So even if the Braves had augmented what they carried in '14, winning the NL East would have been no slam dunk.
Actually, even in the wake of what they traded away, you don't have to squint too hard to see the Braves improving this year. They were a middling club with huge swing-and-miss tendencies when Jason Heyward, Justin Upton and Evan Gattis were here.
Who knows if the offense will be any better (the hope, at the very least, is that it's more contact-oriented), but the starting staff is undoubtedly deeper.
What hurts, quite literally for the individual involved, is the continued shoulder inflammation suffered by Mike Minor. That it bothered him last year and didn't respond well to an offseason's worth of rest is an unsettling development, and Minor's absence, hopefully only until mid-May, forces the Braves to take on more risk in the rotation than they envisioned.
"It did, it hurt us," Hart said. "That one, I think, would have given us the four young core [Minor, Julio Teheran, Alex Wood and trade acquisition Shelby Miller] that we could go with. Hopefully, we can still get the bulk of the year from Minor. But [his absence] has forced us to pick two starters instead of the one. We've got a couple young guys in competition and a couple veteran guys in competition. I think we can cover it, but it's not what we hoped for."
The young guys are Mike Foltynewicz, who was sitting in the mid-90s against the Yankees on Wednesday night, Manny Banuelos, who was acquired from the Yanks in the David Carpenter trade, and Cody Martin. Foltynewicz and Banuelos come with more hype and probably more upside, but Martin has opened up some eyes down here. He doesn't have overpowering stuff, but he's pitched well at every level, he commands his pitches and he competes like nobody's business.
"He's pitched very well," veteran catcher A.J. Pierzynski said. "A lot of these guys are good young arms that can throw the ball well. The thing I've noticed is that they're under control and they believe they belong here, which is a huge step. And then what's overlooked is we've got some veteran guys competing for spots, which gives us depth."
The veteran guys are Wandy Rodriguez and Eric Stults, both of whom last had an adjusted ERA+ above league average in 2012. Either might be counted on to eat up some innings until the kids are ready. Chien-Ming Wang is also in camp, but Foltynewicz, Banuelos, Martin, Rodriguez and Stults are the guys who have, to date, asserted themselves in the battle for those last two spots.
Pierzynski's been around a while, and he's played on five playoff teams, so his opinion matters in a clubhouse, where guys jokingly wear "Hello, My Name Is" T-shirts. Maybe it's typical March banter, but Pierzynski doesn't think the Braves' situation is anywhere near as dire as some might project it to be.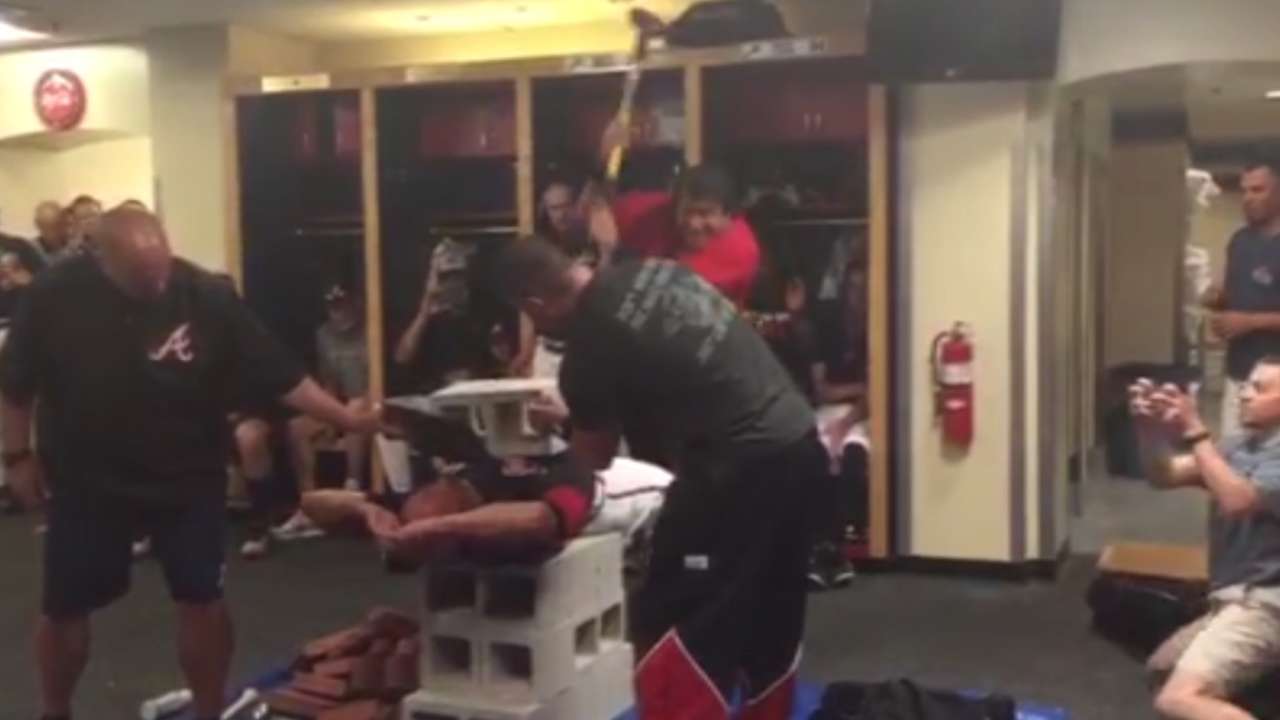 "Because of some of the names we lost -- and obviously they're really good players -- people assume we're going to be horrible and lose 1,000 games," Pierzynski said. "But you bring in a [Nick] Markakis and bring in some other guys, and I think it's brought an energy. There's an energy here and a feeling of positivity and fun."
Honestly, the Braves didn't always have that feel in some recent seasons when they were expected to be quite good. Maybe that's a reason why they developed a reputation for disappointing down the stretch, maybe not.
Bringing in Markakis, especially when he needed neck surgery, and keeping costly closer Craig Kimbrel in the midst of what otherwise appeared to be a rebuild, is where the aforementioned "weird" comes into play. Then again, the Braves wouldn't have made those decisions if they thought they were going to totally roll over in 2015. So let's give the Braves the benefit of the doubt and see how it all plays out.
"What we didn't want to have happen," said GM-in-waiting John Coppolella, "is finish this year .500, and then we lose Heyward and Upton and get back Draft picks 35 and 36 and we're like, 'What the heck just happened?' Then we'd be in deep trouble for the next five or six years."
What's left unsaid is that the Braves didn't want to find themselves in the state the Phillies or even the Rangers are in right now, trying to navigate around cumbersome contracts.
It was an awkward offseason on the heels of all the Braves did just a short time ago in extending Kimbrel, Freddie Freeman, Andrelton Simmons and Teheran. Awkward enough that Freeman, in particular, asked to dine with Coppolella this winter to hear about his long-term vision for the club. Freeman walked away from that lunch with Coppolella and manager Fredi Gonzalez convinced he wasn't going to be on a club perpetually buried in the NL East.
"Part of what we told Freddie was just where our farm system was ranked going into the offseason and where it jumped by the end of the winter," Coppolella said. "And a big part of what we told him is we didn't trade from our young core. We didn't trade Freeman, Simmons, Kimbrel, Teheran or [Alex] Wood, who is under control for the next five years. We added Shelby Miller, who's under control for the next four. We've tried to add guys to our young core to get better and better."
The Braves might be better in 2015. And even if they're not, they're still better-situated for the long run, both in terms of the 40-man roster and the improvements made to their international scouting and domestic development structure. The primary takeaway is that they're not operating on a plan in which they desperately need a bunch of overpriced veterans to return to form. They're in a better spot than people give them credit for.
"We've tried to walk down the parallel line," Hart said, "to allow ourselves a chance to be competitive."
Anthony Castrovince is a reporter for MLB.com. Read his columns and follow him on Twitter at @Castrovince. This story was not subject to the approval of Major League Baseball or its clubs.