Volquez roughed up vs. Crew, Moustakas hits mammoth blast
Royals starter allows six runs over four innings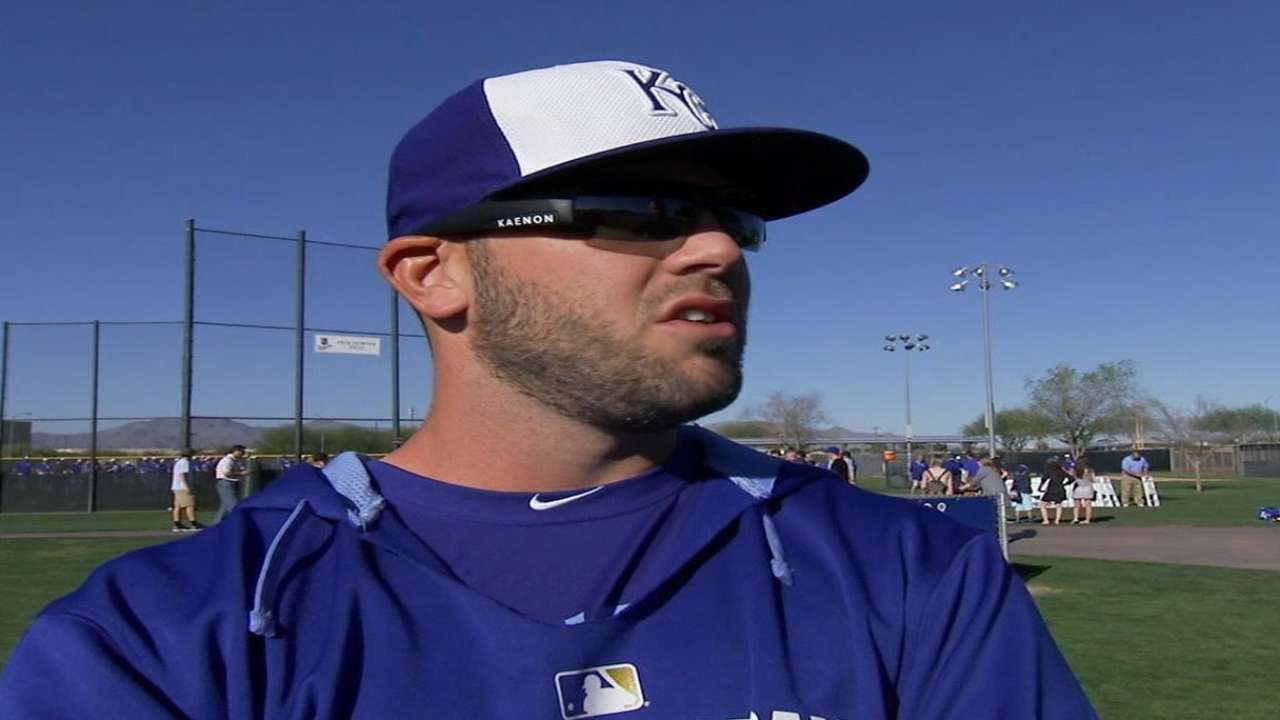 SURPRISE, Ariz. -- Brewers center fielder Gerardo Parra lofted a three-run homer to right field in the fourth inning of an 8-4 Cactus League win over the Royals Wednesday afternoon at Surprise Stadium.
Parra also hit a sacrifice fly in the second inning, and singled in the sixth.
Brewers left fielder Khris Davis had a two-run double in the first inning and an RBI double in the fifth.
Five of Davis' seven hits this spring were doubles.
Brewers starter Wily Peralta, the No. 3 starter, worked 3 1/3 innings, giving up four hits and one run. He walked one and struck out four.
Peralta had to work out of some jams.
"You always want to get, like, 1-2-3 and get out of there," he shttps://homebase.mlbcontrol.net/prototype/homebase.jsp?#/itemeditor\edit\113374666aid. "But those situations come up and just like during the season, you have to step up and make some pitches. I was able to do that today. … I'm happy. The things I've been working on have been there, so I'm happy with that."
One of the hits off Peralta was a tremendous blast by Royals third baseman Mike Moustakas, who sent a fastball to right field and out of the stadium. It was Moustakas' first homer of the spring.
Moustakas also had an RBI single in the fifth.
But Peralta had plenty of offensive support.
Royals starter Edinson Volquez struggled, giving up eight hits and six runs in four innings. He threw 68 pitches, 44 for strikes.
"Guys came out of the chute swinging hard, man," Peralta said. "Volquez left some pitches up in the zone, and they took advantage of that."
Volquez has given up nine earned runs in 8 1/3 innings this spring.
"I think I felt better this time than I did last time," Volquez said. "I got a couple of pitches up. What happened today hopefully doesn't happen in the regular season. Everything's good."
Royals manager Ned Yost partially blamed the "rock-hard Arizon infields" for giving the ground-ball pitcher a tough time.
"That first inning, he gave up some hits with the [hard] infield," Yost said. "That doesn't happen in the regular season."
Up next: The Royals will send out left-hander Jason Vargas on Thursday against the Rockies in a 3:05 (CT) p.m. start at Surprise Stadium. Kansas City also expects to have closer Greg Holland and top setup man Wade Davis pitch after Vargas. The game can be heard on an exclusive Royals webcast on MLB.com.
Jeffrey Flanagan is a reporter for MLB.com. Follow him on Twitter at @jflanagankc. This story was not subject to the approval of Major League Baseball or its clubs.