Brewers propose new spring rule: Allow pulled starters back in game
Roenicke says pitchers would progress better under change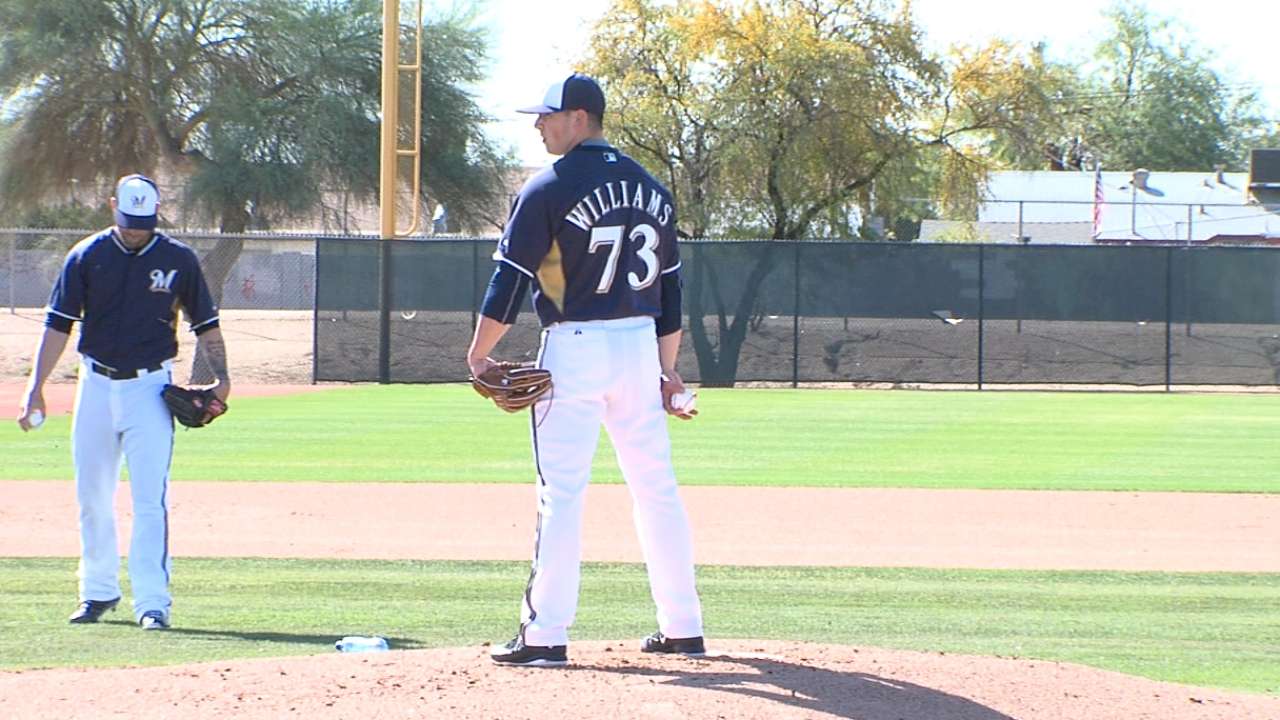 SURPRISE, Ariz. -- Here's an idea from Brewers pitching coach Rick Kranitz: Change the rules in Spring Training to allow a pitcher to re-enter a game in the event he's removed amid a blow-up inning.
The topic came up after Milwaukee right-hander Taylor Jungmann was bounced from a Sunday start against the Rangers after only one-third of an inning and 29 pitches. The Brewers wanted Jungmann to get more work that day, but worried he'd get hurt if he pushed his single-inning pitch count any higher.
Here's manager Ron Roenicke's pitch for Kranitz's idea:
"A guy goes 30 pitches that first inning, you take him out of a game and let a reliever finish that inning, then let that starter go back out for the second inning," Roenicke said. "It makes so much sense to me. Even from a fan's point of view; if they came to see Kyle Lohse pitch, and Kyle goes out there and throws 30 the first inning and I have to get him out of the game, he's done for the day?"
The policy would only apply to Spring Training, and Roenicke proposed only allowing it once per team per game.
Roenicke said GM Doug Melvin presented the idea at the General Managers Meetings and found some traction.
"You wouldn't have to push a guy, saying, 'Man, we have to get him through this inning,'" Roenicke said. "You would feel good about still getting a guy's work in and progressing him a long to where you're not behind a start."
To keep Jungmann on track, he pitched in relief against the Royals on Wednesday.
Adam McCalvy is a reporter for MLB.com. Read his blog, Brew Beat, and follow him on Twitter at @AdamMcCalvy. This story was not subject to the approval of Major League Baseball or its clubs.