Wooten again on bullpen bubble as roster decisions near
Bevy of arms competing for Brewers' reliever roles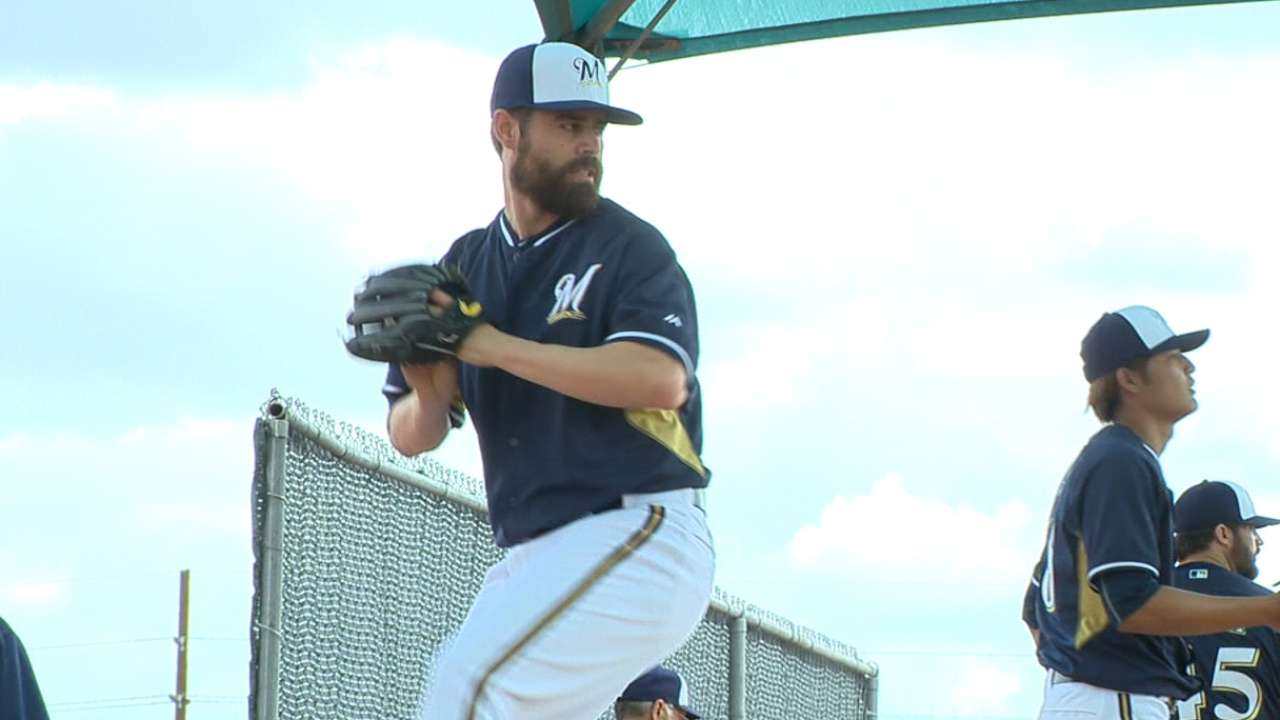 SURPRISE, Ariz. -- When Brewers right-hander Rob Wooten makes his latest Cactus League appearance on Thursday, he will focused on the world champion Giants, and not on the calendar.
Wooten knows decision time is looming, however.
The 29-year-old finds himself on the bullpen bubble for the second straight spring, and it's a crowded field. Closer Francisco Rodriguez has yet to pitch, but expects to be ready in plenty of time. Jonathan Broxton, Will Smith and Jeremy Jeffress are pegged as setup men. Jim Henderson, Brandon Kintzler and Tyler Thornburg are healthy again. Former Indians closer Chris Perez is making a bid as a non-roster invitee. Already, that's too many relievers for seven or eight bullpen spots.
"I think everybody that's in my shoes [plays the numbers game] at this time," said Wooten, who has two Minor League options remaining. "You want to see where you are, and you know there's not a lot of spots open. … Last year, I got into the counting game, and it was a tough one to take."
Wooten survived until the very last round of roster moves before an assignment to Triple-A Nashville. He didn't know at the time he'd be back less than two weeks into the regular season.
"It's something I haven't forgotten, and not in a bad way," Wooten said. "I use it as motivation."
He wound up spending most of the season with Milwaukee, logging 40 appearances (fourth most on the team) and posting a 4.72 ERA in a variety of bullpen roles.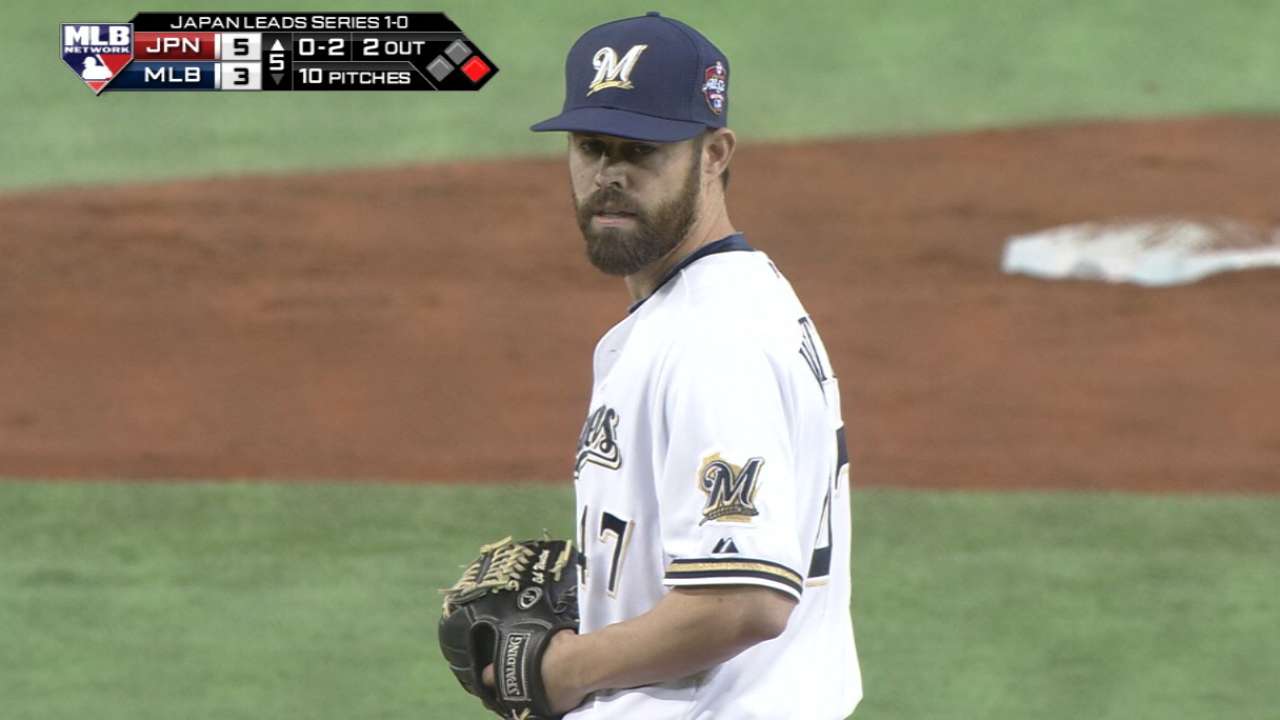 Wooten reported this year with a new weapon. Inspired by left-hander Zach Duke's resurgence last season, Wooten began working on "dropping down" to occasionally throw pitches from a sidearm angle. He tried it with fastballs while pitching on a Major League tour of Japan, and has added sliders this spring.
"I saw how much success [Duke] had with it, and it wasn't like a primary pitch for him," Wooten said. "It just surprised the hitters. You come from up top with four pitches, and all of a sudden you come from [the side] with two more, it's in their mind. I think it's an advantage."
The Brewers' decision is looming. The Brewers' initial decision is looming. Because of his level of Minor League service, the Brewers must pay Perez a $100,000 retention bonus if they want to keep him past March 31.
At the same time, club officials have a close eye on Thornburg and Henderson, who missed most of 2014 with injuries. Particularly Henderson, who has yet to regain all of his previous velocity.
"Wooten is a guy that [gives you] length if you want it, back-to-back-to-back if you want it, he has options, which sometimes is good and bad," manager Ron Roenicke said. "So he's a big part on trying to figure out this last spot in the bullpen."
Adam McCalvy is a reporter for MLB.com. Read his blog, Brew Beat, and follow him on Twitter at @AdamMcCalvy. This story was not subject to the approval of Major League Baseball or its clubs.