Quintana, Beckham charge White Sox victory
Lefty allows one run over 4 2/3, has first hit, RBI; infielder goes 3-for-4 with three RBIs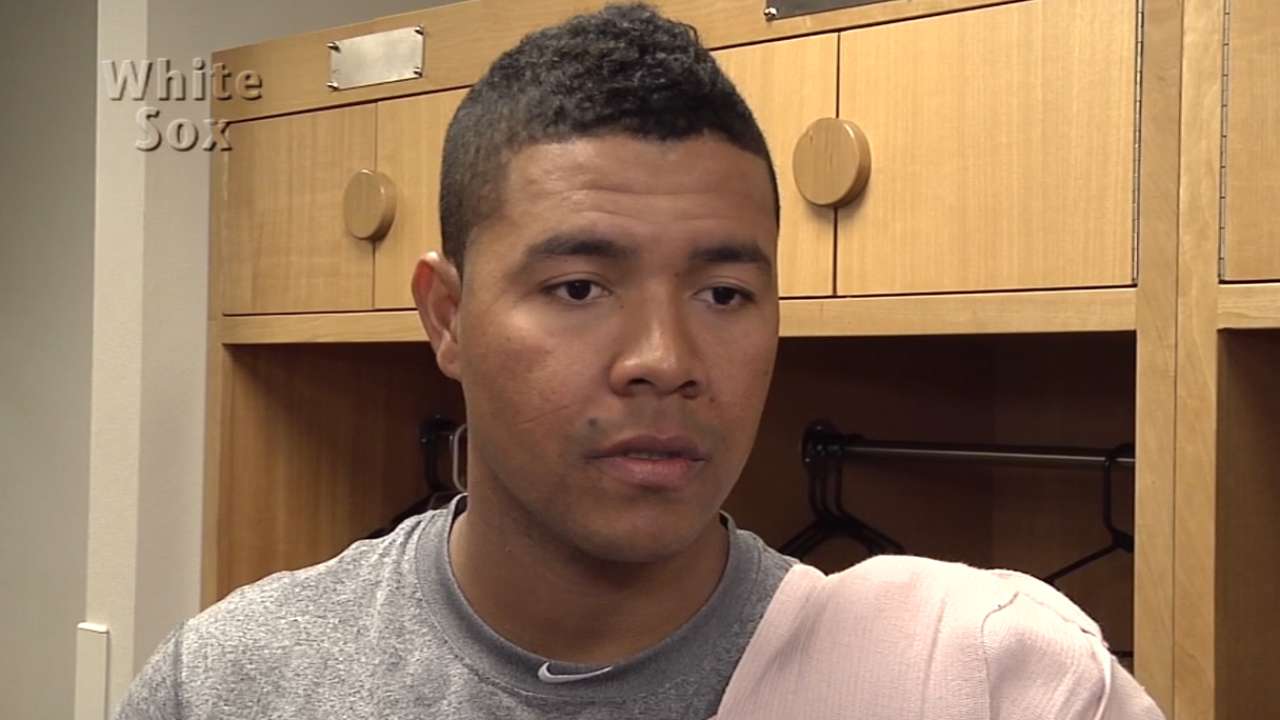 GOODYEAR, Ariz. -- Jose Quintana knocked in as many runs as he allowed Wednesday afternoon, and Gordon Beckham broke out of his spring slump as the White Sox topped the Reds, 9-4, at Goodyear Ballpark.
Quintana, who currently projects as Chicago's No. 2 starter on the Opening Day roster, looked sharp over 4 2/3 innings, allowing just a run on two hits. But the highlight of his day came in the top of the fifth, when he chopped a single past first baseman Joey Votto, who was guarding against a bunt. It was Quintana's first hit as a professional, and Beckham, who was at second base after a double, came around to score to give the White Sox a 4-1 lead.
"I'm excited for this moment, and I'm really happy for my first base hit in the Majors," Quintana said. "I'm happy about [my start]. All my stuff's working good. Every start, I have more confidence, all my pitches."
For the Reds, Todd Frazier homered off of White Sox closer David Robertson, who continued to struggle this spring. Frazier put the Reds in front in the second inning when he led off with a single and later scored on an error by second baseman Emilio Bonifacio.
But the White Sox grabbed the lead right back, capitalizing on the erratic Jason Marquis. After Marquis issued a pair of walks, Alexei Ramirez doubled into the left-field corner, scoring both runners, before being thrown out trying for a triple.
Marquis, who figures to have earned a spot in the starting rotation now that Paul Maholm and Tony Cingrani are destined for the bullpen, allowed four runs in five innings. He looked good early, but labored as the game progressed, walking three in his final two frames.
"I didn't anticipate him shutting out the Cactus League," Reds manager Bryan Price said of Marquis, who entered the game having allowed one run in three starts. "He just wasn't as sharp today. His ball was coming back. He was missing his lanes with his sinker a little bit. He still got a bunch of ground-ball outs. When he was in the zone, he was typically pretty good."
For the White Sox, Beckham had a two-run homer and pair of doubles. He began the day just 1-for-22 in Cactus League action. Bonifacio notched a hit and a walk, but he committed a pair of errors. Geovany Soto and Courtney Hawkins added solo home runs.
Marlon Byrd added two hits for the Reds, bringing his spring batting average to .381. Chad Wallach had a sac fly in the seventh to pull the Reds to within a run at 5-4.
Up next: For the first time this spring, the White Sox get to face their rivals from the North Side, when they host the Cubs on Friday at 3:05 p.m. CT, live on MLB.TV and Gameday Audio. Adam Eaton (stomach bug) and Adam LaRoche (back tightness) are expected to return to the lineup after being scratched on Wednesday. Hector Noesi gets the start, followed by Zach Putnam, Zach Duke and Dan Jennings.
AJ Cassavell is a reporter for MLB.com. Follow him on Twitter @ajcassavell. This story was not subject to the approval of Major League Baseball or its clubs.