Mariners unveil four new TV ads
Felix, Cano among those featured in funny spots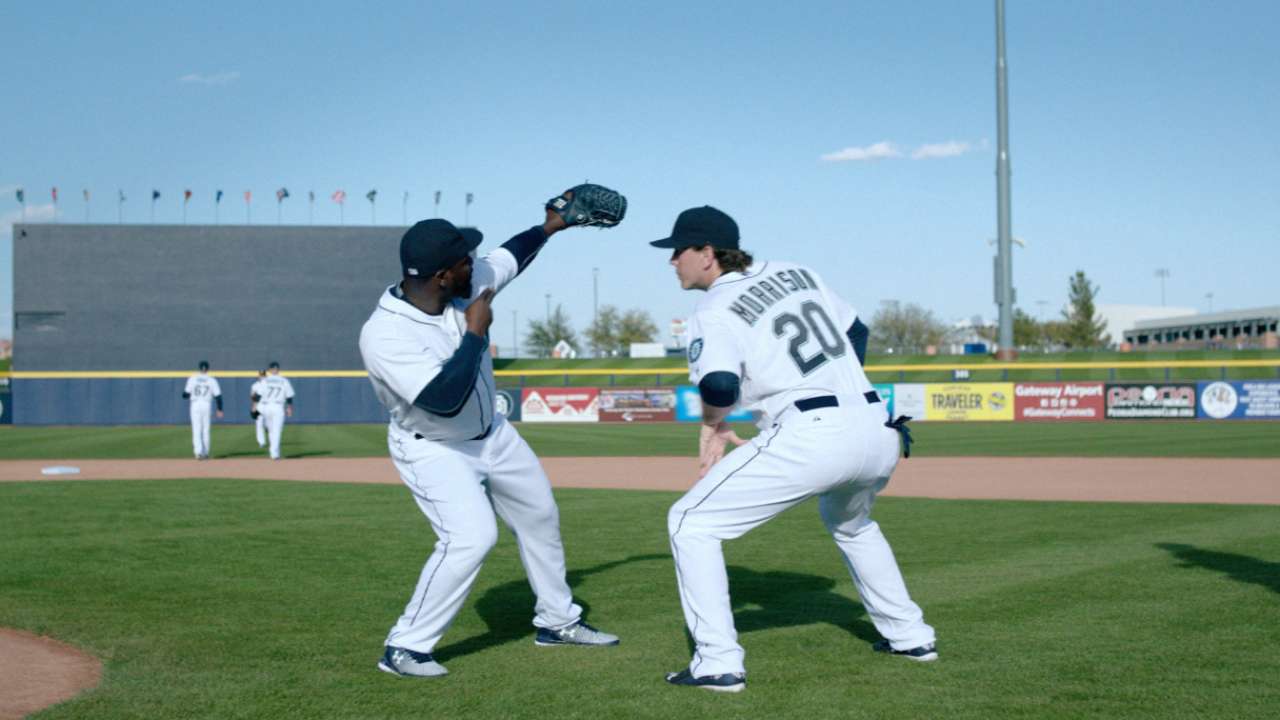 On Wednesday, the Mariners launched four new humorous TV commercials featuring those themes, 12 players, manager Lloyd McClendon and coaches Howard Johnson and Chris Woodward. The commercials, scheduled to run throughout the season on local and regional broadcasts and cable channels, will debut during Wednesday's broadcast of the Mariners' game at the Peoria Sports Complex on Root Sports. Fans can view the commercials and vote for their favorite on mariners.com.
"There was no acting necessary for that bit. It was all about the 'love of life,'" Mariners reliever Tom Wilhelmsen said. "I am really grateful to the Mariners. They have given me the opportunity to be a big league pitcher and now a rock star. That's two dreams that every kid wants to be."
These are the club's new commercials for 2015:
Where Did it Go?: The commercial features Rodney, Nelson Cruz, Logan Morrison and a debate on whether Rodney's "air arrow" is real.
Bat Control: This commercial features Cano, McClendon, Johnson and Woodward in a funny experiment of Cano's bat control.
Intensely Intense: The commercial features Hernandez, J.A. Happ, Hisashi Iwakuma, James Paxton and Mike Zunino. It centers on Hernandez's intensity, even when taking photos.
Hawt Corner: Gold Glove third baseman Kyle Seager, along with relievers Charlie Furbush, and Wilhelmsen rock the park with a hair band from the 1980s and successfully turn the hot corner into "Hawt Corner" in this musical commercial.
"That was probably 95 percent us being goofballs and five percent direction, an outline of something, and we pretty much had the freedom to be rock stars or groupies or whatever," Furbush said. "We were just going to go with it and see what happens at the end of it all. It was pretty epic."
The commercials, shot on location in Peoria, were created by the Mariners and Seattle agency Copacino+Fujikado. They were directed by Blue Goose Productions of Mercer Island.
"The guys that come up with stuff do a great job," Wilhelmsen said. "They pick the right guys for the right spots, and I think it's safe to say that they nailed Charlie and I for those two spots."
Jesse Sanchez is a national reporter for MLB.com. Follow him on Twitter @JesseSanchezMLB. This story was not subject to the approval of Major League Baseball or its clubs.