Lyles throwing hitters for change with new pitch
Split-finger offering gives Rockies right-hander another put-away option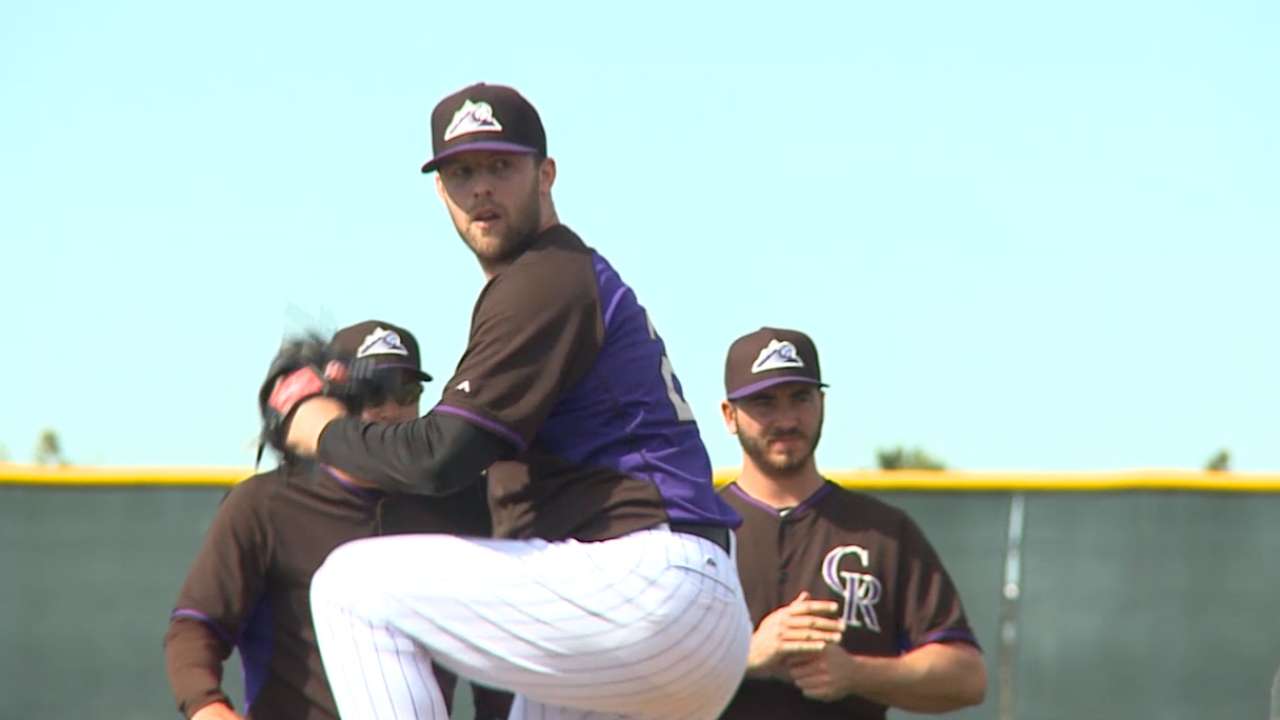 SCOTTSDALE, Ariz. -- Almost by a happy accident, Rockies right-hander Jordan Lyles is morphing into a strikeout threat.
Granted, the season is still more than two weeks away, but the split-finger changeup that Lyles developed last summer and honed this winter has helped him strike out six batters in seven Cactus League innings. That's a 7.71-strikeouts-per-nine-innings rate. Last season, his first with the Rockies after three wit the Astros, he averaged a career-high 6.2.
There is a trade-off. Lyles, 24, has been building his career on the ground-ball out -- 1.39 for every fly-ball out in his career, 1.57 last year. This spring, Lyles' ground-ball rate is 1.00.
The idea of the changeup, a pitch he honed while sitting out June and July with a broken left hand last year, was to give hitters something to consider other than his heavy fastball and his slider. But if hitters are considering it as they walk to the dugout, bat in hand, all the better.
"Of my strikeouts this spring, I want to say 75 percent [of the put-away pitches] have been changeups," said Lyles, who will start Thursday's game against the Royals at Surprise, Ariz. "That tells me it's a little more difficult to see.
"I don't necessarily think I'm a strikeout pitcher now just because of that one pitch, but it adds something for the hitter to respect. A good changeup can make the other pitches better."
True, strikeouts drive the pitch count higher than groundouts, because they need at least three pitches while a grounder could be garnered in one. But, hey, outs are outs, and if a pitcher is dominating a game, he can earn pitches beyond the 100 that the Rockies generally allot per start.
"It was primarily to keep hitters off his fastball and create more margin for error," Rockies manager Walt Weiss said. "He's embraced [the changeup]. It's become more than that. It's become a pitch he can finish hitters with so the at-bats don't get extended against him -- foul ball, foul ball, foul ball, and now you're at eight- and nine-pitch at-bats."
Thomas Harding is a reporter for MLB.com. Read his blog, Hardball in the Rockies, follow him on Twitter @harding_at_mlb, and like his Facebook page, Thomas Harding and Friends at www.Rockies.com. This story was not subject to the approval of Major League Baseball or its clubs.