MLB.com Columnist
Richard Justice
McClendon has his finger on pulse of Mariners
Seattle skipper is perfect man to lead club to the next level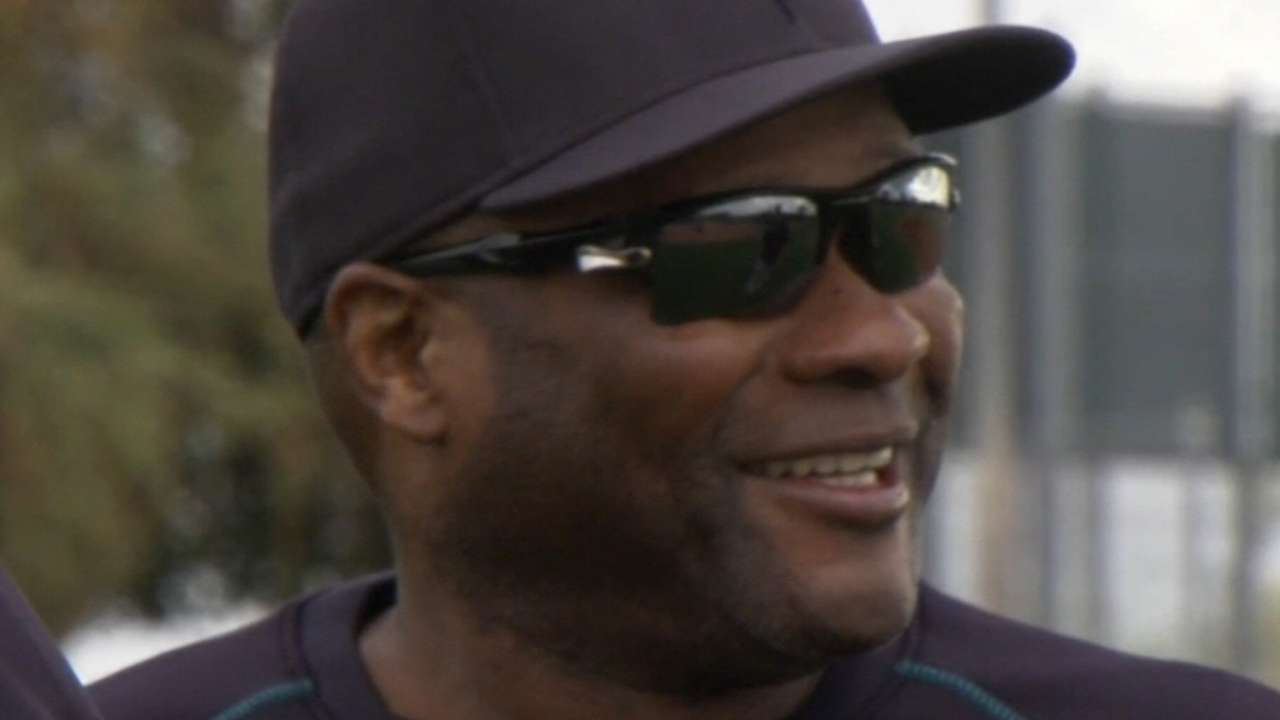 PEORIA, Ariz. -- Sometimes you know leadership when you see it. You just know. That's how I feel whenever I'm around Seattle Mariners manager Lloyd McClendon.
It's McClendon's physical presence and demeanor. He just carries himself a certain way. It is difficult to define, easy to understand. It's his ability to communicate with players and his understanding of the importance of doing so. It's his honesty, as brutal as it might occasionally be.
When utility man Rickie Weeks joined the Mariners, he told McClendon, "Just be honest with me."
"Don't worry," McClendon shot back.
Yes, McClendon knows how to construct a lineup, manage a bullpen and all that stuff. Those things all matter. But plenty of men have been brilliant strategists and failed at managing a Major League team.
To know people and to try to understand them and deal with what motivates them and what insecurities eat at them -- those are the qualities baseball's best managers have.
"He's not afraid to stand up to anybody," Seattle infielder Willie Blomquist said. "He'll also stand up for his players. On the other hand, he has a little bit of an old-school approach. If you're not playing the game the right way, he'll let you know about it. He's not afraid to get after anybody at any time."
And so in a year when great things are expected of these Mariners, McClendon appears to be precisely the right man for the job.
McClendon is tough and demanding. He believes things ought to be done a certain way. In drills and practices, everything has a purpose. But when McClendon's players are asked about him, they almost always begin in the same place.
"He cares about you as a person," second baseman Robinson Cano said. "He sees you as family. That's what we love about him. Is everything good with you? Your family? Your health? If everything is good with you, he knows you'll perform the right way. You want a manager to be on your side."
If there's a blueprint for a successful manager, it might just be McClendon's. His 35 years in baseball have all contributed in bringing him to this place. He spent parts of eight seasons in the big leagues as a player and he never got more than 305 plate appearances in a season.
McClendon then embarked on a career as a coach and manager. He was 42 when the Pirates gave him a chance to manage in 2001. He was let go 136 games into a fifth straight losing season.
And then during four years as Jim Leyland's hitting coach in Detroit, McClendon had a front-row seat to watch one of baseball's great skippers run games and relate to players. Last year, nine years after being let go by the Pirates, McClendon was given another chance to manage by Mariners general manager Jack Zduriencik.
Through the years, McClendon has seen plenty and learned plenty.
"If you really think about it, if you're honest with a player, they may not like what you have to say, but they'll respect it," McClendon said. "There has to be a certain line you draw in the sand. They have to respect this office. Not so much me, but the office itself and what it stands for. I think my players get it. We have fun. I let them have fun. But if I have to pull the string, I'll pull the string. For the most part, they do pretty good. It's real simple."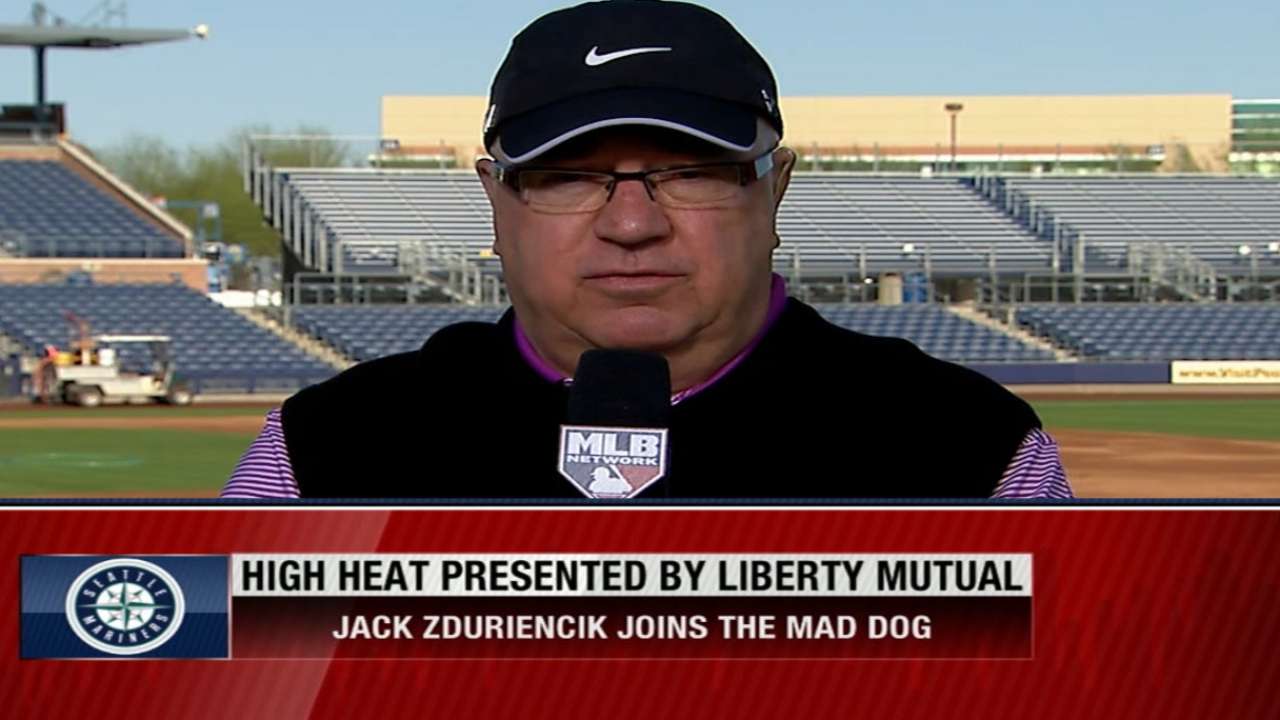 McClendon arrived in Seattle to find that Zduriencik had put the franchise in a good place. The farm system had been built carefully, and ownership was ready to take the next step last offseason by spending big bucks to sign Cano.
The Mariners improved by 16 games in 2014 and had their first winning season since '09. But at 87-75, they missed a playoff berth by a single game.
"It was a fascinating year for a lot of different reasons," McClendon said. "I thought we got every ounce of energy out of that club. They did a tremendous job for us.
"We came up a little short, and that was tough to swallow. To think that the Giants had one more win than we did, and they won the World Series. With our pitching staff, if we could have gotten in, it would have been pretty interesting.
"You live and learn. Your past prepares you for the future. Hopefully, that prepared us for our future here. We'll see."
Zduriencik plugged more holes this offseason, acquiring Nelson Cruz, Seth Smith, Weeks and Justin Ruggiano for the offense and left-hander J.A. Happ for the rotation.
"The one thing Jim [Leyland] taught me was to know your personnel," McClendon said. "If you're going to be a good manager, you've got to know your players and what makes them tick and what they can do and what they can't do."
McClendon also remembers how hard the game was and how difficult the grind of a season can be. Shortstop Brad Miller remembered one hot day last summer when McClendon approached him in the outfield during batting practice and ordered him to go into the clubhouse and get off his feet.
"I was supposed to be out there shagging balls," Miller said, "and Mac told me he'd handle it.
And yet, through the season, McClendon continued to hold infield drills to instill good habits and to reinforce his bottom line.
"He's very clear with what he expects out of us, so it's easy," Miller said. "We know the deal. We know how to play. We know how to prepare. If you do that, it's pretty simple."
Richard Justice is a columnist for MLB.com. Read his blog, Justice4U. This story was not subject to the approval of Major League Baseball or its clubs.