Cobb 'really disappointed' to miss Opening Day
Rays' ace feels he will be able to return at some point in April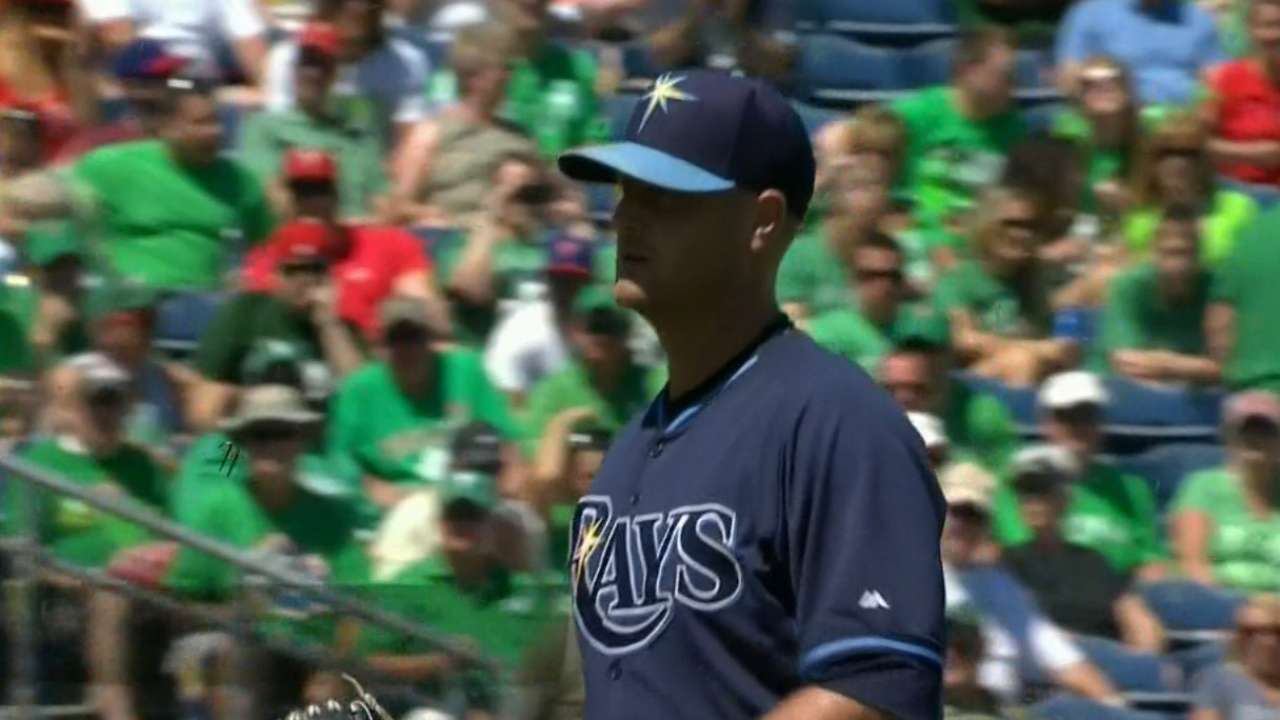 DUNEDIN, Fla. -- Rays right-hander Alex Cobb endured a tough break when he learned that he wouldn't make his first Opening Day assignment because of right forearm tendinitis.
After pitching three perfect innings, with three strikeouts, against the Phillies on Tuesday, the Rays' ace was diagnosed with right-forearm tendinitis.
"It's never easy to know you're going to have to take a step back and kind of delay your process in getting ready for the season," Cobb said on a conference call with reporters on Wednesday. "But you know, I just kind of look at it from the outside in and realize that this whole situation could be a lot worse. There's a lot more difficult situations that could have come from a sore elbow than [tendinitis]. You know, it's not the worst-case scenario."
Cobb allowed that from a "personal standpoint" he was "really disappointed" he will not be making his first Opening Day start.
"I was really excited to kind of take on that honor and be able to take the ball the first day and kind of set the tone," Cobb said. "That's more of a selfish standpoint. If I really look at it and think about what's best in getting ready for the long haul, the six-month season, this is the best thing I can do to prepare for that.
"So it's just the circumstances that are in front of me and there's no need to dwell over it and pity myself. It's just something that I've come across and I have to deal with it."
Cobb cannot pinpoint what went wrong or when it happened.
"Tendinitis is just such a natural occurrence in your body that it could happen at any moment," Cobb said. "But maybe I did throw a little too much off the mound [after my previous start], threw too many pitches in bullpen sessions. The Rays do a good job of monitoring our progression in getting ready to get on the mound. You know, I might have overdone it a little bit in a bullpen session."
Cobb said he doesn't feel as though he will be "shut down for that long," though he noted that anything he might say about what his progression will be would be speculation.
"If I diagnosed this and I was in control of this thing, I'd still be pitching Opening Day," Cobb said. "But you know that's not the way we roll around here. I just have to listen to [Rays head athletic trainer] Ron [Porterfield].
"He's done nothing but steer me in the right direction from the second I stepped foot in this clubhouse so there's no reason why I would ever deter from that mindset. We're really not trying to plan up the next month of baseball right now. Right now we're getting this pain out.
"I think the fact that we know there's no structural damage in there. There's just some tendinitis, so it will basically go off how I feel. Once we get everything calmed down and see how it responds, we'll be able to go from there. But I don't tell you how many starts I expect to miss or anything along those lines."
While Cobb would not speculate specifically about the program he will follow, he did say allow that he would be back on the mound at some point in April.
"I think we can safely say that," Cobb said. "I would like to believe I would be back for April, no doubt."
Bill Chastain is a reporter for MLB.com. This story was not subject to the approval of Major League Baseball or its clubs.