MLB.com Columnist
Tracy Ringolsby
With big shoes to fill, McGehee up to the challenge
Time in Japan taught Giants third baseman valuable lessons about his abilities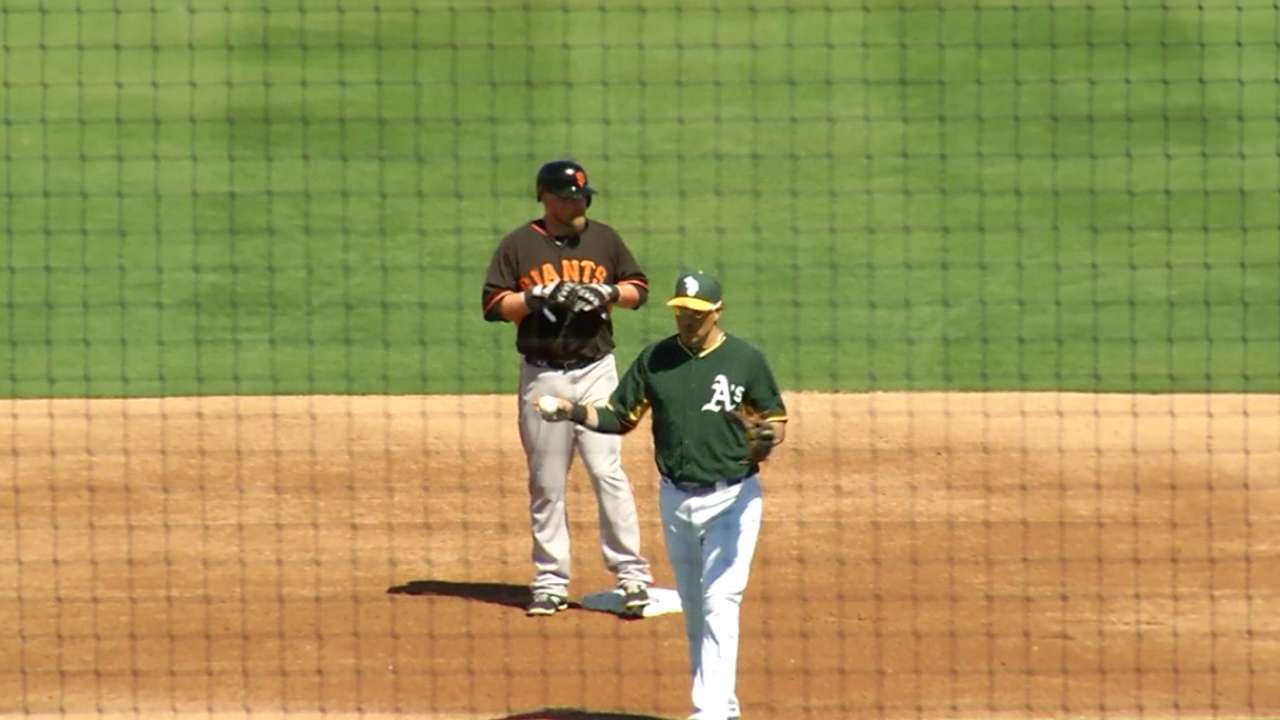 SCOTTSDALE, Ariz. -- Two years ago, Casey McGehee's baseball career was in limbo. In the previous 18 months, he had bounced from the Brewers to the Pirates to the Yankees, and he was headed to Japan, figuring his days in the big leagues had passed.
McGehee was still going to get paid to play baseball -- a reported $1.5 million -- for the Tohoku Rakuten Golden Eagles in 2013. And yes, there had been a few Americans who had made the trip to Japan and then returned to play in the Major Leagues. But the emphasis is on the word few.
"When I decided to go, I had to get myself to accept the fact that this might be it -- that it wasn't about getting back to the big leagues, but it was about doing the best I could to play for the Golden Eagles," McGehee said.
There were, however, a lot more players like Tuffy Rhodes -- who spent 11 years in Japan, hit 474 home runs and never got a chance to come back home to play baseball -- than Cecil Fielder, who parlayed one year in Japan into 14 more years in the big leagues.
Fielder was only 26 when he went to Japan, not yet in the prime of his career. McGehee was on the back side of 30.
Now look at McGehee. He is back in the big leagues, having signed with the Marlins a year ago and playing well enough that the Giants, who have won three of the past five World Series, sent two Minor League players to Miami this past offseason in exchange for McGehee to fill their opening at third base.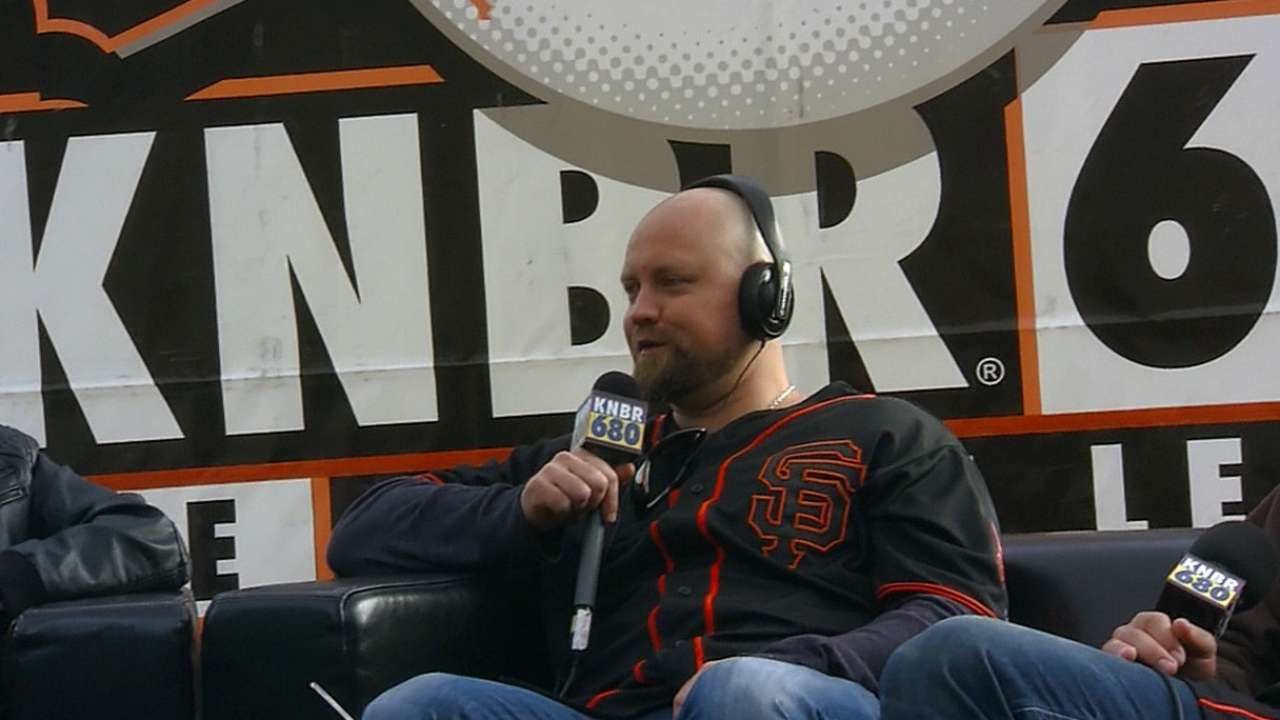 The opening was created by the free-agent departure to the Red Sox of Pablo Sandoval, a fan favorite who was embraced as a cult hero by the AT&T Park fans, many of whom would show up for games wearing their panda hats in honor of Sandoval's nickname, Panda.
Belying everything that has been said about the importance of being a disciplined hitter, Sandoval not only swung at balls that bounced in the dirt, he hit them. A free swinger by all means, he hit .294 in six-plus seasons with the Giants, never striking out more than 85 times in a season.
Awful big shoes to fill.
McGehee isn't concerned. He makes no pretense about the fact he's not Sandoval, won't be Sandoval and is just as fascinated with Sandoval's uncanny ability as any fan. McGehee showed up for Spring Training just wanting to be himself.
Life in Japan helped drill that home to McGehee. He focused on what he was capable of doing. He welcomed the chance to play in Japan. He wasn't consumed with getting back to the big leagues.
Next thing McGehee knew, he was back in the big leagues -- and he was back to wanting to prove to others he could play in the big leagues.
"I had my confidence back," McGehee said. "I was back to playing my kind of game. The big difference was I had gotten away from doing the things I need to do. I got caught up in hitting the ballpark out of the ballpark. I lost that approach of using the whole field."
After making his big league debut with the Cubs in September 2008, McGehee was claimed off waivers by the Brewers. Having never hit more than 12 home runs in any of his six full seasons in the Minor Leagues, McGehee hit .301 with 16 home runs and finished fifth in the National League Rookie of the Year Award voting in 2009.
And then McGehee hit 23 home runs in '10. He caught home run fever. It wasn't kind to him.
McGehee isn't the prototypical power-hitting corner infielder. But he can hit and he can drive in runs.
McGehee only had four home runs with the Marlins last year, but he did drive in 76 runs and hit .287, and he committed only seven errors. It is worth remembering that Sandoval had three fewer RBIs, hit eight points lower and committed four more errors than McGehee.
And yes, Sandoval did hit more home runs, but he only hit 16 last year and 42 the past three years.
"Pablo was a great player here," said McGehee. "He has three [World Series] rings to prove it. Thinking about that, though, doesn't help me.
"I might be the only crazy one and think I can help the team win, but I really believe it."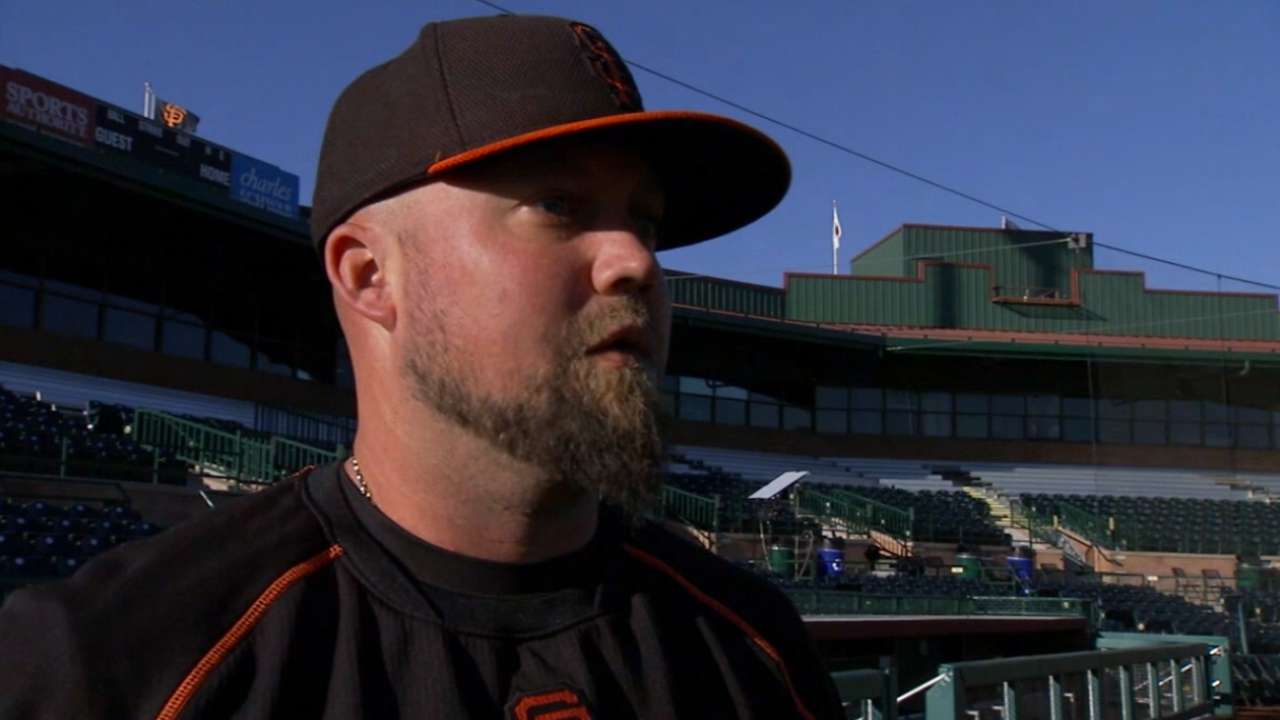 McGehee has never backed down from the challenges of proving himself. He was a 10th-round Draft choice of the Cubs out of Fresno State, spent six years in the Minors, and then after only nine games and 24 at-bats in September 2008, he was lost on waivers to the Brewers. And after the struggles in 2012, McGehee found himself headed to Japan after no one offered him a big league contract.
"I lucked out," he said. "I was on the same team as [Masahiro] Tanaka, and a lot of big league scouts were coming over to see him."
The scouts liked what they saw enough that McGehee got that second chance to play in the big leagues. He was ready for the challenge.
"In a weird way, I enjoy people having doubts," McGehee said. "It is one more reason I have to prepare every day. It's one more reason I have to push myself every day. It's not me against the world, but it is me proving that I am good enough to be here."
The Giants are believers. It is up to McGehee to reinforce their confidence.
Tracy Ringolsby is a columnist for MLB.com. This story was not subject to the approval of Major League Baseball or its clubs.