Shuck trying to ease up on internal pressure
Outfielder in the mix for bench role with White Sox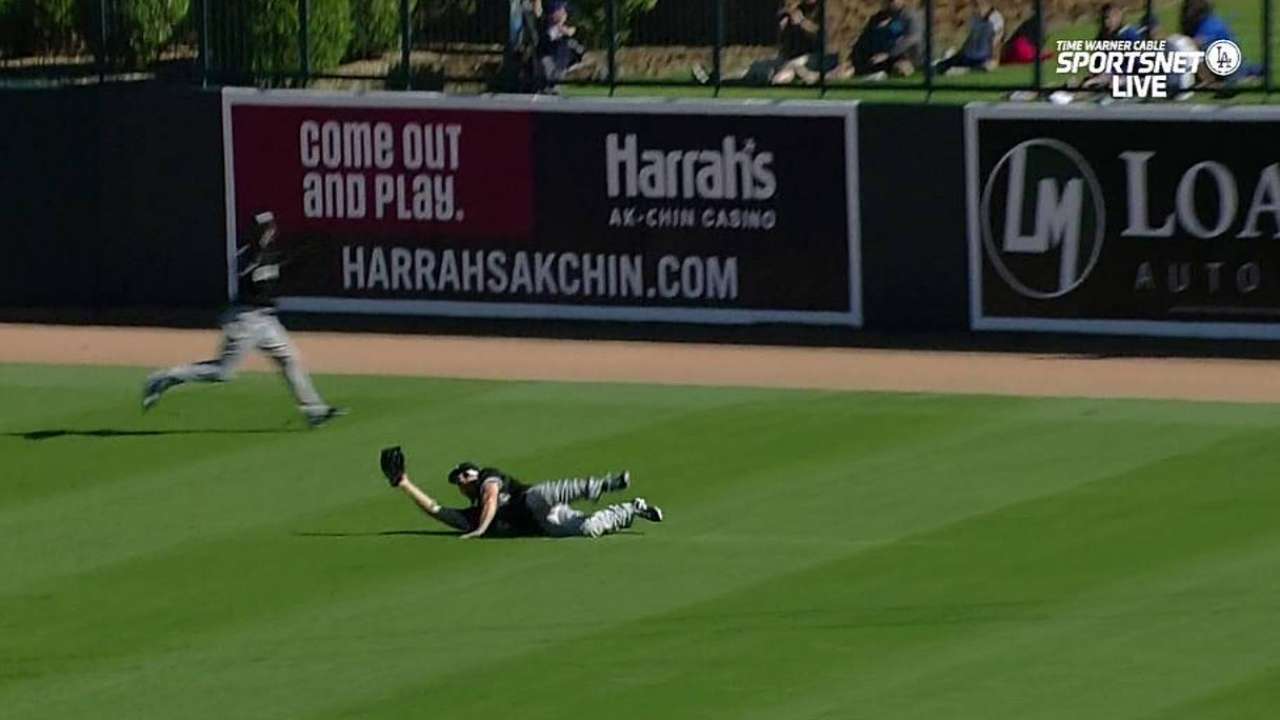 GLENDALE, Ariz. -- It wasn't long ago that J.B. Shuck was one of the brighter young outfielders in baseball. With the Angels in 2013, Shuck batted .293 and finished fifth in American League Rookie of the Year Award voting.
The phrase "sophomore slump" is often overused, but it applies in the case of Shuck, who came back to earth in 2014.
Struggling to find playing time in Anaheim, Shuck hit just .167 in 22 games for the Angels last season. In September, he was dealt to Cleveland, where he finished the year in a 2-for-26 slump. It was a classic case of a bright-eyed rookie giving way to the sudden burden of expectations.
"The biggest thing for me was that I pressed to much," Shuck said. "In this game, you can't do that. Once you have a bad game or a bad two games, it snowballs, and it can go quick. This year, I'm really focused on whatever happens, happens. The next day, I'll come out, do my same work and hopefully the outcome is different."
Shuck has an eye on earning one of the final roster spots out of White Sox camp. He's only a season removed from being a productive contributor on a powerful offense, so at the very least, he warrants being a part of the discussion.
And no matter the role, Shuck is prepared to step into it.
"Whatever they need me to do, I want to help in any way I can," Shuck said. "Right now, if it's coming off the bench, maybe laying down a bunt, pinch-running, playing defense, maybe getting a hit late in the game -- whatever it is, I'm looking forward to it, and I'm excited to get the opportunity."
In 12 games this spring, Shuck is hitting .348 -- but all eight of his hits are singles. He's stolen three bases, too, and his speed and versatility off the bench could potentially be the difference in his making the club.
"He offers a lot," White Sox manager Robin Ventura said. "He's got some speed, he's had some quality at-bats and plays all three outfield positions. So for us, flexibility-wise, he fits a nice mold."
Shuck, who started in left field against the Reds on Wednesday, was claimed off waivers almost immediately after the 2014 season ended. From that point, he monitored the South Siders' activity very closely, and he liked what he saw.
"They've done a great job of putting together a great starting rotation, the bullpen looks very solid and I think the lineup is going to do some damage," Shuck said. "I don't think there's really any holes."
AJ Cassavell is a reporter for MLB.com. Follow him on Twitter @ajcassavell. This story was not subject to the approval of Major League Baseball or its clubs.