Maxwell hoping to follow in footsteps of past NRIs
In pursuit of spot on Giants, outfielder impressed by camaraderie and inclusiveness of club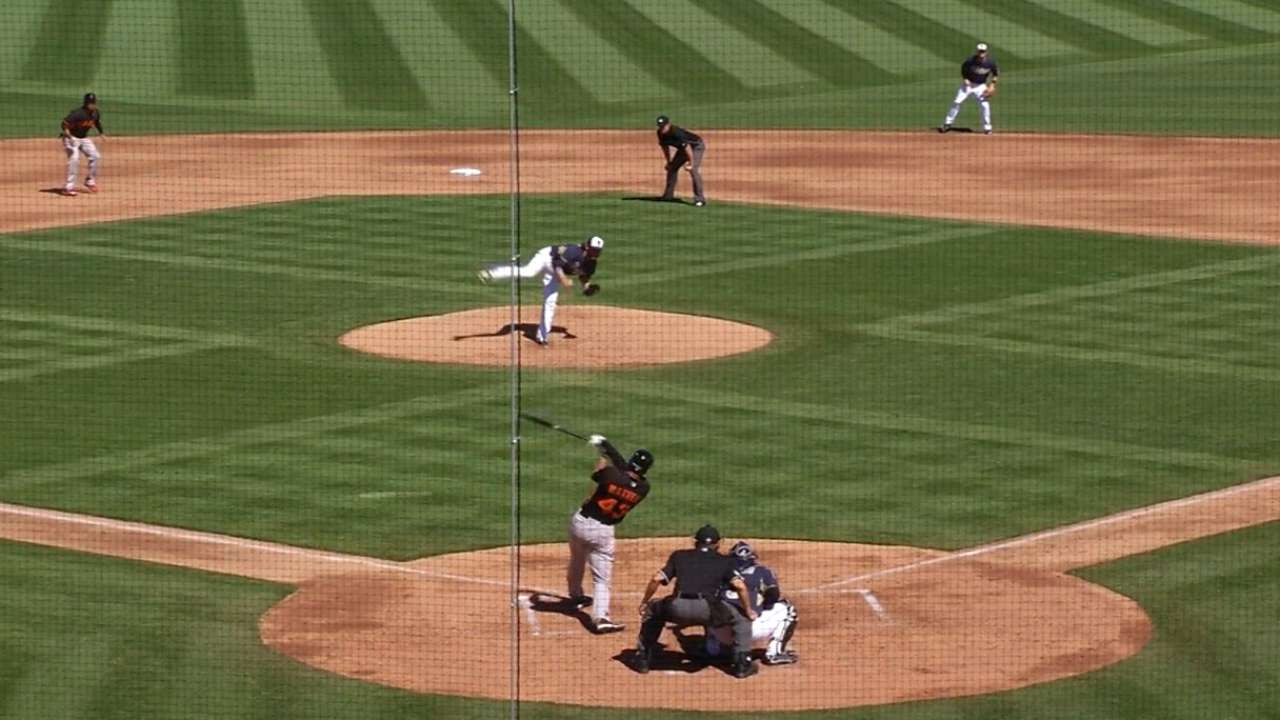 SCOTTSDALE, Ariz. -- Looking at the recent success of Spring Training non-roster invitees with the San Francisco Giants, it's no surprise outfielder Justin Maxwell accepted an invitation to camp this offseason.
In the past four years, Gregor Blanco, Yusmeiro Petit and Ryan Vogelsong all started out as non-roster invitees en route to becoming valuable contributors to a World Series championship team.
Truth be told, Maxwell did not know Blanco, Petit or Vogelsong's stories before he signed with San Francisco. He joined the team simply because of the Giants' reputation as a well-run organization.
But after spending a few weeks in San Francisco's clubhouse, Maxwell now has a better understanding of why the Giants are so successful at turning other teams' castaways into essential members of their club.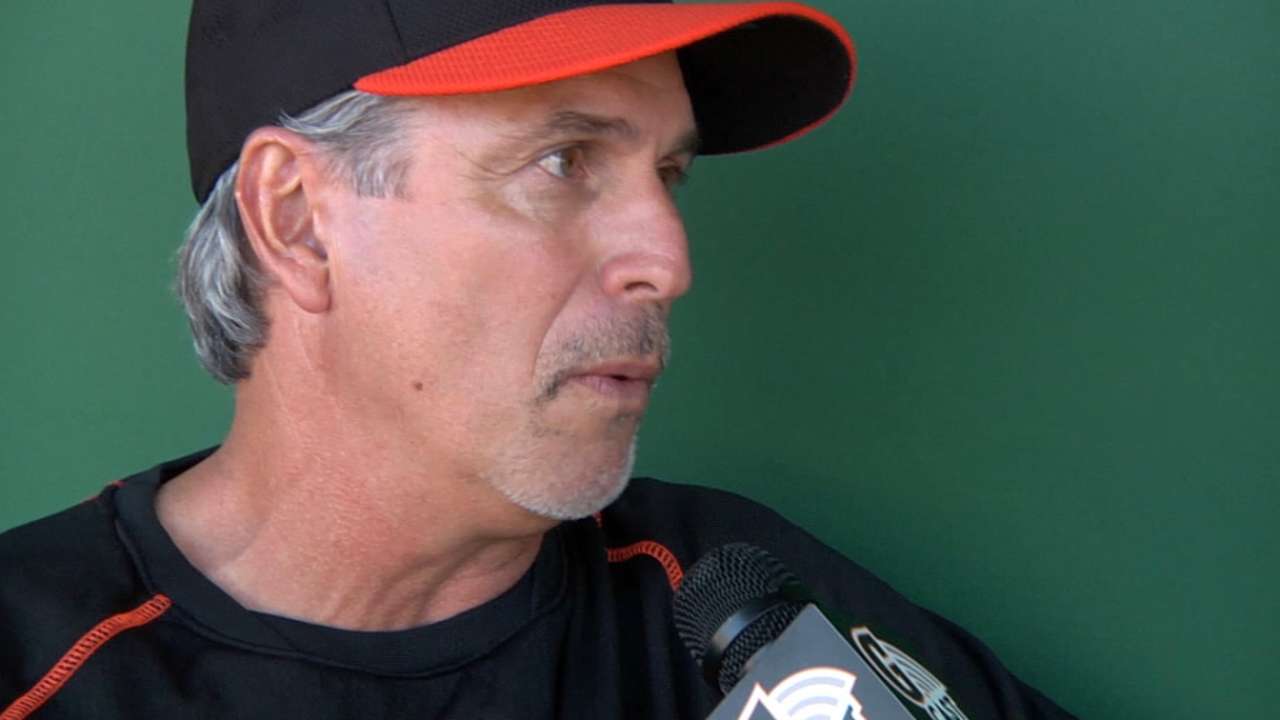 "One of the main differences I've seen here is that all the guys are pretty close," Maxwell said. "They welcomed me right away."
Maxwell previously played for the Angels, Astros and Royals, and he said the attitude of the veteran players on the Giants stuck out to him. Hunter Pence was particularly engaging as soon as Maxwell arrived in Scottsdale.
"Hunter came up to me and talked to me for a while, and it wasn't just normal chitchat," Maxwell said. "He kind of dove into me and asked me personal questions to see what I was about. He wanted to get to know me, and I appreciated that."
Blanco was in a similar spot three years ago, trying to make the team as a 28-year-old journeyman. Like Maxwell, Blanco was stunned by the friendliness of the team's established stars.
"Buster Posey came to me one day in the cage, and he was like, 'Man, you've got a great swing. What did you do to get it?'" Blanco recalled. "And I was like, 'Really? Buster's asking me what did I do?' And that made me feel really comfortable."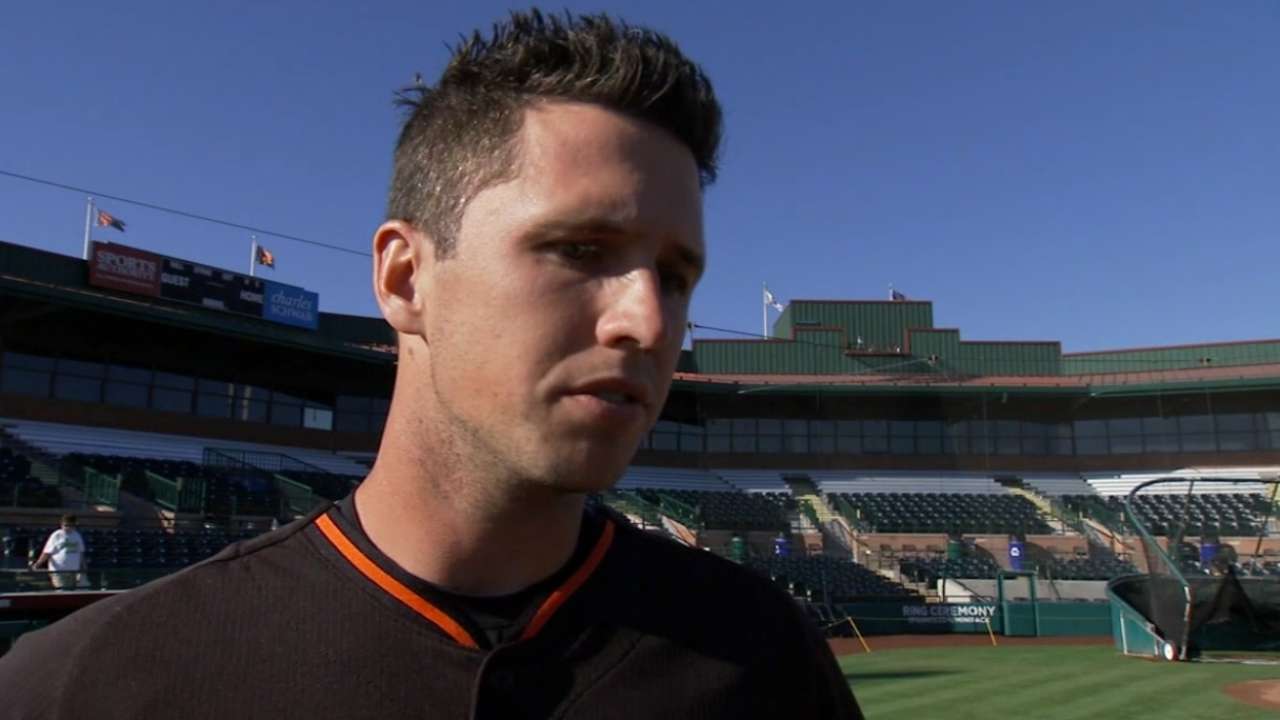 Because of the Giants' welcoming atmosphere, Blanco said he knew that spring that he would stay with the organization for as long as the club would keep him.
The camaraderie in the clubhouse was also the reason Petit decided to remain with San Francisco after he was designated for assignment in the middle of Spring Training 2013. Petit, a non-roster invitee in '12, said he was grateful the team gave him the option to re-sign.
"I didn't sign with another team because it was like family here," Petit said. "When you feel like that, you don't have to sign with another team."
For Maxwell to replicate the success of Blanco and Petit, he not only has to be accepted by the Giants' clubhouse, but the coaching staff and front office as well.
One factor working in Maxwell's favor is his aggressiveness at the plate -- a trait that San Francisco's staff emphasize to many of the team's hitters.
"It's kind of refreshing coming here, because that's what their philosophy is," Maxwell said. "[Hitting coach] Bam Bam Meulens told me earlier in camp that [manager Bruce] Bochy gets mad when you take first-pitch fastballs down the middle. He wants guys to be ready to hit."
Blanco told Maxwell the key to making the team is staying consistent at the plate, but Maxwell has been up and down this spring, with a .310 on-base percentage and one extra-base hit in 29 plate appearances. Still, thanks to some power (34 career home runs) and speed, Maxwell has the tools to become another success story for the Giants.
"I know he's not a young kid anymore, but he has a lot of talent," Blanco said. "I think he's a five-tool player. It's good we have him here, and I hope he makes the team."
Ari Kaye is a graduate student in the journalism masters program at Arizona State University. This story is part of a Cactus League partnership between MLB.com and ASU's Walter Cronkite School of Journalism and Mass Communication. This story was not subject to the approval of Major League Baseball or its clubs.