Inbox: Can Long help lefties hit lefty pitching?
Mets beat reporter Anthony DiComo answers questions from fans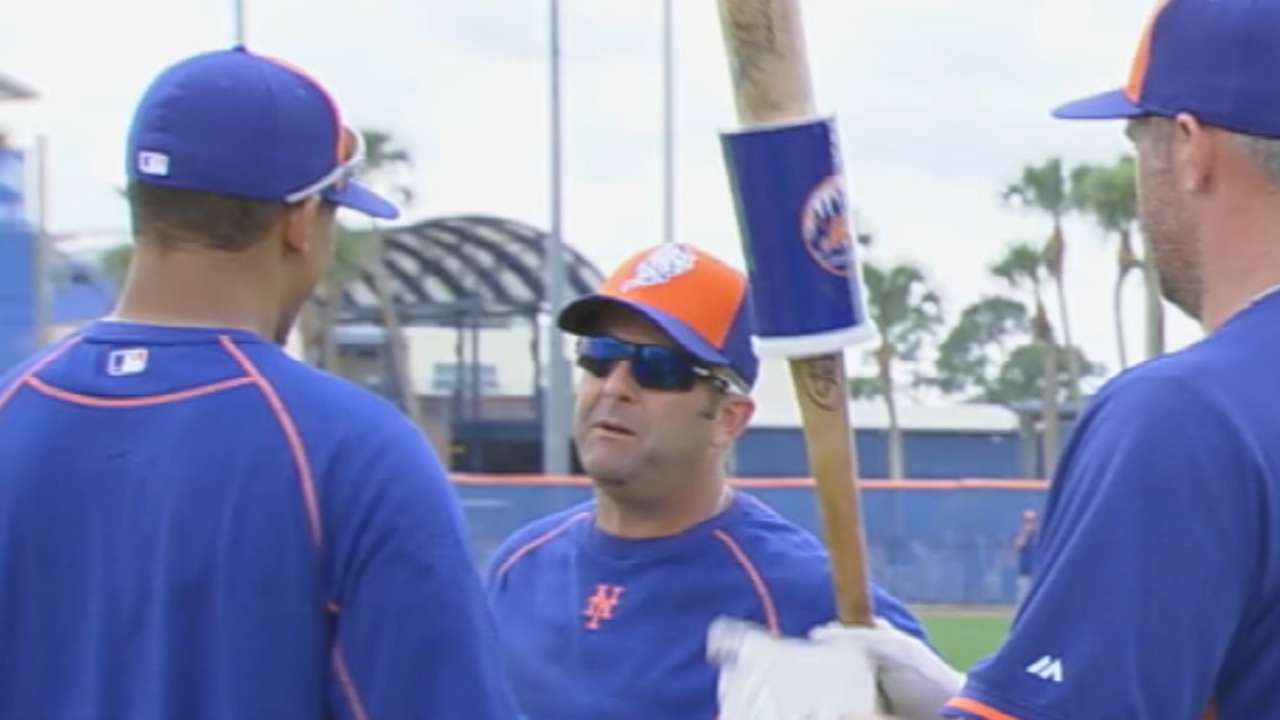 As the Mets enjoy their only off-day of Spring Training, playing a round of golf or perhaps just sleeping in, it's time again for some questions and answers. Let's get right to it:
How successful has new hitting coach Kevin Long been at helping lefties hit lefties? If Lucas Duda, Curtis Granderson, Kirk Nieuwenhuis and Matt den Dekker can improve there, it could make a big difference.
-- Tom H., Connecticut
It's a good question but a difficult one to answer. The only case studies with large enough sample sizes -- both under Long's tutelage and without him -- to draw conclusions from are Robinson Cano and Granderson, each of whose stat line tells a different story.
Cano produced a slash line of .299/.340/.416 against left-handers in two seasons prior to Long's appointment as the Yankees' hitting coach, though he did spend some time working with him in the Minors. Once Long arrived in the Bronx, Cano improved his slugging percentage to .466, but the first two categories remained static. A cynic could argue that the added power was due more to Cano hitting his prime than anything Long had to offer.
Click here to submit an Inbox question
Granderson was a different story, producing a slash line of .210/.270/.344 in six seasons before meeting Long, then .292/.345/.466 in three years under his tutelage. That's a huge difference, and it's a near certainty that Long played some role in it.
Knowing all that, Duda's performance this season should go a long way toward determining how helpful Long really is at coaching left-handed batters to hit lefty pitching. In many ways, Duda is the perfect case study -- a guy who's been in the league for five years now, has struggled against lefties and has already hit his prime. If Duda breaks out against left-handed pitching this season, it would be difficult to argue that Long didn't play a role.
One other tidbit to note about Long is that he throws batting practice left-handed. That may seem like a small thing, but the lefties in camp have raved about how it helps them see that sort of arm angle on a regular basis. We'll see how it translates into the regular season, when they're facing high-80s sliders instead of batting-practice fastballs.
Once you decide to have Tommy John surgery, does it matter if the tear was partial or complete for recovery time?
-- @DowninFront2, via Twitter
It doesn't matter one bit. Tommy John surgery means removing the ulnar collateral ligament from the elbow and replacing it with a tendon from elsewhere in the body, usually the opposite forearm. Whether the UCL is stretched (as in Josh Edgin's case), partially torn (Matt Harvey) or completely torn (Zack Wheeler), the surgeon is replacing the whole thing regardless.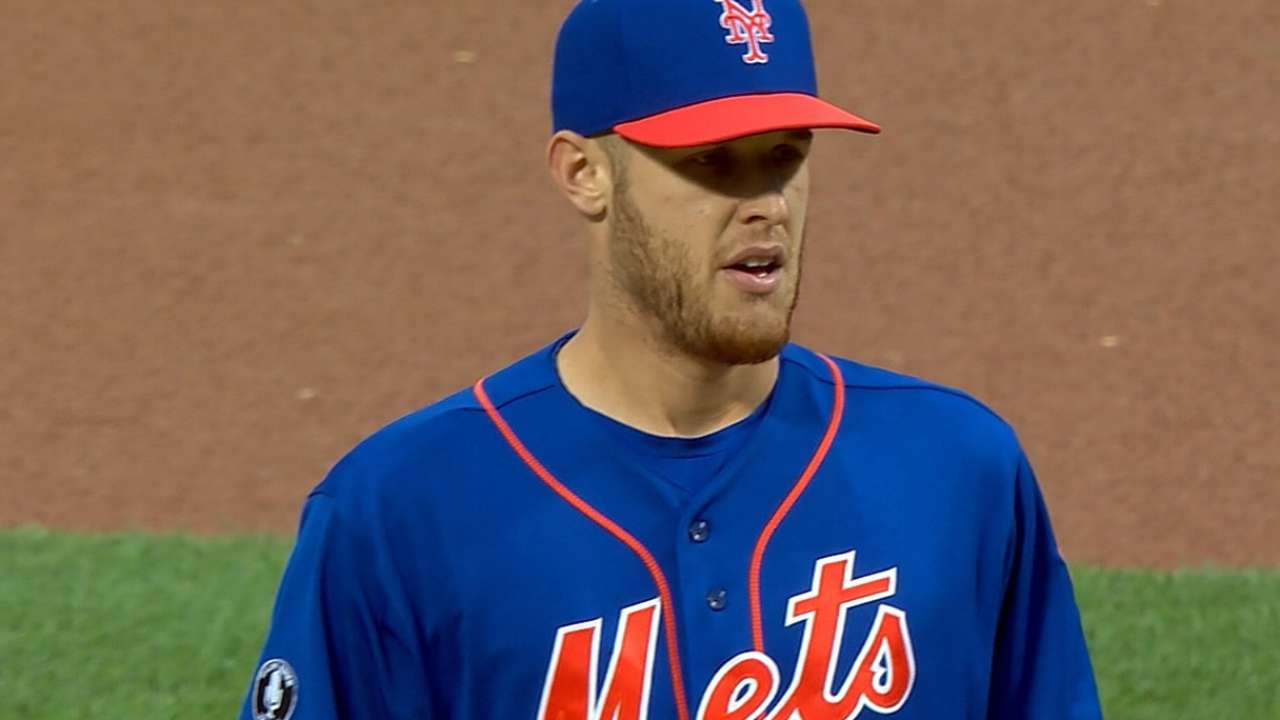 For that reason, an estimated one-year recovery time is the same in all cases.
Given Johnny Monell's (thus far) hot spring, any chance he is the backup catcher coming out of spring over Anthony Recker?
-- Sean K., Portland, Ore.
Possible? Sure. Just not very likely. Even if Recker brings little else to the table offensively, he has a track record of big league power. That's useful off the bench. More importantly, he's been here for two consecutive years, knows the pitching staff inside and out and has developed into a better defender. Given all that, there's just no reason to go searching off the 40-man roster when Recker is already on it -- fair or not.
With Daniel Murphy set to be a free agent after this season, and the Mets hoping -- rather than expecting -- to contend, why haven't they aggressively shopped him with Dilson Herrera waiting for the starting gig at second base? I love Murph, but his value is only going to decrease toward season's end.
-- Steve P., Merseyside, U.K.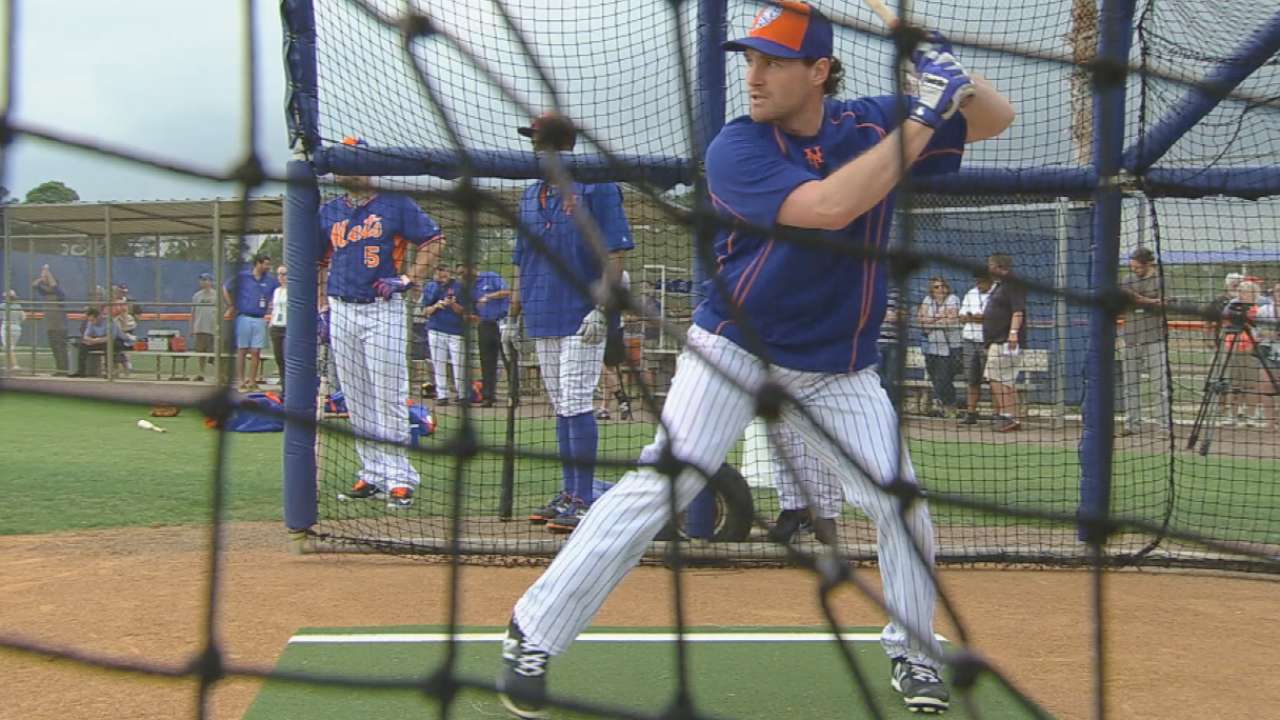 You answered your own question -- they haven't traded him because they hope to contend and are a better team with Murphy at second base. That, combined with Murphy's relatively low value on the market (thanks in large part to his $8 million salary) and the fact that Herrera is not quite ready yet, made keeping Murphy the Mets' only real option.
A year from now, of course, Herrera should be good to go. Odds are strong we'll see Murphy in another uniform at that time.
Anthony DiComo is a reporter for MLB.com. Follow him on Twitter @AnthonyDicomo. This story was not subject to the approval of Major League Baseball or its clubs.