Rays' rotation depth about to be tested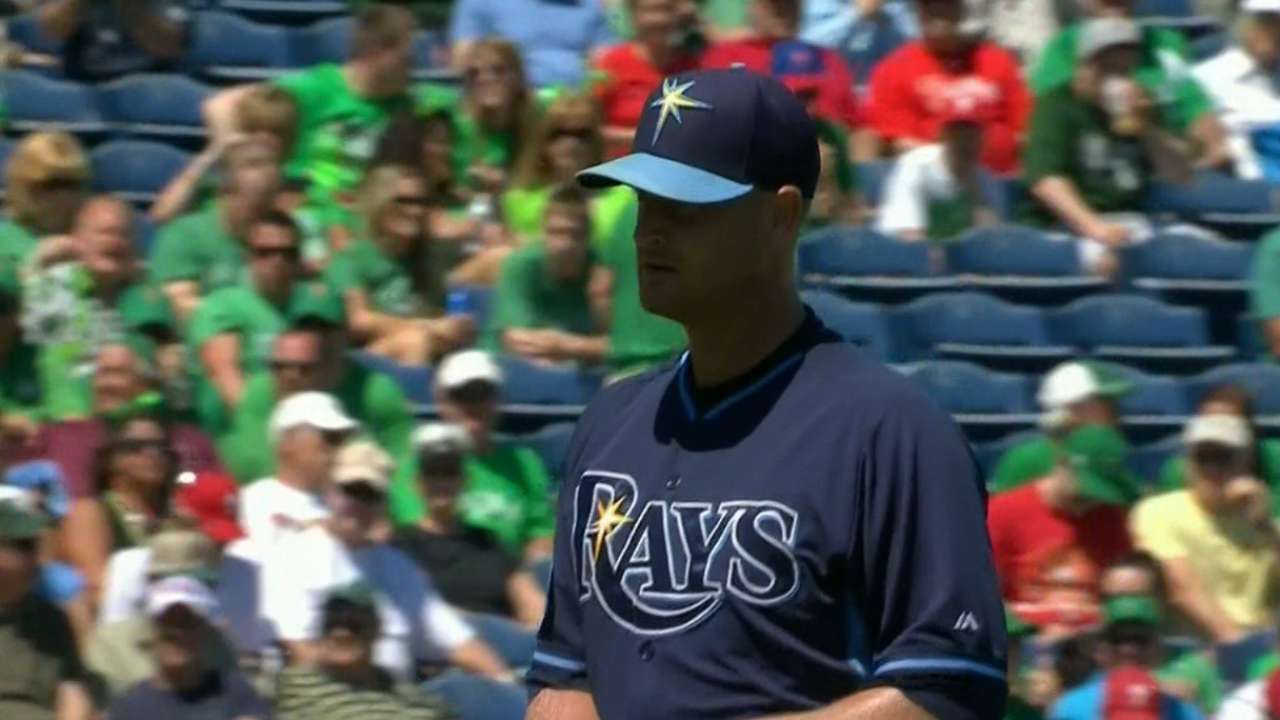 DUNEDIN, Fla. -- Everybody knew Matt Moore would not be back until June once his rehab from Tommy John surgery ran its course.
Now the Rays' very foundation will be severely tested at the beginning of the season as Chris Archer and Jake Odorizzi are the two remaining starters from what appeared to be a solid starting four heading into Spring Training.
Earlier in camp, Drew Smyly was diagnosed with left-shoulder tendinitis. Then Alex Colome -- who was the favorite to win the No. 5 spot -- came down with pneumonia.
Now perhaps the cruelest of blows has been dealt to the Rays rotation with the news that No. 1 starter Alex Cobb will be out with tendinitis in his right forearm.
"The beginning of April is going to be a challenge," said Rays president of baseball operations Matt Silverman. "And as we start to get some of these guys back we'll be able to have the rotation, or close to the rotation we envisioned.
"We have an off day after the first series. That helps. We're going to be utilizing a number of arms and trying to make sure that we put our guys in a position to succeed, and weather this storm. Our goal is that we wake up a couple of weeks into April and we're healthy and have close to the rotation that we expected in November-December."
Nothing has been decided yet, but Archer appears destined to be the team's Opening Day starter, followed by Odorizzi.
After that, all bets are off.
"Certainly you're looking to avoid those long-term injuries, and we feel like we've been able to catch some of these injuries before they become bigger issues," Silverman said. "That's important. The challenge we have is the concentration of these injuries all at the same time, at the beginning of the season. It's really going to test our depth. We like the arms we have in camp and we're looking forward to seeing what they can do with the opportunities presented to themselves."
Rays manager Kevin Cash acknowledged that the team has a lot of moving parts at this juncture.
"We like the guys we have in camp," Cash said. "We like the pitchers we brought in to compete for that fifth spot. Now it just seems like there's more chances for somebody to step up for us. We'll keep monitoring it. There are some unknowns, but that's part of it. We'll kind of adjust on the fly."
In the mix for the open spots are Nathan Karns, Matt Andriese, Everett Teaford, Enny Romero and Mike Montgomery.
"They have done a good job," Cash said. "So we're excited about that. ... The guys who are on this sheet that are healthy, we're going to go with them and we're excited to go with them."
Silverman said the team will be on the lookout for arms to help bolster the organization's overall depth since many of the pitchers who were earmarked for Triple-A Durham are now competing for Major League spots.
Cash allowed that the recent developments have led to some tough adjustments.
"Yeah, a little bit," Cash said. "But I go back to different scenarios that I've seen on teams that I played with. ... We're going to be fine. Those guys, the way they work, the good thing is everybody is moving in the right direction right now. And with Colome it has nothing to do with an arm."
Odorizzi said he is ready to do his part.
"It's kind of our mantra, next-man-up type of thing. We went through it last year," Odorizzi said. "It's just kind of the next man needs to step up and do his part. Matt getting hurt last year, [Jeremy Hellickson] being out, we had three guys out of our rotation that were hurt from the get go.
"It's tough. [Cobb is] a big part of our rotation. He's our ace. We would really like to have him out there for Opening Day -- I don't know if it's out of the question or not, but if it is, we really would like to have him out there to set the tone for us for Day 1. We see how hard he works, how dedicated he is and, on top of that, he's got a fantastic arm. Hopefully he'll be back as soon as possible. ... He'll be missed, that's for sure."
Bill Chastain is a reporter for MLB.com. This story was not subject to the approval of Major League Baseball or its clubs.