House's renaissance a testament to tough love
Southpaw was on verge of release in 2011 before stern meeting with pitching coach Callaway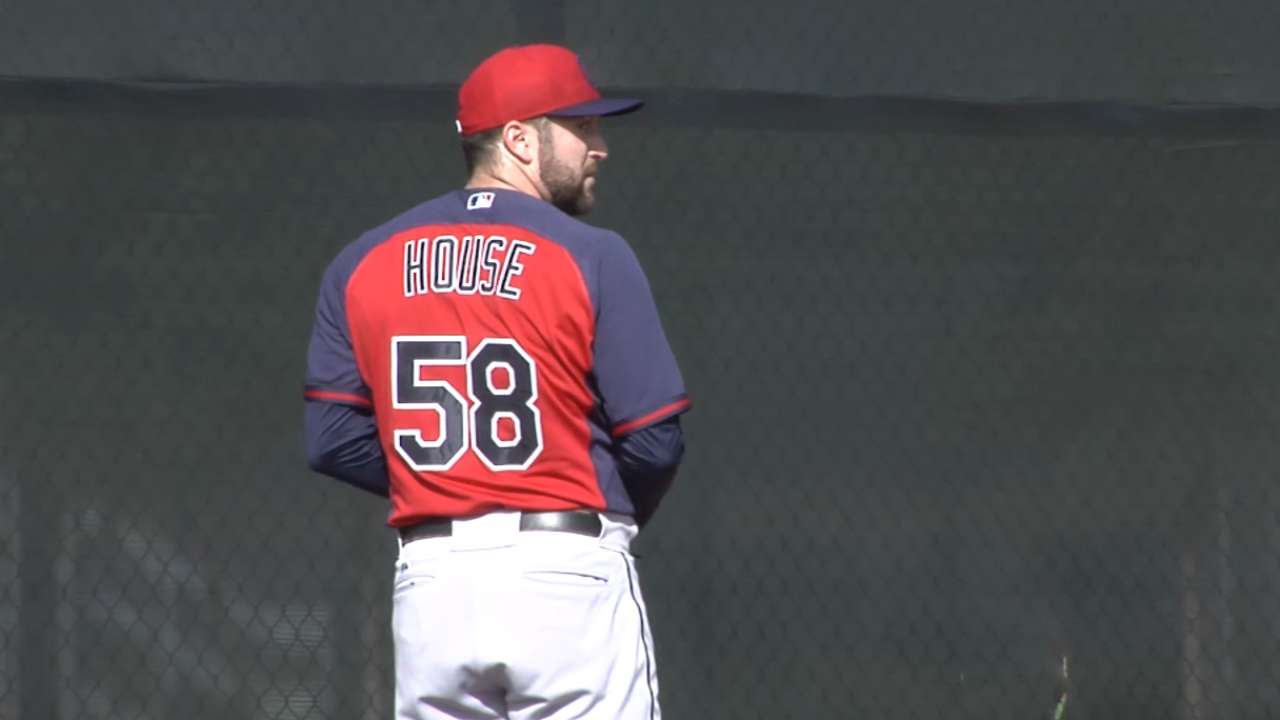 GOODYEAR, Ariz. -- The Indians saw that TJ House's career was careening toward a cliff. House was overweight and was pitching poorly on the mound, and the young left-hander was understandably distracted by a wave of personal loss experienced away from the baseball diamond.
After House's final start for Class A Kinston during the 2011 season, Indians pitching coach Mickey Callaway -- who held the same role for Kinston at the time -- delivered what they both now refer to as "tough love." It was more than that, though. Callaway needed to chew House out. He knew he had to be harsh, but in a manner that showed how much he cared for the young player.
"We didn't want to see him not get to play baseball anymore," Callaway said. "And he was getting to that point where, 'Hey, man, if you don't pick it up, you're gone.' Even though it was going to be a really tough conversation, and it was going to be tough for him to handle at the time, we felt like it was necessary for him and his career."
Standing inside the Indians' clubhouse, where he is currently a leading candidate for one of the two available spots in the Opening Day rotation, House appreciates that signature moment in his career. Callaway did not hold back and was extremely hard on him four years ago, but the coach's message lit a fire in the pitcher.
House can probably still hear Callaway shouting in his mind.
The pitcher allows himself to smile about it now.
"It was needed," House said. "I took it serious. I said, 'It's time to grow up.'"
During that 2011 season in Kinston, House went 6-12 with a 5.19 ERA in what was unquestionably the worst season of his professional career. He admits that he did not approach his conditioning properly during that time period, and it cost him in terms of performance on the mound. As the losses mounted on the field, so did the losses in his personal life.
That same year, House lost a grandmother, an aunt and a high school teammate. His stepfather was also hit by a drunk driver and remains in a wheelchair due to the accident. The Minor League life did not afford House the chance to be there for the funerals, and the heightened stress from those off-field issues only increased the pressure he felt on the mound.
"It was tough to handle," House said. "There was a lot of pressure that was built up. Mickey did a great job of being tough on me, but also being there for me, understanding what I was going through at the time. I think it was kind of like a wake-up call. It was just a tough way to get it."
That offseason, House moved out of his parents' house and lived on his own for the first time. He dedicated himself to eating right and working out consistently, and he reported to Spring Training in 2012 almost 30 pounds lighter than the previous season.
House knew he was on thin ice, but he might not have realized just how close he was to being released by the organization.
"We said, 'We'll let him battle for some bullpen innings,'" Callaway said, "'And if he doesn't pitch well, we'll get rid of him.' That was kind of the plan going in. We felt like we had exhausted him as a starter."
Callaway, who was promoted to the role of Minor League pitching coordinator in 2012, was, however, impressed with how House showed up to camp that year. An opportunity came up to offer the lefty two innings rather than one in a game, and that gave House a window to prove something to Callaway and the rest of Cleveland's player-development staff.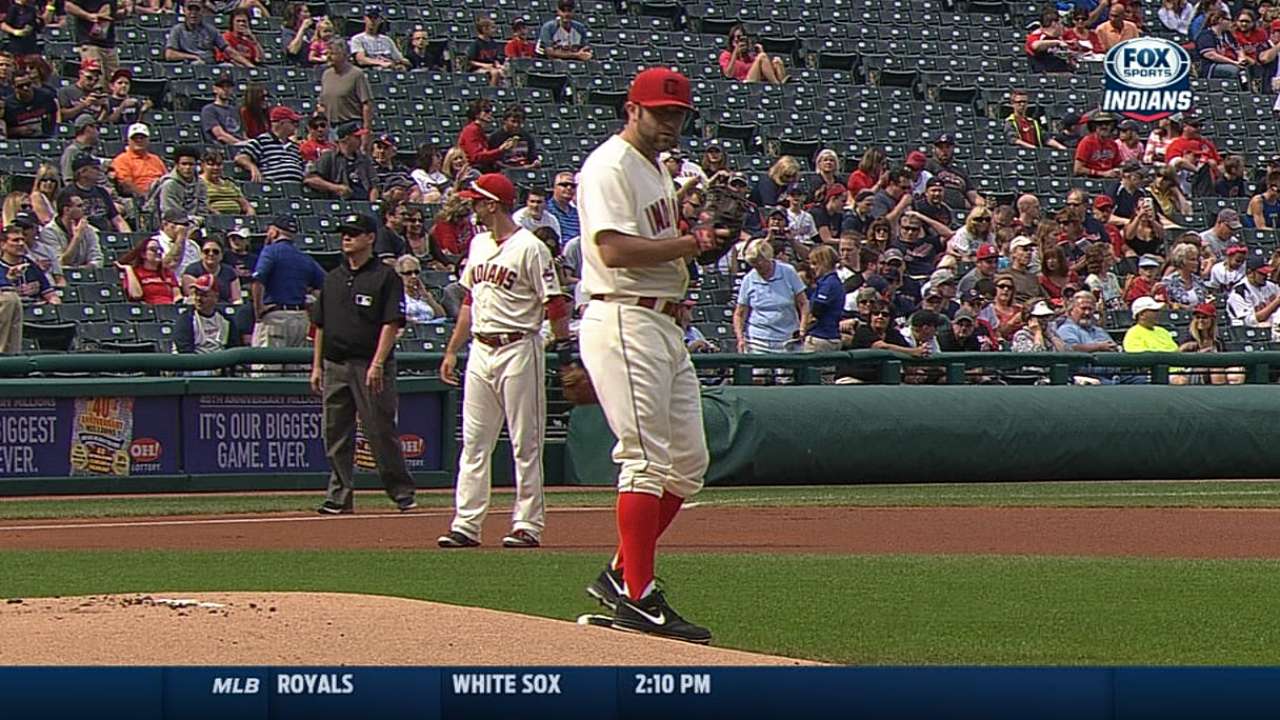 "I had to work my way back into their good graces," House said.
The left-hander did more than that. He regained the team's trust.
"He absolutely carved everybody up. It was unlike anything we'd seen from him before," Callaway said. "So we gave him another one. He was unbelievable and he ended up having a great year. The main thing is he stuck with those adjustments. It wasn't like he did it for one week or one offseason."
Last season, House finally got the call to the Majors, where he developed into a consistent option for the Indians down the stretch. The 25-year-old went 5-3 with a 3.35 ERA overall in 19 outings, but he fashioned a 2.53 ERA and posted a 4-1 record over 10 second-half starts.
As the season progressed, House became even more effective.
"I don't ever remember him being rattled," Indians manager Terry Francona said. "The other thing I thought was really neat was, the second time he faced teams, it seemed like he pitched better."
Callaway has a theory for that aspect of House's makeup.
"It's almost like his approach, his pitches, his ability to use information," Callaway said, "it's like it played a little better in the big leagues than it does anywhere else, because he can actually get the information and he can use it. Now he had scouting reports, and it made him better."
Given where he was a few years ago, and where he is now within the Indians' rotation mix, House said it has been important to have Callaway along for the ride.
"We've done so much together," House said. "And then to get [to the Majors] with him, and to know that he's seen me at my worst and he knows what I was like and how hard I had to work to get to where I am, it's special."
Callaway agreed.
"I'm so proud of him," said the pitching coach.
Jordan Bastian is a reporter for MLB.com. Read his blog, Major League Bastian, and follow him on Twitter @MLBastian. This story was not subject to the approval of Major League Baseball or its clubs.