Bryant responds to talk of starting in Minors
Cubs prospect happy for Boras' support; also happy playing for Cubs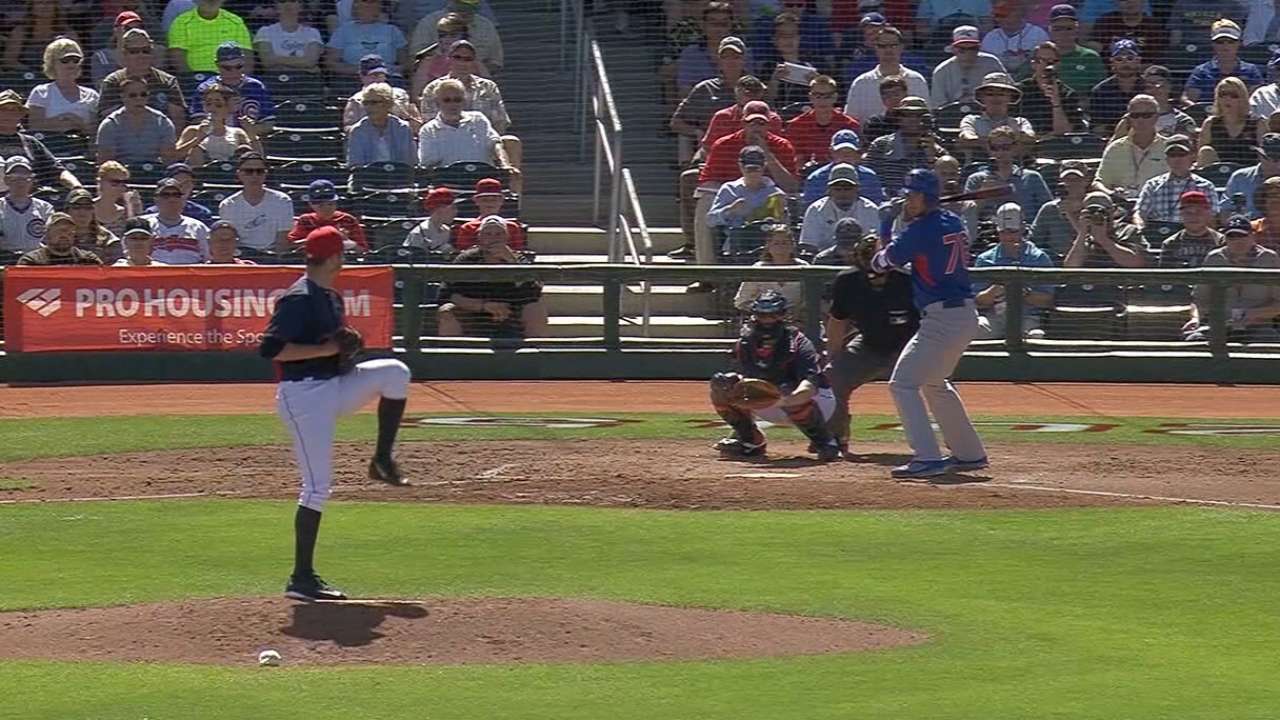 MESA, Ariz. -- Agent Scott Boras has made it clear that he believes Kris Bryant should be on the Cubs' Opening Day roster, and the team's top prospect says he appreciates having a "bulldog" speak up for him. The Cubs, on the other hand, aren't ready to say where the third baseman will open the season.
"It's nice to have a bulldog working for you rather than a poodle," Bryant said Wednesday. "[Boras] definitely speaks up for his players. He wants the best for them."
Boras commented about Bryant's status, which has been a hot topic inside and outside of camp, to some national media on Tuesday.
"The Cubs ownership has a choice," Boras told FoxSports.com. "Are they going to present to their market that they are trying to win? [Owner] Tom Ricketts said they were all about winning. When someone says it's the system, no, it's a choice -- the choice of winning."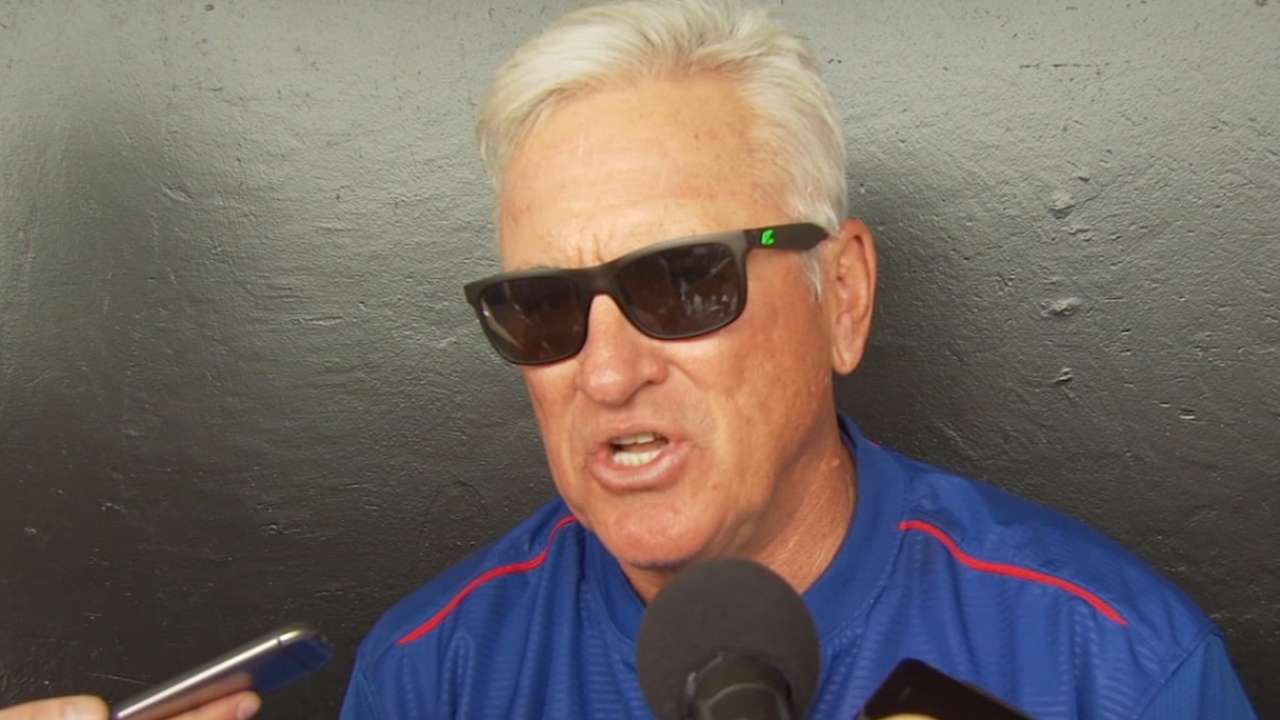 Bryant, 23, said he was aware of the comments. At issue is big league service time. If the Cubs postpone Bryant's Major League arrival until sometime in June, they'll postpone by a year his eligibility for arbitration because he won't be part of the 22 percent of players who have between two and three years of service and thereby earn Super Two status.
In addition, if Bryant spends the first 12 days of the season in the Minor Leagues, the Cubs will gain an additional year of contractual control before he can become a free agent. If he stays in the Minors through April 17, he can become a free agent after the 2021 season, rather than after the 2020 season. Those rules were established in baseball's collective bargaining agreement.
Bryant said he has had no conversations with Cubs president of baseball operations Theo Epstein, who did respond to Boras on FoxSports.com.
"Kris Bryant's development path has absolutely nothing to do with ownership, period," Epstein said. "As with all our baseball decisions, I will determine where Kris begins the 2015 season after consulting with members of our baseball operations staff. Comments from agents, media members and anybody outside our organization will be ignored."
Bryant, who has tried to limit the talk to avoid any distractions this spring, pointed out that Boras didn't contact the media; it reached out to him. The third baseman, who led the Minor Leagues with 43 home runs last season, was tied for the Major League lead this spring with six homers entering Wednesday's game against the Dodgers. He has not played third base since last Thursday because of fatigue in his right shoulder, but he is scheduled to start at third on Thursday against the Diamondbacks.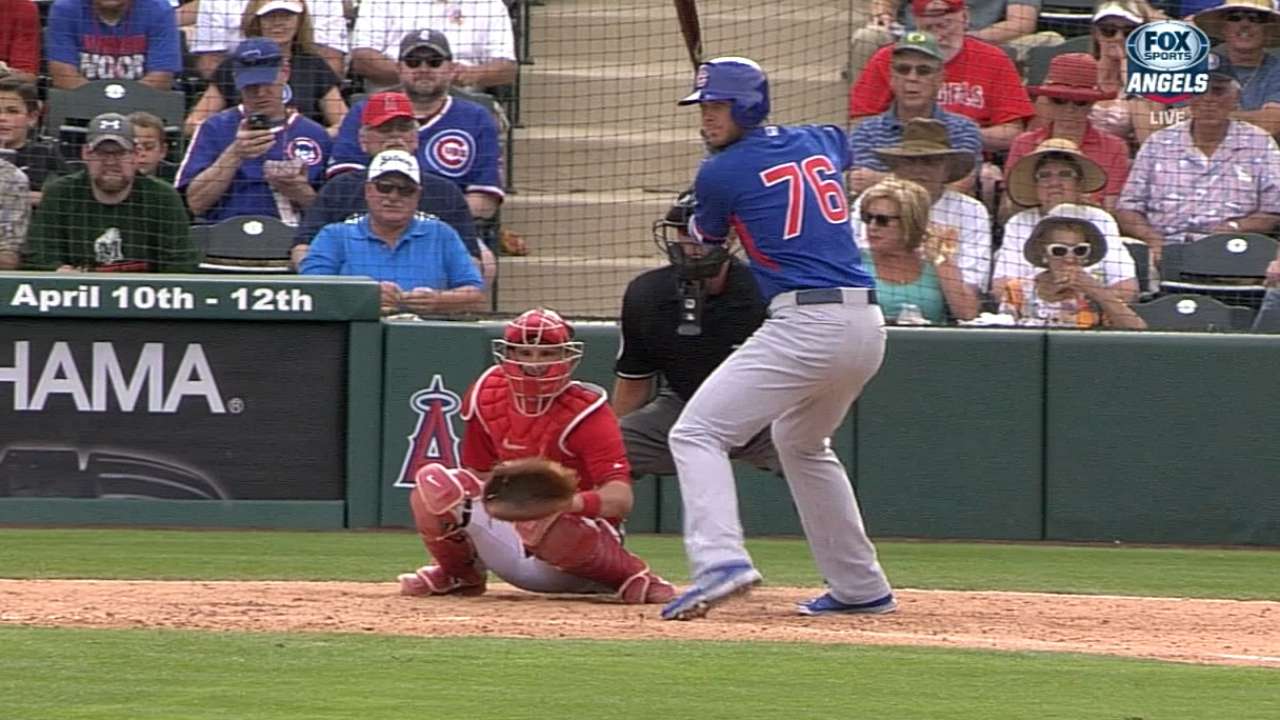 "It's always been a dream of mine to play in the big leagues and I'd like to get there as soon as possible," Bryant said. "The spring I'm having so far has put me in a pretty good position. We're told we can go out there and win a spot, and I took that to heart at the beginning of spring. I came out here with a chip on my shoulder to play as hard as I can, and I'll continue to do that until the end of this thing."
Bryant, the second player taken overall in the 2013 First-Year Player Draft, said everything is fine with the Cubs.
"First off, the ownership here has been great to me," he said. "I've had a great time, Tom is great to me, everybody in the front office is great to me and I have nothing but good things to say about them.
"But at the same time, I'm hearing from my teammates that they want me up [in the big leagues], and I'm doing well and everybody's telling me I'm progressing well. It's sending mixed messages to me. It definitely is refreshing to hear from my teammates that they want me here."
Does Bryant worry that Boras' approach will affect his relationship with the Cubs?
"Not at all," Bryant said. "I'm a professional on the field, and when I put on the uniform, I'm ready to go. It's an honor to wear this uniform every day. I can't help but smile every time I put it on. I'm not a child out there; I realize there's a business side to this thing. When I put the uniform on, I'm a professional and I want to help the Cubs win as many games as possible. There's nothing I want to do more than bring a World Series to Chicago."
Bryant has shown he can hit, but the question has been whether he's ready to play third base in the big leagues. He believes he's progressed well at the position.
"I've been doing everything they've asked me to, getting better every day," he said. "I've gotten nothing but positive feedback. I've said what I need to work on, and first-step things are what I want to do out there. I think I've been coming along really nice."
All the talk has not been a distraction on the field, Bryant said.
"Baseball's a fun game for me, and I go out there and play hard every day with a smile on my face," he said. "This stuff doesn't distract me when I'm on the field."
Carrie Muskat is a reporter for MLB.com. She writes a blog, Muskat Ramblings, and you can follow her on Twitter @CarrieMuskat. This story was not subject to the approval of Major League Baseball or its clubs.