Papi remains out of action due to dehydration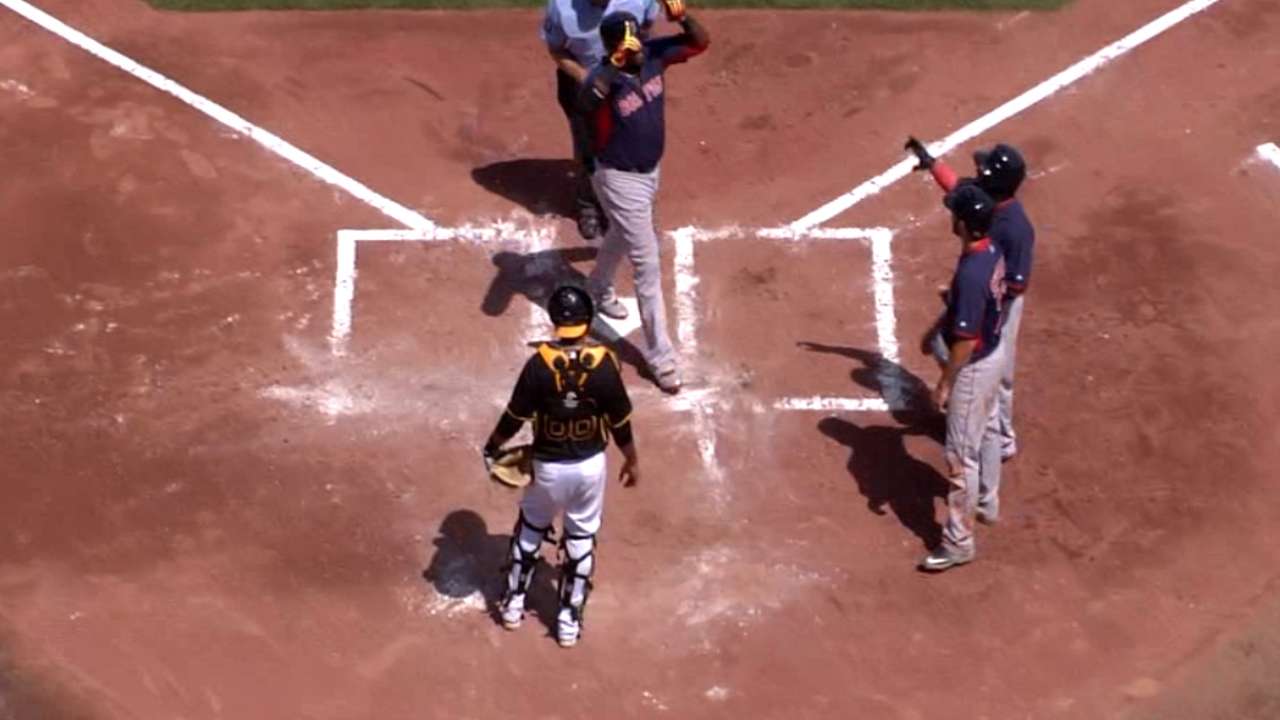 FORT MYERS, Fla. -- David Ortiz sat out a second consecutive home game at JetBlue Park on Wednesday, telling reporters he has been dealing with some dehydration in the Florida heat and humidity. The Red Sox's designated hitter has not played since Monday, when he went 0-for-2 against the Mets.
"We're backing off him for a few days," manager John Farrell said.
"We'll kind of see how we get through the weekend. Just want to be sure --- with two-and-a-half, three weeks remaining [in Spring Training], he's already got 20-some at-bats in. We're not concerned with the total number of at-bats he accumulates down here."
Ortiz, 39, actually has taken 17 plate appearances in Grapefruit League games, going 4-for-15 with a home run, five RBIs and two walks. Mike Napoli started at DH on Tuesday, and Pablo Sandoval filled that spot on Wednesday against the Twins.
Ortiz is far from the only Red Sox player dealing with a minor ailment. Farrell said the club would "get a number of guys off their feet" on Thursday when the Sox play the Blue Jays in Dunedin, Fla., and some of them will not even report to camp.
"Our intensity in the work in the mornings has been outstanding," Farrell said. "We just need a recovery day for a number of guys."
Worth noting
• Closer Koji Uehara, who strained his left hamstring on Tuesday, is continuing his rehab. He will throw on flat ground, according to Farrell, but won't return to the mound until "he can tolerate the stress." Uehara spent time on the disabled list with hamstring strains in both 2009 and '10 with the Orioles, but Farrell said this is simply a case of "precautionary backing him off."
• Right-hander Joe Kelly still has not been scratched from his scheduled start on Sunday after leaving his outing on Monday with a tight right biceps. He will throw a bullpen session on Thursday.
"That'll tell us a lot more," Farrell said.
• Catcher Christian Vazquez (right elbow soreness) went 0-for-4 between a pair of Minor League games on Wednesday at the Red Sox's Spring Training complex. He will continue to get at-bats on the back field on Thursday but is not yet ready to resume his duties behind the plate. Outfielder Quintin Berry and catcher Ryan Hanigan are scheduled to play on that side Thursday as well.
• Also in Minor League action on Wednesday, left-hander Robbie Ross Jr. threw one inning in a Triple-A game, giving up one run on two hits and striking out one. He threw 21 pitches.
Andrew Simon is a reporter for MLB.com. Follow him on Twitter @AndrewSimonMLB. This story was not subject to the approval of Major League Baseball or its clubs.