Rotation looks settled with Maholm tabbed for relief
Marquis, DeSclafani, Iglesias appear locks to start until Bailey's return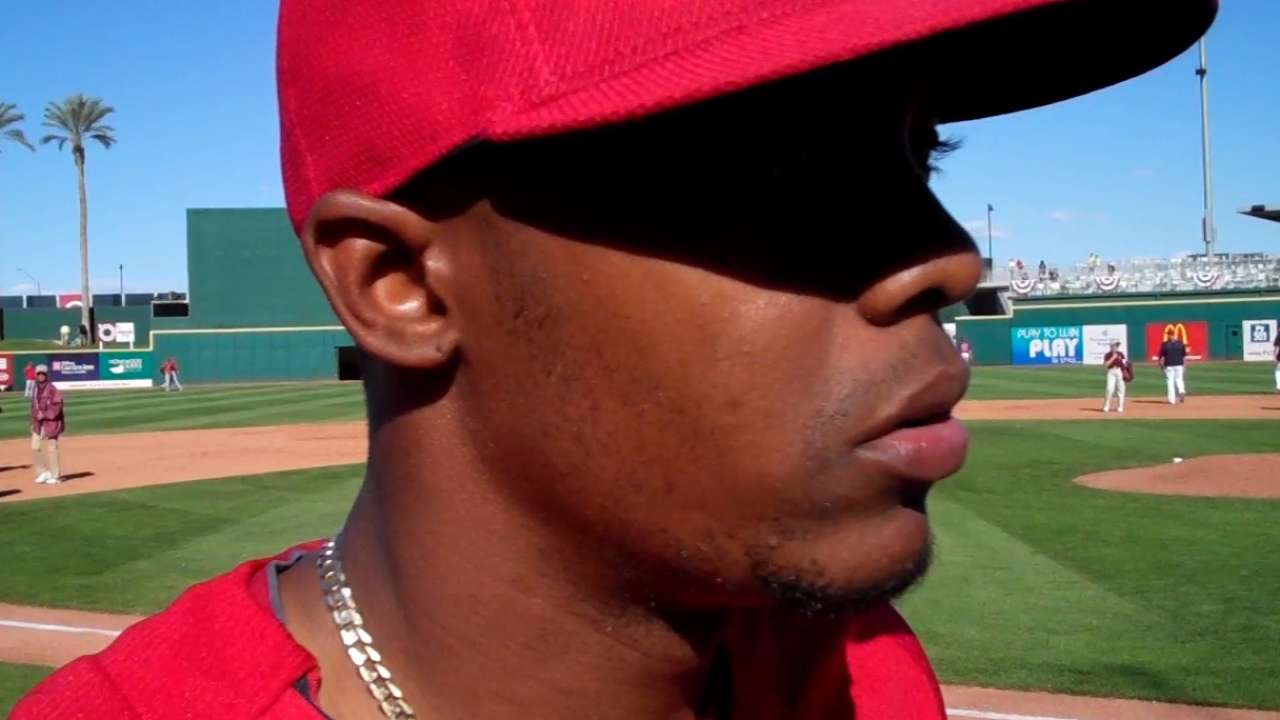 GOODYEAR, Ariz. -- The Reds' starting rotation for the beginning of the regular season appears to be set.
Manager Bryan Price revealed on Wednesday morning that left-hander Paul Maholm will be used out of the bullpen, so -- barring injury or any significant late-spring meltdowns -- Jason Marquis, Anthony DeSclafani and Raisel Iglesias are the three pitchers who will join Johnny Cueto and Mike Leake to round out the rotation until Homer Bailey comes back, which is expected sometime in mid-April.
That means the veteran right-hander Marquis will have made the club as a non-roster invite and that Iglesias will get a huge opportunity to continue to impress Cincinnati.
"He's a four-pitch pitcher who really got us excited in instructional league and in the Fall League with his command of four pitches," Price said of the 24-year-old Cuban import, who has not yet given up an earned run in 7 2/3 innings over four appearances (one start) in Cactus League play.
"He's got velocity, movement, change of speed, he's quick to the plate, he's athletic, he's just that type of guy that we feel should be given the opportunity to start. … And we'll see. We'll see if he can do it. He hasn't logged a bunch of innings, so we have to be conscientious of that, and we have to see if he's ready to do that and help us in that role."
Price mentioned that Iglesias has experience out of the bullpen, which could indicate that he could be the one who is either relegated to relief duty or sent down to Triple-A Louisville when Bailey returns.
"It just seems to make sense at the front end of his career with us that we take a look at him as a starter, because he has the stuff to do it," Price said. "He's not a fastball-slider guy that's trying to learn a changeup. Those guys are a little bit dangerous, because the big leagues are a hard place to learn a changeup. And he has it. He's got two breaking balls, a changeup and good velocity. And we think he's comfortable in competition. He's a young guy, but he's comfortable in competition and we just feel he might be best suited as a starter."
Price said Maholm remains in the mix for a middle-relief role, although this plan could change prior to Opening Day.
"I think we have a pretty good idea of where we're headed," Price said. "That being said, we still have 2 1/2 weeks of Spring Training games to go to make sure, No. 1, that we're healthy, and No. 2, that how we feel now remains the same."
Doug Miller is a reporter for MLB.com. Follow him on Twitter @DougMillerMLB. This story was not subject to the approval of Major League Baseball or its clubs.