Alfaro hopes to fulfill father's athletic dream
Rangers catching prospect left Colombia as a teen to pursue Major League career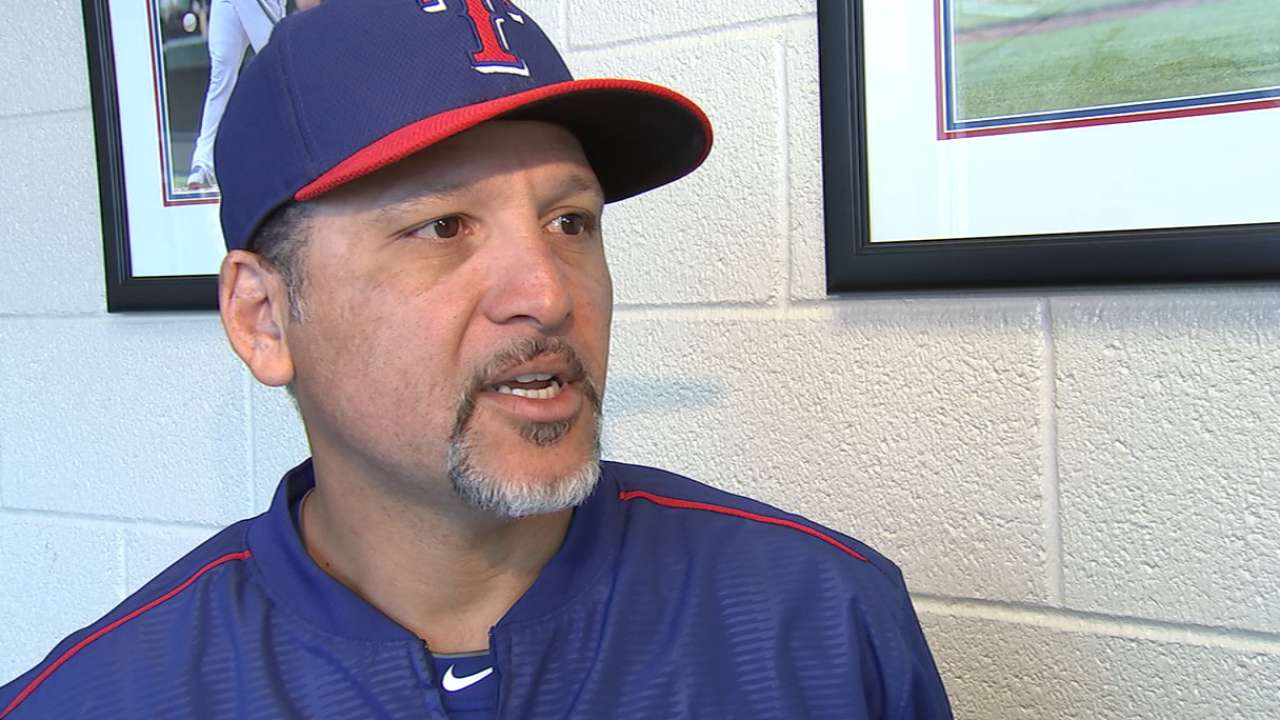 SURPRISE, Ariz. -- Jorge Alfaro's father was a soccer player. So were his brothers and other members of the extended family in the town of Sincelejo, a cattle and livestock center near the Caribbean Sea in northern Colombia.
Baseball players? They were hard to find in Sincelejo. There have been a dozen players from Colombia reach the Major Leagues, but mainly from the big cities of Cartagena (Orlando Cabrera) and Barranquilla (Edgar Renteria).
But Rangers catcher Alfaro, the No. 46 prospect, according to MLB.com, is close to achieving a dream of rising from a soccer family and reaching the Major Leagues.
"We never had any baseball players in the family," Alfaro said. "But my father wanted me to play some sport and be an athlete. I played soccer a little bit."
Outside the main soccer stadium in Sincelejo, there was a small field where kids would play baseball.
"My father took me there and I just started playing," Alfaro said. "It was like a team for Little League, but it really wasn't recognized. Not everybody knew about it. But I loved sports and I started playing baseball.
"Where I am from, everybody knows the Alfaros for soccer. When me and my brother started playing baseball, everybody thought that was weird."
Jorge Sr. played professional soccer in Colombia, but he never achieved his dream of playing on the national team. His son is not sure why.
"He never talked about negative things or bad things that happened," Alfaro said. "He only talked about positive things. He talked to me about being an athlete. He talked about, 'If you want to be a good person, you have to recognize what that takes. You have to be respectful and you have to respect the game. You have to be humble. No matter how good you are, you still have to be humble.' I know that he was always a good person."
Once his soccer career faded, Jorge Sr. and his wife Consuelo went to work to support their two sons, Jorge and his younger brother Jhoandro. They sold water bottles to athletic teams and ran a small cafeteria at one of the local schools.
"We didn't have much money, but my parents worked hard," Alfaro said. "We always had food and we always had clothes. I love my parents. They always had time to be with us and work hard for us. They are my heroes."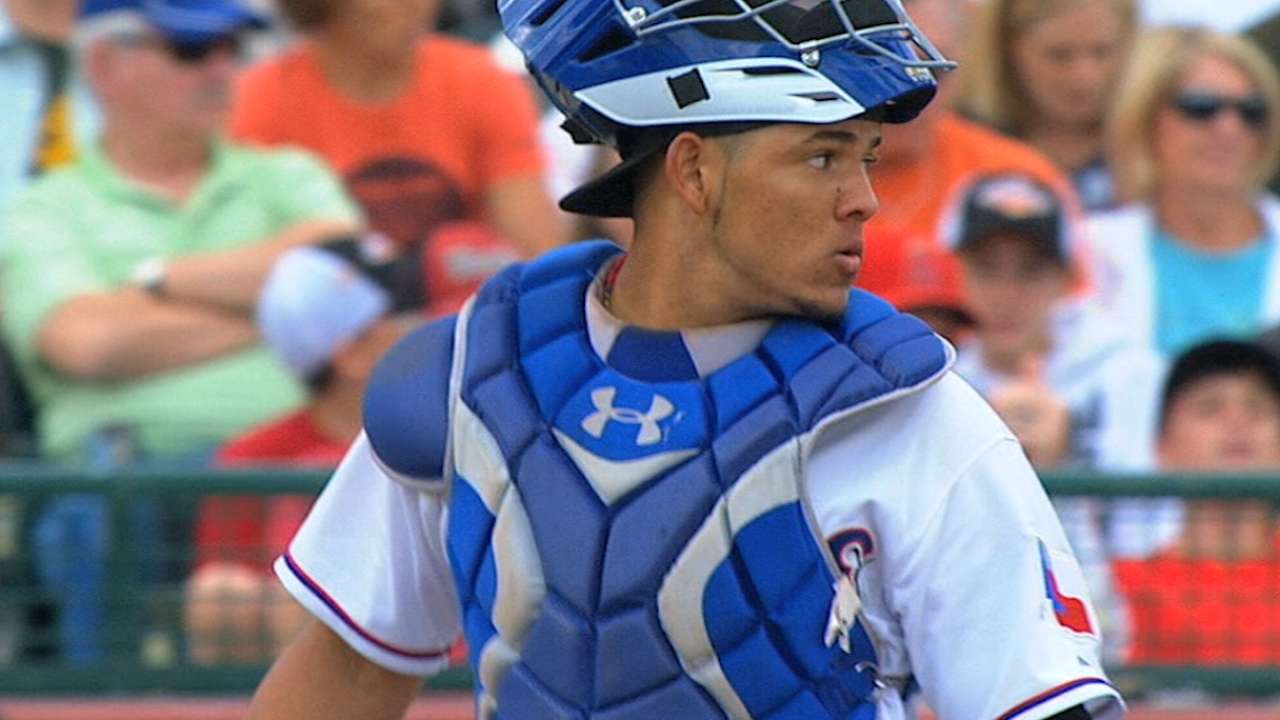 When Alfaro was 14, it was obvious that he had a future in baseball. But it was also obvious that an isolated region of Colombia was not the place to be if you wanted to reach the Major Leagues. The answer was the Dominican Republic, and Alfaro had an aunt living there.
"But we didn't have enough money, so I started working with my father trying to raise enough money to go," Alfaro said.
Alfaro made the trip because the Cleveland Indians paid his way to attend a tryout camp. He was too young to sign, but he stayed in the Dominican Republic and played in a league for top prospects. Alfaro lived with his aunt, but beyond that, he was alone and away from home at the age of 15 for the first time in his life.
"It was hard, but when you have a goal, you have to make sacrifices," Alfaro said. "Obviously, I missed my mother, father and brother, but I had to do it to have a good future for my family."
After Alfaro reached the age of 16 and could be legally signed by a Major League team, he was spotted in a game by Rangers scout Don Welke.
"I had never really heard of him," Welke said. "The game I saw him, he got hit by a pitch in the knee. You could see the seam marks. His knee really started to swell, but he stayed in the game. He had a triple and a double, and he had a great arm. I wanted to sign him right there."
The Rangers signed him for a $1.3 million signing bonus. He was an infielder, but Texas moved him to catcher.
"If he has the talent and is willing to do it, why not?" Welke said. "He has a cannon for an arm. It's a great investment."
That appears to be the case. Alfaro has moved through the Rangers' system, and under the tutelage of catching instructor Hector Ortiz (now the first-base coach), he has developed into one of the top prospects in the game. There is still much work to do and he has played in just 21 games at Double-A.
Alfaro has played in 401 games over the past five years and his parents have yet to see him play in the United States. They remained in Colombia to keep working and to raise Jhoandro, who signed last summer with the White Sox.
"I understand that," Alfaro said. "They're always busy. Maybe they can come this year."
Whether his parents can come doesn't seem to matter. Alfaro knows how hard they worked for him, and he wants to repay that debt and beyond.
"I have always tried to be a positive example," Alfaro said. "Where I am from, we don't have many big leaguers. I want to be an example for little kids of what we can do. If we have a dream, we can work hard and make it.
"I don't think about the money. I am playing the game I love. I want to be able to help a lot of people in Colombia. I want to help kids achieve their goals. That is my dream."
T.R. Sullivan is a reporter for MLB.com. Read his blog, Postcards from Elysian Fields, and follow him on Twitter @Sullivan_Ranger. This story was not subject to the approval of Major League Baseball or its clubs.