Game within a game pits Shields against friend Garza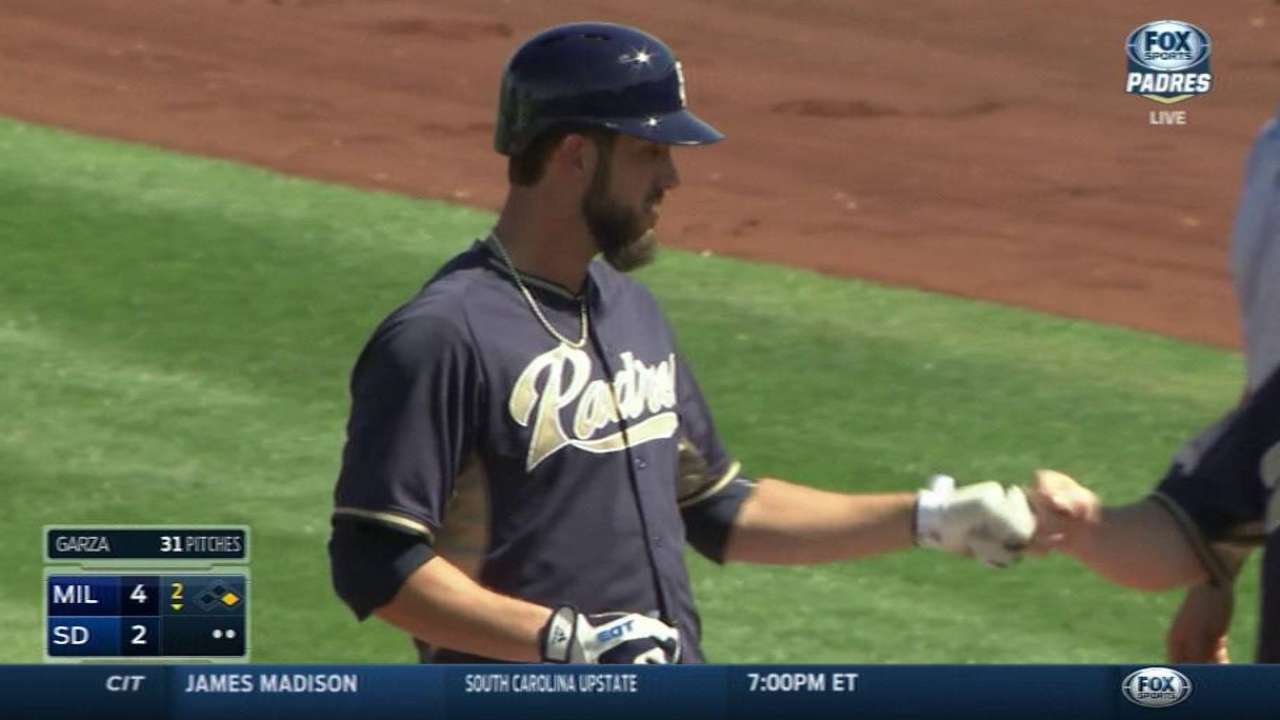 PEORIA, Ariz. -- Right-hander James Shields wasn't too happy about the way he pitched on Tuesday against the Brewers in a Cactus League game at Peoria Stadium, but he sure was pleased about the results of the game within the game.
Shields pitched to old friend Matt Garza in the top of the second and struck out the Brewers righty just before Carlos Gomez smacked a towering three-run homer into the back of the berm in left field.
In the bottom of the inning, Shields stepped into the box against Garza and singled to center, driving in a run. Even though it was unofficial, it was his first at-bat in the National League since signing a four-year, $75 million free-agent deal with the Padres on Feb. 11.
From both ends, Shields got the better of his former teammate.
"I did, I did," said Shields, who pitched the first three innings of the 6-4 loss. "Either he's going to buy dinner or I am, one of the two."
Shields and Garza were with the Rays in the American League during what seems like another era. They were in the same rotation in 2008, when the Rays went to the World Series for the only time in franchise history, losing in five games to the Phillies. Garza was traded to the Cubs after the 2011 season and Shields was shipped to the Royals just about a year later.
Obviously, they've both moved on. Oddly enough, the two hadn't faced each other in game action until Tuesday.
"That was fun," Garza said. "It was good to get it out of the way."
In his former life, in the designated hitter league, Shields was 10-for-47 with a double and four RBIs.
"I mean, I've had some at-bats under my belt," Shields said. "But it was nice to get a hit off Garza and strike him out. We were teammates for a long time. It's a couple of bragging rights right there. I think I remember back in the day that we were joking around with each other that we could hit each other, so it was good to get a hit."
As far as his primary job on Tuesday is concerned, Shields never felt comfortable pitching from the stretch.
"To be honest, I was all over the place," he said.
Shields began the game without having surrendered a run as a Padre. That all went by the boards when an unearned run scored in the first inning by virtue of an infield single, a walk, a passed ball and a grounder to first. And in the second, with Gomez at plate, Shields wasn't on the same page with catcher Derek Norris, calling him out to the mound several times to talk about pitch selection. Gomez made them both pay.
In their behalf, it was only the third time the two have thrown to each other. Norris was obtained in a Dec. 18 trade with the A's. Call it a learning experience. Shields has four pitches that he can throw on both sides of the plate.
"Sometimes it's tough to decide whether you're going to go in and out with some pitches. It's just more of a feel thing," he said. "We just got confused a little there, and that's going to happen. We've got a total of five or six innings together [now eight] under our belt. It's a process, and by the time the season starts, we'll get it on board."
Barry M. Bloom is a national reporter for MLB.com and writes an MLBlog, Boomskie on Baseball. Follow @boomskie on Twitter. This story was not subject to the approval of Major League Baseball or its clubs.