MLB.com Columnist
Tracy Ringolsby
Rangers are suddenly looking to Gallardo as solution
With Darvish out, reliable righty will be asked to shore up rotation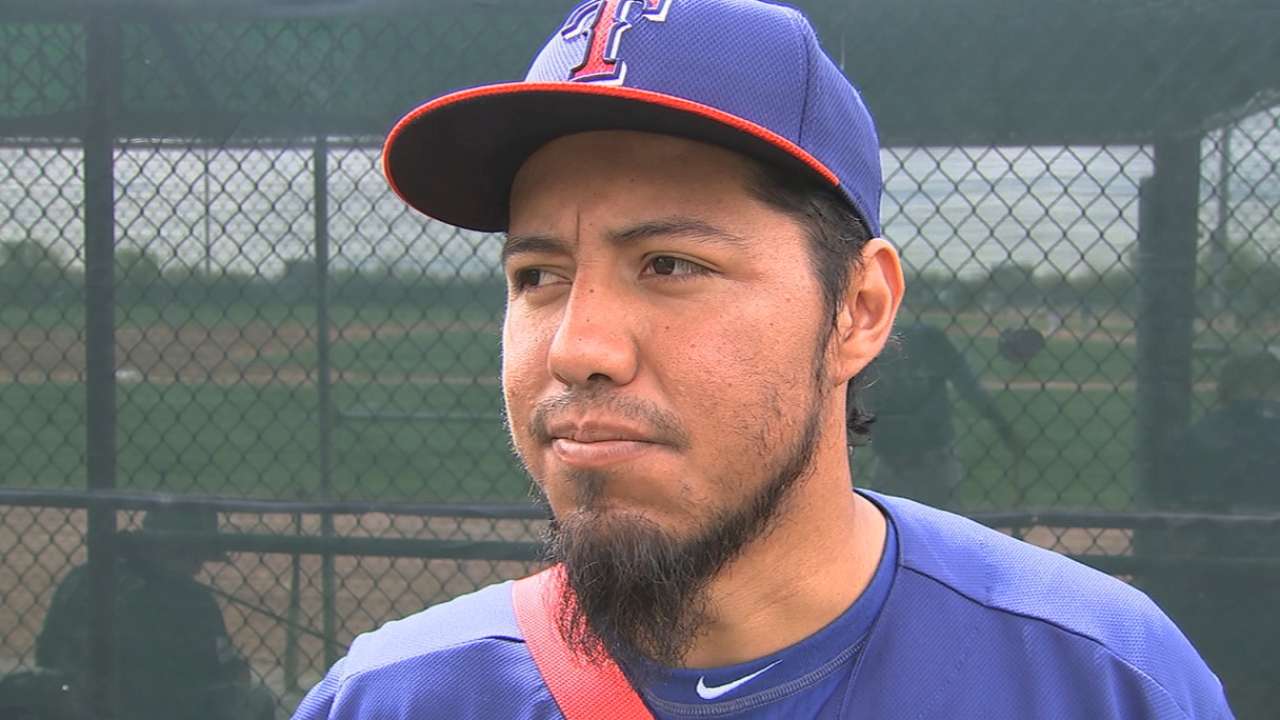 SURPRISE, Ariz. -- Yovani Gallardo was supposed to provide the Rangers with rotation depth. He has become a lifeline.
Initially penciled into the No. 3 slot in the Rangers' rotation behind Derek Holland and Yu Darvish, Gallardo now finds himself the logical choice to make the Opening Day start for Texas.
It's not like this is Gallardo's first rodeo.
"The guy started five straight Opening Days for Milwaukee," Rangers general manager Jon Daniels said. "He's a guy you can put in big spots with confidence."
Daniels paused.
"But it's not what we had in mind," he said.
No, in the Rangers' attempt to rebound from a season in which they were beset by injuries and lost an American League-worst 95 games, Gallardo was the major offseason addition for a franchise that felt just getting players healthy would be more significant than anything else it could do.
The Rangers used the disabled list 26 times last year, one fewer than the Major League-leading Rockies. But more than that, they had players spend a Major League-leading 2,281 days on the disabled list, 833 more than the No. 2 D-backs, according to Texas' media guide.
And this spring, the Rangers have already had to deal with ailments. Darvish, who missed the final seven weeks a year ago with right elbow inflammation, had recurring elbow problems this spring, and on Tuesday, he underwent Tommy John surgery. He is out until next year.
Holland has been slowed by a left shoulder injury. He made his debut Saturday, but he was limited to one inning in a "B" game against the Padres. Holland said he feels he can be ready by the start of the season, but the Rangers are more inclined to proceed with caution.
Tanner Scheppers, who rolled his ankle in a drill earlier in the spring, finally faced hitters Tuesday in an intrasquad game, throwing 17 pitches in one inning.
Oh, and Matt Harrison has been a plus this spring, but the Rangers are not overlooking the fact no pitcher has come back from the back surgery he underwent last year.
Enter Gallardo. Nothing has been officially said, but all indications are he will become the seventh Opening Day starter in seven seasons for the Rangers. It started with Kevin Millwood, who made his fourth Opening Day start in a row for Texas in 2009, and then came Scott Feldman, C.J. Wilson, Colby Lewis, Harrison and Scheppers in an ongoing search for a No. 1 starter.
Suddenly the acquisition of Gallardo from the Brewers for three prospects goes from nice to necessary. Yes, he is a potential free agent, but he did grow up in Fort Worth, and he talks as if he wouldn't mind having a long-term relationship with the Rangers.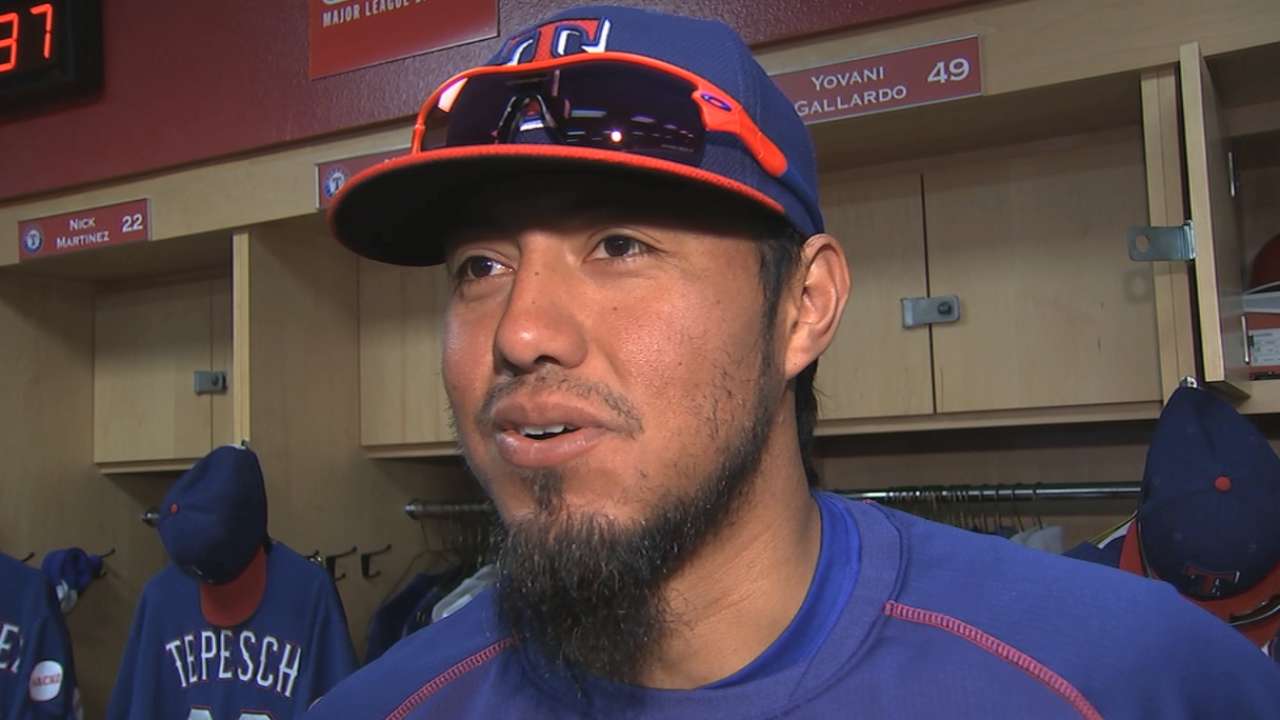 "This is the team I grew up with," Gallardo said. "It is definitely exciting to have an opportunity to pitch in front of my family and friends."
Even if the ticket requests start to pile up?
"I'll let my dad and wife handle that," Gallardo said.
As for the Rangers, they most likely would like to keep Gallardo around, particularly if he can build off the solid foundation put in place when he was with the Brewers.
"This is a guy who has consistently worked 180 to 200 innings a year," said Daniels. "He's pitched five Opening Days. He's started games in a pennant race and experienced the postseason."
Gallardo has worked 1,155 innings the past six seasons and compiled an 80-59 record with a 3.73 ERA. He also started in the postseason for the Brewers in 2008 and '11.
By comparison, the Rangers have had only four of their current pitchers even work 500 innings combined over the past six seasons, led by Holland with 819 innings. Lewis has pitched 676 2/3, Harrison 568 2/3 and Darvish, in three seasons, has worked 545 1/3. Holland also leads Texas with 51 victories over the past six years.
Gallardo made his second start of the spring in the Rangers' 11-11 tie with the Dodgers on Tuesday afternoon, and he was satisfied with the four-inning, one-run effort, admitting his command was off a bit initially. He gave up one run on four hits and two walks, and he struck out three, throwing 35 strikes among 62 pitches.
"I feel better each time out," Gallardo said. "I threw some pretty good curveballs today. That is usually one of the last things to come for me."
Gallardo has been around long enough that he knows not to overreact to a hanging curveball in the spring, or the Opening Day assignment.
"The first couple of [Opening Days], you don't know what to expect, you want to make an impression," he said. "There's an excitement, an adrenaline, but having done it before definitely helps."
Having Gallardo on hand is a big help to the Rangers.
Tracy Ringolsby is a columnist for MLB.com. This story was not subject to the approval of Major League Baseball or its clubs.