Last Call: Gomez goes boom after in-game adjustment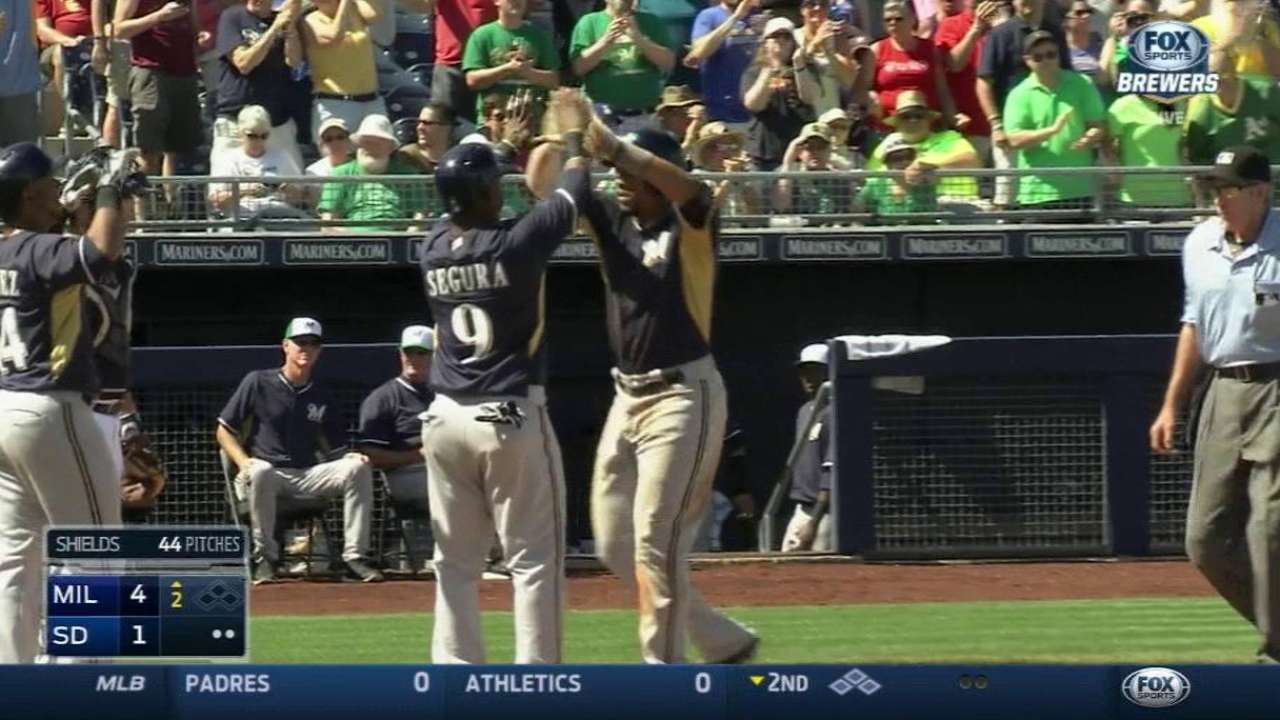 PEORIA, Ariz. -- Last Call is a spot for all the notes and anecdotes from Brewers camp that didn't find a home elsewhere on the site.
• Carlos Gomez put together a second-inning at-bat against Padres veteran James Shields on Tuesday that illustrated just how far Gomez has progressed as a hitter.
After falling behind in the count, 0-2, Gomez laid off two fastballs away before connecting on a changeup for a line-drive, three-run home run to the bullpen in left field. Gomez had rolled over a changeup an inning earlier, and he correctly predicted that Shields would eventually go back to the pitch.
"That's the difference between now and before," Gomez said. "The fastball outside, [in previous seasons] I would have struck out or hit a weak ground ball. But I just waited in that at-bat for a pitch I could handle. That's what's taken me to another level. That's why I say I feel like I'm not good enough, I continue to learn how to step back to be more successful."
Brewers pitcher Matt Garza, who used to face Gomez and is entering his second season as a teammate, offered a blunt take on how far Gomez has come.
"He was awful. You'd see him, 'OK, three pitches,'" Garza said. "Now he's a battler. He's really worked hard at his craft. That's how guys earn respect.
"You see his improvement and how much time he's put into it, and I think he's really, really just touched his potential. The better discipline he gets at the plate, he's like a dynamite stick with no fuse. You light it and it's going to go boom sometime."
Gomez has homered in two straight games. Tuesday's blast sent the Brewers to a 6-4 win.
• The Brewers optioned infielder Yadiel Rivera and left-hander Mike Strong to Double-A Biloxi during Monday's off-day. The moves left 44 players in Major League camp.
• Even on the off-day, Brewers players and coaches couldn't stay away from each other. They gathered Monday at Scottsdale's Grayhawk Golf Club for Bob Uecker's Front Row Classic, a "shamble" event that raised money for Make-A-Wish Arizona.
Highlights included Kyle Lohse hitting a 300-yard drive while swinging right-handed with a left-handed driver (as documented by former Brewer Jerry Hairston Jr.).
And Will Smith golfed poorly (according to his own assessment) but was dressed for success.
The stylish @White_Willy31 poses with Bob Uecker @FrontRowClassic. pic.twitter.com/Q44DsUm4ZV

- Milwaukee Brewers (@Brewers) March 16, 2015
Adam McCalvy is a reporter for MLB.com. Read his blog, Brew Beat, and follow him on Twitter at @AdamMcCalvy. This story was not subject to the approval of Major League Baseball or its clubs.