Clark reflects on time in camp with Tigers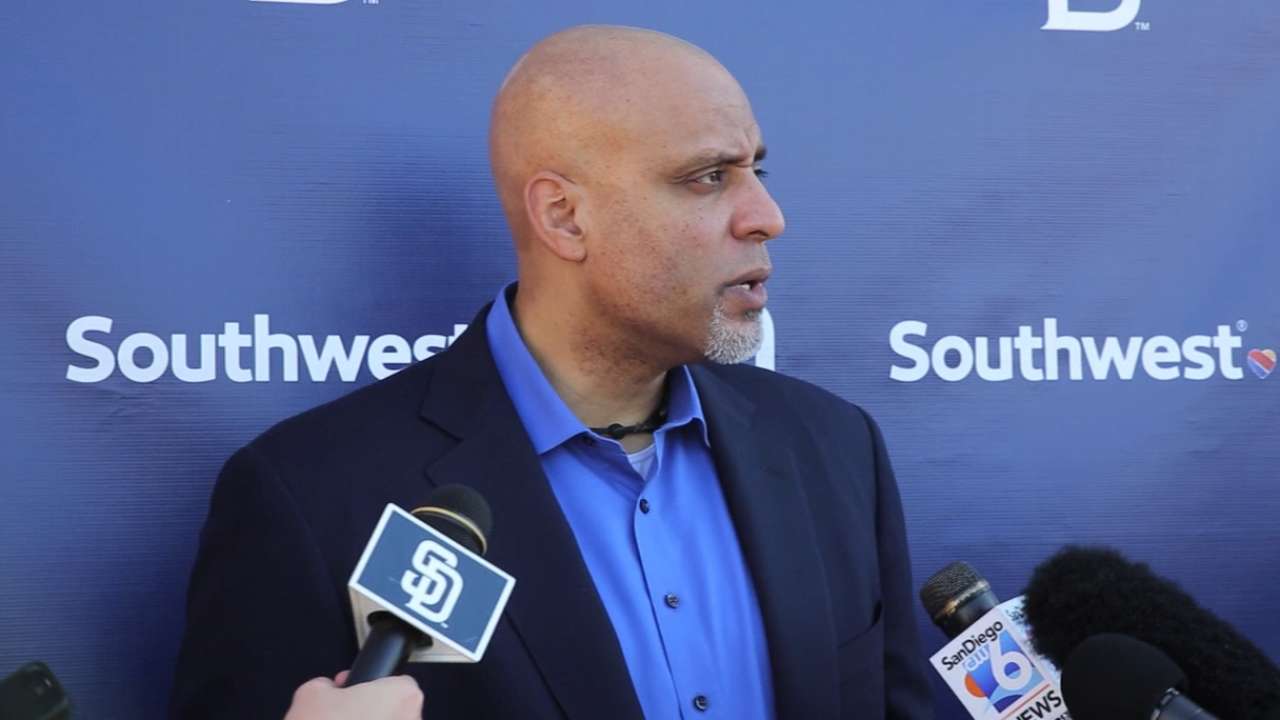 LAKELAND, Fla. -- Tony Clark was talking with reporters on the field at Joker Marchant Stadium Tuesday when he stopped in mid-sentence. He recognized a face.
"Hey," he said, "how are you doing?"
He was greeting one of the grounds crew members, among the many Lakeland city employees whose time dates back to when Clark was a player here.
"That's the first time I've seen him in 20 years," Clark marveled. "The face, that was an easy one."
At Tigertown, the history is about a lot more than ballfields and buildings. Even in his position as executive director of the Major League Baseball Players Association, Clark is a part of the history here.
"It's great that there's as much baseball history as they have here," Clark said. "Oftentimes, it gets lost. There's not nearly as much in some of the organizations and some of the clubhouses."
He came up when Alan Trammell was the shortstop. Now, Trammell is a special assistant, teaching players, sitting among the legendary Tigers who come back each spring to help.
"When I first came in," he continued, "it was Trammell, [Lou] Whitaker, Cecil [Fielder], [Kirk] Gibson, Eric Davis, [Mike] Henneman. I was fortunate to be around a group that, despite the fact that I'm 6-7 and 255 pounds, I had never been more uncomfortable in my life."
It was awkwardness that led to a first day of Spring Training in 1994, his first year in big league camp, that he'll never forget.
"I'm so uncomfortable," he said, "that I'm having to inhale Pepto-Bismol before coming out to stretch. I come out to stretch, and it was right over here."
He points towards the right field corner, where Tigers players today go out to stretch.
"We're all sitting down, I'm kind of off to the side, and Sparky [Anderson] comes out and says, 'Hey guys, I've got a question.' So now, Sparky's got everyone's attention. And he says, 'What do Michael Jordan and Tony Clark have in common?' And I'm thinking, 'Oh, it's Day 1.'
"He said, 'Neither one of them played baseball since high school.' That was my very first day, my very first stretch. Rest assured, the Pepto-Bismol, that schedule continued for quite some time."
His other favorite memory, he claims, was that he hit a ball over the giant batting eye beyond the center field fence while hitting off a tee. Whether the exact memory is true, the power was memorable. When manager Brad Ausmus was asked earlier this spring to compare top prospect Steven Moya's power, he used Clark as a comparison.
"He's the only one I can remember before they moved the fences in at Comerica, that actually hit a ball out as a left-handed hitter to left-center," Ausmus said. "So it was over the bullpen now."
Clark, too, has memories from his playing days, and those of Ausmus stood out.
"Ausmus was a manager while we were playing," he said. "Ausmus was one of the few guys that could tell me to swing the bat, and I knew where [the advice] was coming from."
Moya, like Clark, is 6-foot-7.
"Anytime I'm looking eye to eye with a player, it's impressive," Clark said.
Jason Beck is a reporter for MLB.com. Read Beck's Blog and follow him on Twitter @beckjason. This story was not subject to the approval of Major League Baseball or its clubs.