Pirates seeing plenty of talent at catcher position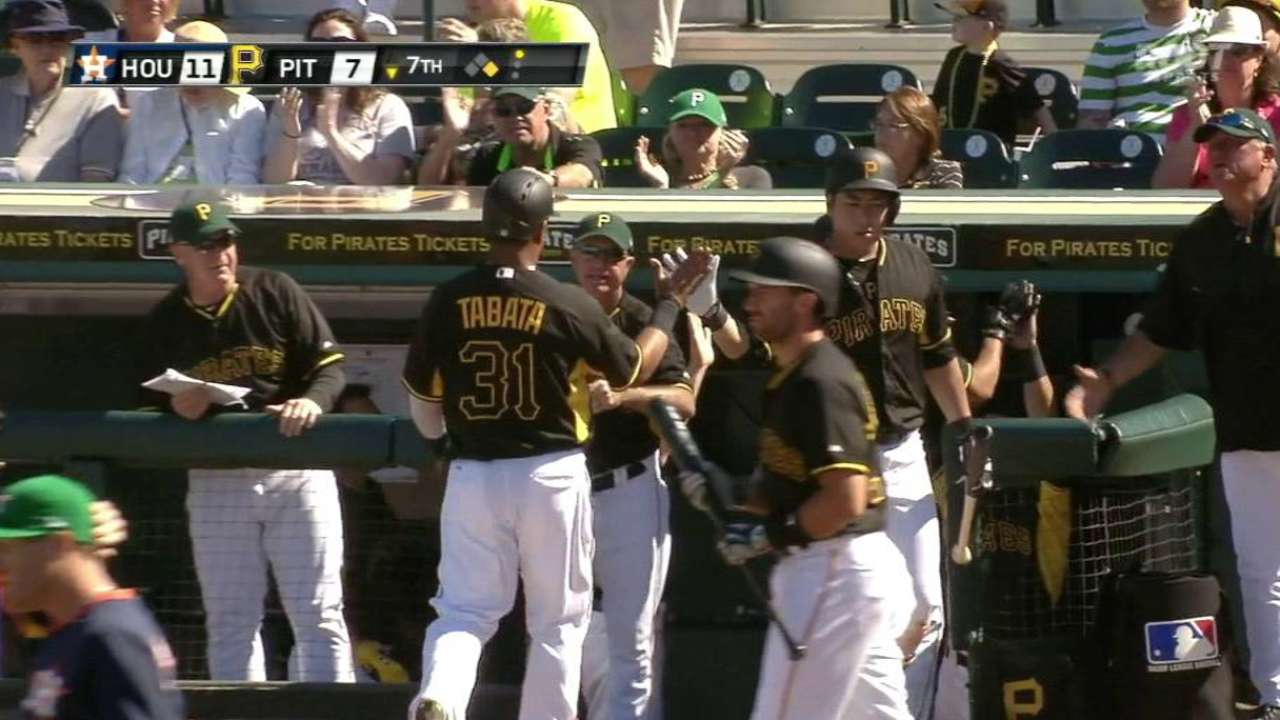 BRADENTON, Fla. -- The Pirates have their big league catching tandem in place, with Francisco Cervelli the starter and Chris Stewart the backup, heading into the year.
But they also have two catchers making a lot of noise in Spring Training with their bats and their defensive work.
It's obviously absurd to think about a Major League team carrying four catchers, no matter how well both Tony Sanchez and Elias Diaz continue to perform this spring.
But hey, manager Clint Hurdle, have you thought about putting three catchers on your 25-man roster?
"We've got a long way to go. We've got two weeks of baseball to go. I would think it would be an interesting concept for us to carry three catchers," Hurdle said Tuesday. "That would be very interesting. I won't say it's on the top of my list. I won't say it's on the bottom of my list.
The Pirates have one bench job up for grabs, though it's likely to go to an outfielder. As it's currently composed, the reserves include infielder Jung Ho Kang, utility man Sean Rodriguez, catcher Chris Stewart and first baseman/outfielder Corey Hart. That leaves one spot open.
Hurdle considered aloud the idea of carrying three catchers when asked about Sanchez, who's gone 9-for-16 with two doubles and a homer at the plate while displaying a greatly improved arm behind it.
"You've got to love the things Tony's brought to camp this spring," Hurdle said. "You've got to love the way he's receiving the ball, blocking the ball, throwing the ball and swinging the bat."
Around the horn
• Right-hander Charlie Morton threw 68 pitches over four innings while facing Minor League hitters at Pirate City on Tuesday morning. Pitching coach Ray Searage was in attendance and reported back to Hurdle that Morton "had as good a sinker as we've seen from him all spring.
"It was a very good outing for Charlie," Hurdle added.
• Second baseman Neil Walker's three-run homer Tuesday was the Pirates' first of the spring at McKechnie Field. Walker is hitting .412 (7-for-17) this spring.
• Third baseman Josh Harrison has five hits in his last eight at-bats and is batting .429 (6-for-14) in six games this spring.
• Cervelli has reached base safely in five straight games.
Adam Berry is a reporter for MLB.com. Follow him on Twitter at @adamdberry. This story was not subject to the approval of Major League Baseball or its clubs.