Locke trying to stay in Pirates' fifth-starter battle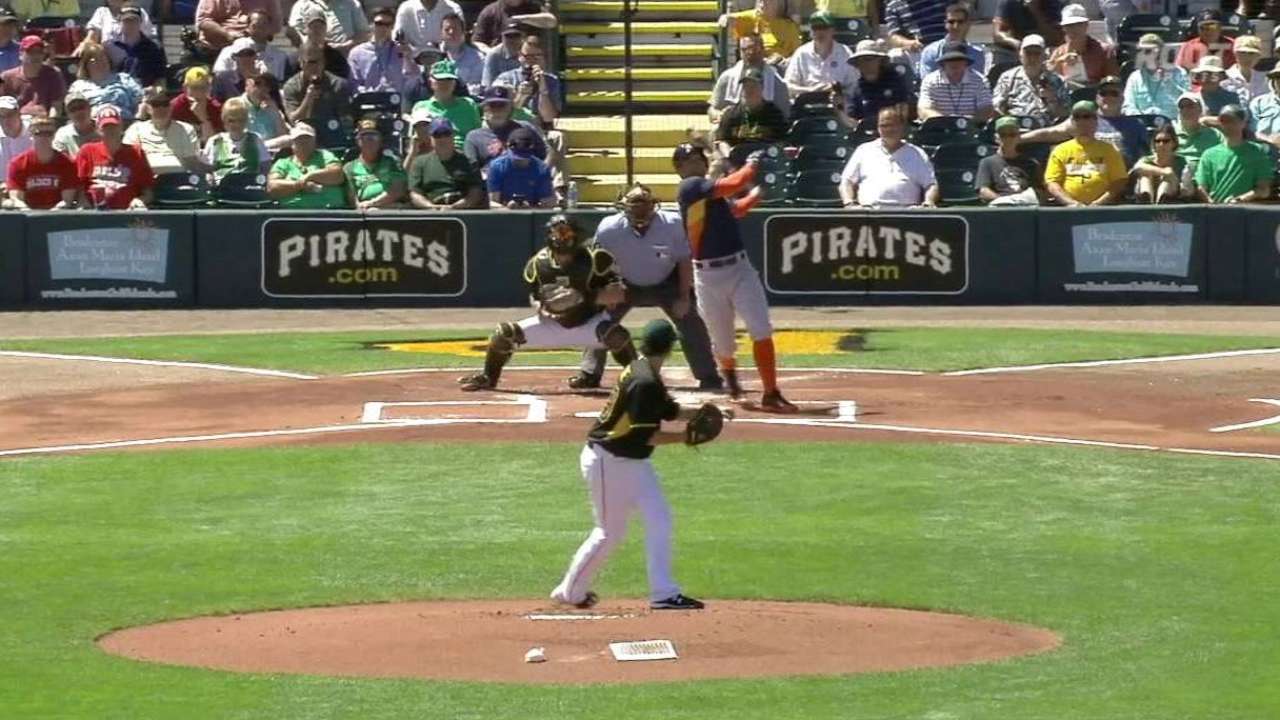 BRADENTON, Fla. -- The Pirates laid out their rotation plans Tuesday afternoon, answering everything but one key question: Who's the fifth starter?
That pitcher, either Vance Worley or Jeff Locke, will take the mound April 10 against the Brewers at Miller Park, breaking up the Bucs' two most similar starters in A.J. Burnett and Charlie Morton. But it could be a while before manager Clint Hurdle announces whether it'll be Worley or Locke in between Burnett and Morton.
"We don't need to [decide] at this point in time," Hurdle said. "Both of them have [a] very good history."
Worley appears to be the favorite based on his performance last year, when he went 8-4 with a 2.85 ERA in 110 2/3 innings. Locke finished 7-6 with a 3.91 ERA a year ago, and his Grapefruit League ERA spiked to an even 9.00 after a rough outing against the Astros, a 13-7 Pirates loss, on Tuesday at McKechnie Field.
Locke gave up six runs on seven hits in three innings. He came back out for the fourth inning but hit his pitch limit before recording an out. Locke said he pitched well to both sides of the plate, but the Astros simply did not miss what was left over the middle.
"Just left some pitches over the plate, and they just fell in," Locke said.
Locke said afterward that he's been given no indication about his standing in the rotation battle with Worley. Both pitchers are out of options, so whoever falls out of the rotation is likely headed to the bullpen. Locke made two relief appearances in 2012, but that's the extent of his non-starting work in the Majors.
"Whatever they decide to do, I'm on board with it," Locke said. "I just want to find any way to help this team win, and I think that's the way everybody else feels, too."
But Locke admits he's not best-suited for a relief role. So, how well would Locke handle that adjustment if asked to pitch out of the 'pen?
"I don't know. I think I can pitch well, and I know I can get big league hitters out. That's never been a question," he said. "Everything would be an adjustment, for sure, but it's still the same game and you've still got to get guys out. You just don't have as much time to really settle in."
Worley has made eight relief appearances in his five-year career, and only one since 2011.
"They both have history starting. They both have a desire to start," Hurdle said. "They also both have a desire to be on this ballclub and do whatever they're asked to do to help this team win. I think that helps that transition a lot."
Adam Berry is a reporter for MLB.com. Follow him on Twitter at @adamdberry. This story was not subject to the approval of Major League Baseball or its clubs.