Blue Jays remain cautious with Encarnacion's back
Slugger hit off tee Tuesday, plans to be ready by Opening Day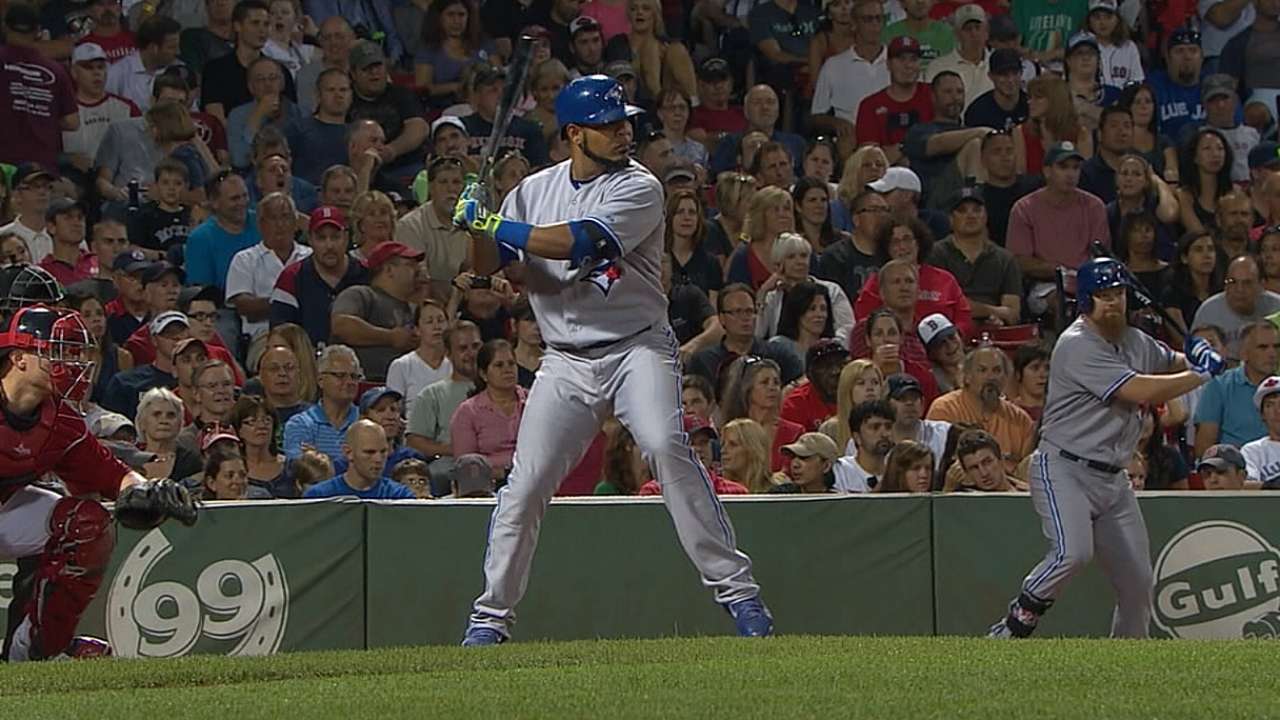 TAMPA, Fla. -- Edwin Encarnacion still isn't ready for game action because of a sore back, but the Blue Jays insist they aren't worried about the veteran slugger, who will help form the heart of the order alongside Jose Bautista and Josh Donaldson.
Encarnacion hit off a tee on Tuesday morning and is expected to take batting practice at some point later this week. The goal is to have Encarnacion return to spring games within seven days and, according to the club, that should be more than enough time to get him ready for Opening Day on April 6.
"Feeling better; I talked to him before the off-day and he's not concerned at all," Blue Jays general manager Alex Anthopoulos said prior to Tuesday night's game vs. the Yankees. "I said, 'No concern on your end about being ready for Opening Day?' And he said 'Absolutely not.' He'll be ready to go.
"The MRI was clean, just a little bit of inflammation. He's absolutely confident he's going to be fine. I think he's supposed to hit here this week and we'll get him going soon."
Even if Encarnacion is ready by Opening Day, the Blue Jays will have to take a cautious approach once he gets back on the field. The ideal scenario would see Encarnacion play most of his games at first base so the club could rotate players through the DH spot with Dioner Navarro receiving the majority of the at-bats.
That scenario now seems unrealistic because Encarnacion likely will need regular rest from the field to avoid any setbacks during the season. Justin Smoak or Daric Barton likely will be the biggest beneficiaries as they continue to compete for a possible starting job at first base.
Blue Jays manager John Gibbons was asked Tuesday whether there was a specific number of games he'd like to see Encarnacion play at first base this year and there was a long pause as he contemplated a plan that clearly is still in a state of flux.
"I don't know, ideally, you'd like him to be out there 150 games," Gibbons said. "The last couple of years, he has been banged up so that's probably unrealistic. You'd love to see that, but I don't think that's going to happen. If even his back isn't bothering him, you want to give him enough rest where it maybe doesn't happen.
"I think he likes being on the field, he's into the game, and I think that always helps. DHing full time, it's definitely a different mindset. He has to play first base in Interleague Games, anyways, but we'll see."
Gregor Chisholm is a reporter for MLB.com. Read his blog, North of the Border, and follow him on Twitter @gregorMLB. This story was not subject to the approval of Major League Baseball or its clubs.