Nathan, Rondon rebound in relief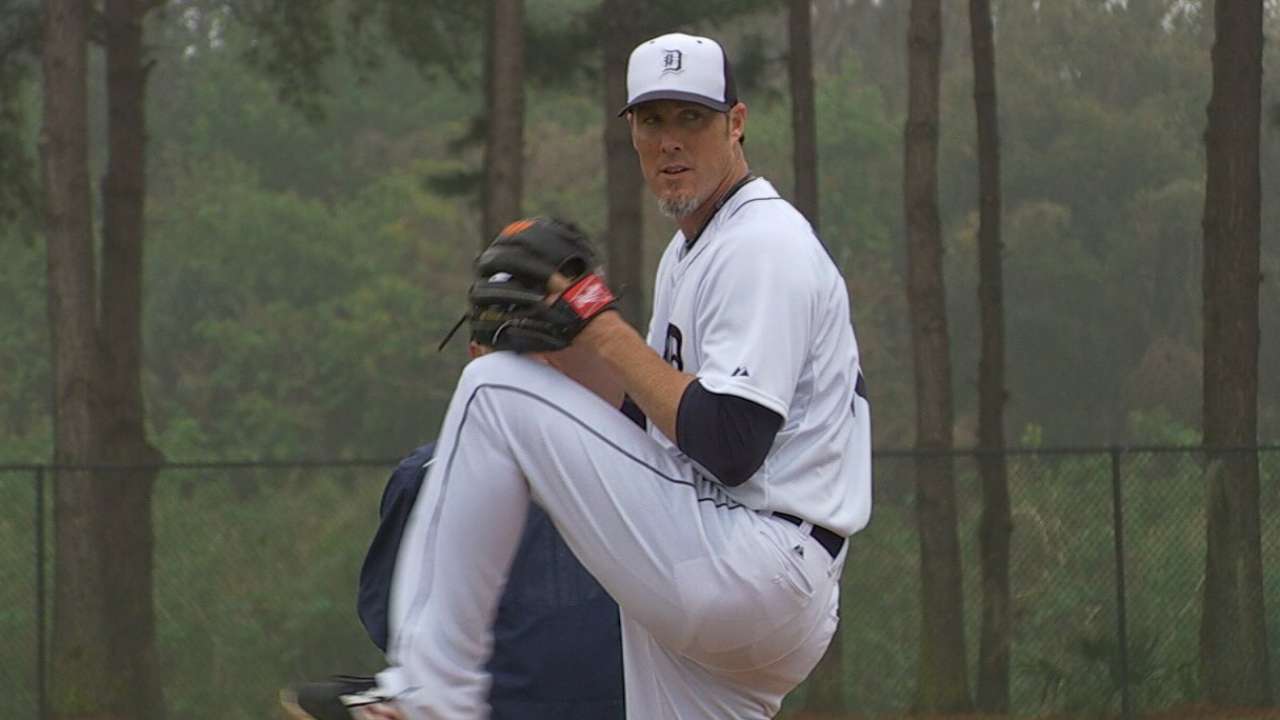 LAKELAND, Fla. -- Neither the traditional St. Patrick's Day sight of the batboy dressed as a leprechaun, nor the less-than-traditional sighting of former manager Jim Leyland dancing to the YMCA song from the press box between innings could warm up the crowd at Joker Marchant Stadium for Joe Nathan's entrance Tuesday. Upon his introduction for the fifth inning, he was greeted with a hearty round of boos.
"I was hoping it would be a one-time thing," Nathan admitted of the reaction.
When he walked off the mound a few minutes later, having retired the Washington Nationals in order, he was showered with cheers, including a standing ovation from a handful of fans. If it's going to become a short-term thing, he'll need more outings like that to make it that way.
That said, his focus Tuesday was more on how he felt throwing.
"It's kind of what I was hoping for after last time," he said. "Just after an extended inning and coming back quick … I was hoping doing that would allow me to feel good today and feel like I can get behind it a little bit more and have more on each pitch. I kind of got exactly what I was looking for today."
Most of the Tigers' relievers who threw on Tuesday could say the same. Bruce Rondon, who gave up two hits, a walk and a run in his last outing Sunday, yielded a pair of singles in the eighth inning, but struck out two batters. His fastball sat at 99 mph, according to a scout in attendance, and he spotted changeups effectively, including one for a strikeout. Joakim Soria retired the Nationals in order, extending his spring string to four shutout innings on one hit with three strikeouts.
The one reliever to give up runs was Joba Chamberlain, who allowed two runs on two hits, walked one batter and hit another.
"It's certainly nothing to be concerned about," manager Brad Ausmus said of Chamberlain. "I think Joba's a guy that the higher the pressure, the better he is. That's not always going to work out, but I think the adrenaline makes Joba perform at a higher level."
After not throwing a pitch above 89 mph last Saturday, Nathan hit 92 mph on a scout's radar gun Tuesday. Just as important, he was locating his fastball around the corners and down. If he was missing, he was doing so down and off the corners, rather than in the middle of the plate.
He ran the count full after throwing first-pitch strikes to all three batters, but he finished them all off -- Matt Skole on a sharp grounder to first, Tony Gwynn Jr. on a check-swing strikeout and Ian Desmond on a fly out to right field.
The strikeout of Gwynn showed the importance of fastball location and variety for him at this point in his career. He threw a 3-1 fastball that caught the corner to run the count full, then after a foul ball, threw a two-seamer in a similar location that induced Gwynn to chase.
"We went four-seam fastballs the whole at-bat," Nathan said, "and then I figured he saw enough four-seamers, so we tried to just mix it up. [I] started it exactly where the four-seamer started and dropped it out of the zone."
Jason Beck is a reporter for MLB.com. Read Beck's Blog and follow him on Twitter @beckjason. This story was not subject to the approval of Major League Baseball or its clubs.