Liriano named Pirates' Opening Day starter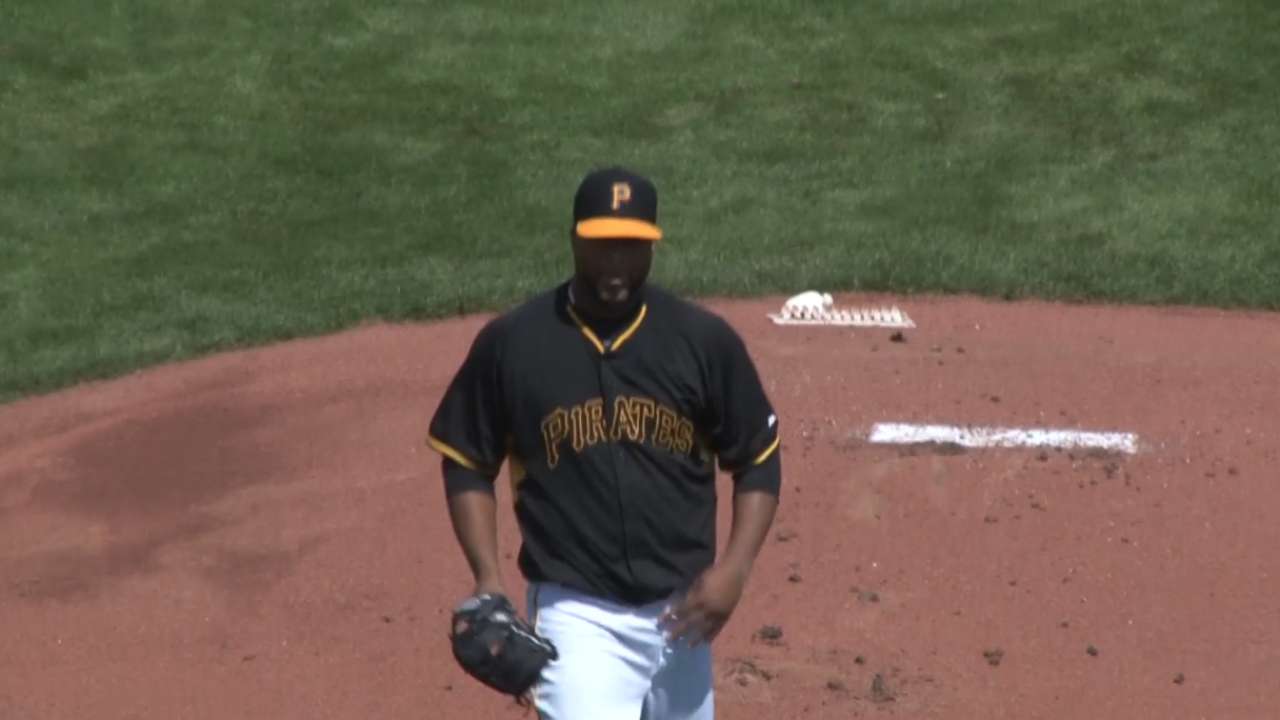 BRADENTON, Fla. -- For the better part of the last decade, the Pirates began each season with a different starting pitcher on the mound. Zach Duke began the streak in 2007, and it stretched on through the years, seemingly a testament to the Pirates' lack of elite pitching.
But the streak will end April 6 at Great American Ball Park in Cincinnati. For the second straight year, left-hander Francisco Liriano will start for the Pirates on Opening Day.
Liriano will be the first Pirates pitcher to start on consecutive Opening Days since Oliver Perez did so in 2005-06.
In making the announcement Tuesday afternoon, manager Clint Hurdle also set Pittsburgh's rotation, with one slot still up for grabs. Right-hander Gerrit Cole will start the second game, followed by A.J. Burnett, the club's Opening Day starter in '13, in the third spot.
The fourth game, April 10 in Milwaukee, will go to either right-hander Vance Worley or lefty Jeff Locke, depending on who wins the job coming out of Spring Training. Right-hander Charlie Morton will round out the rotation.
That arrangement sets up Cole to start the Pirates' home opener against the Tigers on April 13 at PNC Park. Before choosing Liriano, the Bucs considered Cole and Burnett for the Opening Day nod.
"It's good when you've got a number of people you need to talk about," Hurdle said.
Liriano, 31, was a question mark when the Pirates signed him two springs ago. He fell from the top of the Twins' rotation, put together a 5.23 ERA in 2011-12 and wound up getting traded to the White Sox. But the Pirates gave him a shot in 2013, and Liriano turned his career around.
Over the last two seasons, Liriano is 23-18 with a 3.20 ERA in 55 starts. He led the team with 175 strikeouts in 162 1/3 innings last year, and the Bucs signed him to a three-year, $39 million deal over the offseason.
"Frank has earned it," Hurdle said. "When Frank's been healthy, he has been just a very solid anchor in our rotation.
"We had a lot of conversation, deservedly so. We just feel this is our best fit getting out of the blocks."
The Pirates don't know where they'll finish this season, though they have justifiably high hopes. Liriano helped them end a 21-year playoff drought in 2013, and they returned to the postseason once again last year.
And so Liriano will scale the mound at Great American Ball Park as the Pirates look to continue their postseason streak while ending their Opening Day carousel.
"We just want to put to rest that we've had nine different Opening Day pitchers in a row," Hurdle said, grinning. "We just wanted to settle down and just kick that to the curb."
Adam Berry is a reporter for MLB.com. Follow him on Twitter at @adamdberry. This story was not subject to the approval of Major League Baseball or its clubs.