Non-roster invitees still in mix for Opening Day roster
Marquis, Boesch among players impressing for Reds this spring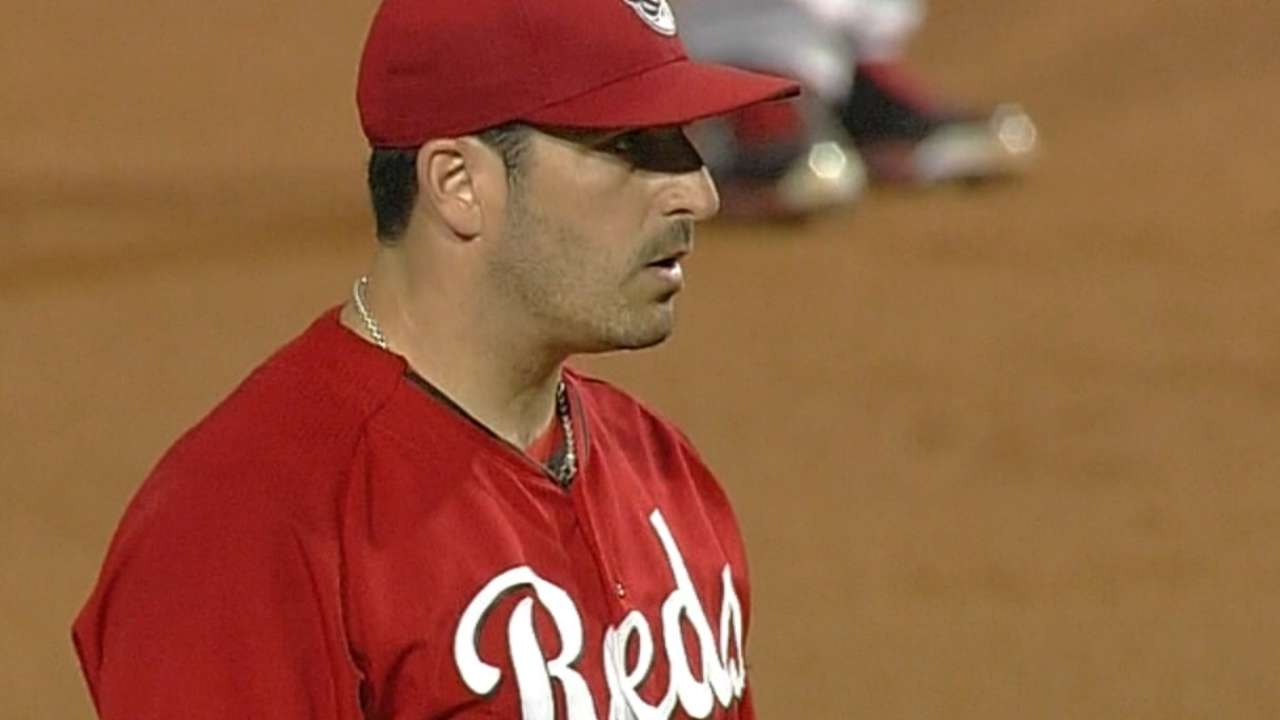 GOODYEAR, Ariz. -- It's mid-March, and a look up at the white board in Reds manager Bryan Price's office tells an intriguing tale.
Several players in big league camp on non-roster invites are still in the mix for 25-man roster spots when the regular season opens, including veteran starters Jason Marquis and Paul Maholm, outfielder Brennan Boesch, who's hit three home runs this spring, utility man Chris Dominguez and relievers Michael Lorenzen and Kevin Gregg.
"I've been in other organizations and other teams where you feel like it's almost open tryouts, simply because you have more holes in your roster and your 40-man roster is comprised more of young prospects than it is with established veterans," Price said. "So our situation here is the fact that we had to do some things to create some financial flexibility by moving two starting pitchers [Mat Latos, who was traded to Miami, and Alfredo Simon, who was traded to Detroit].
"But it's kind of exciting. It's a nice change. I'm sure it is for all the guys that are in camp. As opposed to looking up and going, 'Oh man, the depth chart. There's no place for me.' We're getting great effort and performance from guys that know they have a shot to make our club, and that, to me, is exciting."
Some of this opportunity has been created by injuries to starter Homer Bailey, outfielder Jason Bourgeois and reliever Sean Marshall, and some has been a result of eye-opening performance.
Then again, Price said he simply can't put too much stock into the small sample of work in Spring Training games that can lead one to think that players who have struggled in recent big league seasons have had epiphanies, or that there's great reason for concern about established Major Leaguers slumping through March.
"When we get these stats, the only things these things are good for is to see how many at-bats your guys are getting and how many innings," Price said. "Because all the other stuff, as much as people say it's greatly relevant, it's really not."
Doug Miller is a reporter for MLB.com. Follow him on Twitter @DougMillerMLB. This story was not subject to the approval of Major League Baseball or its clubs.