Ellsbury sits out with 'mild' abdominal strain
Girardi not currently concerned, plans to rest center fielder two games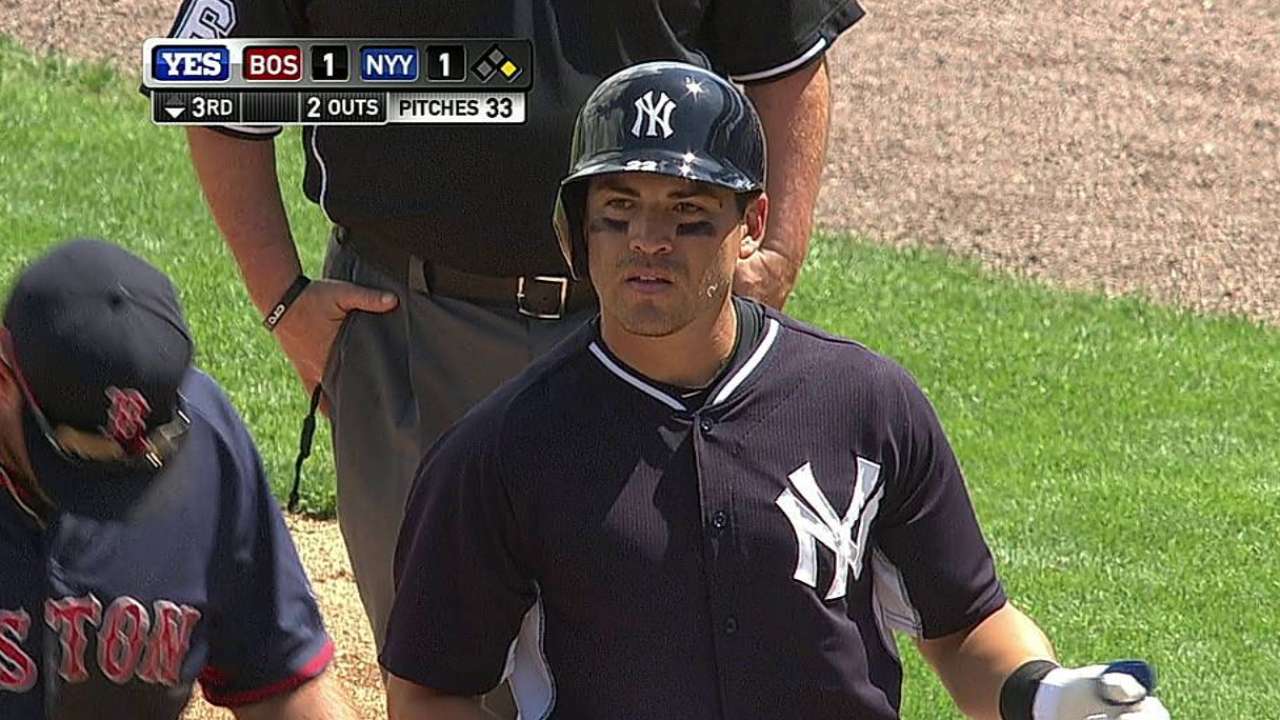 TAMPA, Fla. -- Jacoby Ellsbury will sit out at least the next two games as he deals with, what Joe Girardi say is, a "mild, mild, mild, mild" abdominal strain.
"He said he felt it a little bit when he coughed and stuff," Girardi said. "He didn't ask out of the lineup, I said, 'Well, I'm not gonna play you.'"
The Yankees sent Ellsbury to the doctor, but it was determined that, at least for now, the outfielder won't require an MRI.
Ellsbury first noticed the injury before Sunday's 3-2 win against the Phillies, although Girardi said the former All-Star didn't feel anything during the actual game. Girardi wasn't sure how the center fielder sustained the injury.
Ellsbury will be reevaluated on Thursday before New York hosts Philadelphia at George M. Steinbrenner Field.
"I'm not going to play him today and I'm not going to play him tomorrow, and then we'll go from there." Girardi said. "Am I concerned? I'm not too concerned."
Bombers bits:
• Alex Rodriguez hit second and played third base on Tuesday. Girardi has been happy with his play, but would like to see his third baseman range to his left and right more. As for playing Rodriguez at first, Girardi isn't in any rush.
"I actually toyed around with it a little bit possibly coming up this week, but I'm not sure that I'll do it," Girardi said. "We have Garrett Jones, who's very capable of playing there. I'll wait another week or so."
• CC Sabathia made his first start of the spring against the Blue Jays at Steinbrenner Field on Tuesday. The lefty threw 30 pitches during his last simulated game and Girardi expected Sabathia to throw about 35 or 45 on Tuesday.
• Andrew Bailey will make his first appearance in 20 months on Wednesday when the relief pitcher travels with the Yankees to play the Braves in Kissimmee. Bailey, who had shoulder surgery 2013, hasn't pitched since July 12 of that year when he was a member of the Red Sox.
• Brendan Ryan could be back in game action by the end of the week. The middle infielder sustained a mid-back strain while lifting weights a few days before Spring Training and has yet to make a Grapefruit League appearance. Girardi still thinks Ryan could be ready to be a part of New York's roster on Opening Day.
"You don't really have to get him in shape to play every day," Girardi said. "He's a guy that's probably a real good candidate to get some extra at-bats in Minor League camp."
David Wilson is a contributor to MLB.com. This story was not subject to the approval of Major League Baseball or its clubs.