Solid Hutchison, Castro lead Blue Jays over Yanks
Reyes, Viciedo and Navarro each pick up pair of hits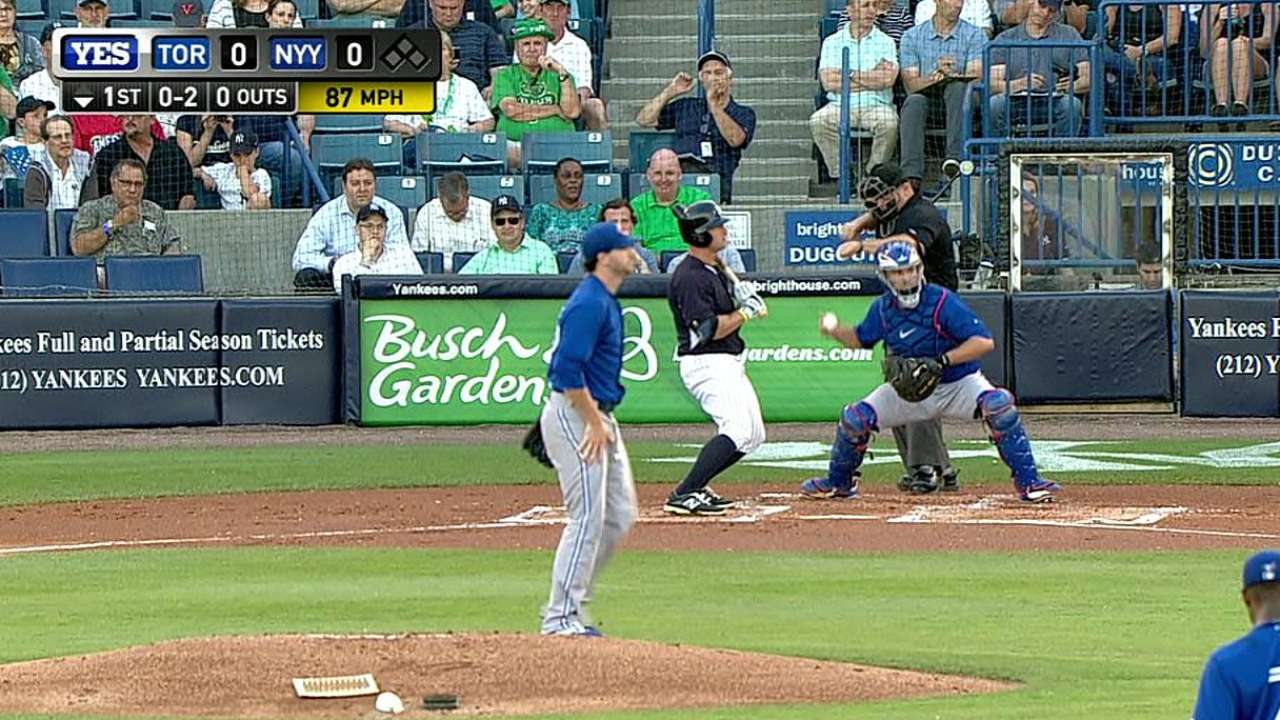 TAMPA, Fla. -- CC Sabathia made his return to the mound in the Yankees' 4-2 loss to the Blue Jays at George M. Steinbrenner Field on Tuesday.
The starting pitcher, who last pitched on May 10, 2014, retired Jose Reyes, Josh Donaldson and Jose Bautista to start the game before hitting a bump during the second inning.
Toronto catcher Dioner Navarro led off with a single and scored on a two-out double by outfielder Dayan Viciedo. Second baseman Devon Travis added a single to drive home Viciedo before being thrown out at home on a double by catcher Josh Thole.
"Obviously, you don't want to give up runs, but it being Spring Training, it is what it is," said Sabathia, who threw 31 pitches and struck out two. "But just being able to command the baseball and let it go, throw it hard, it feels good."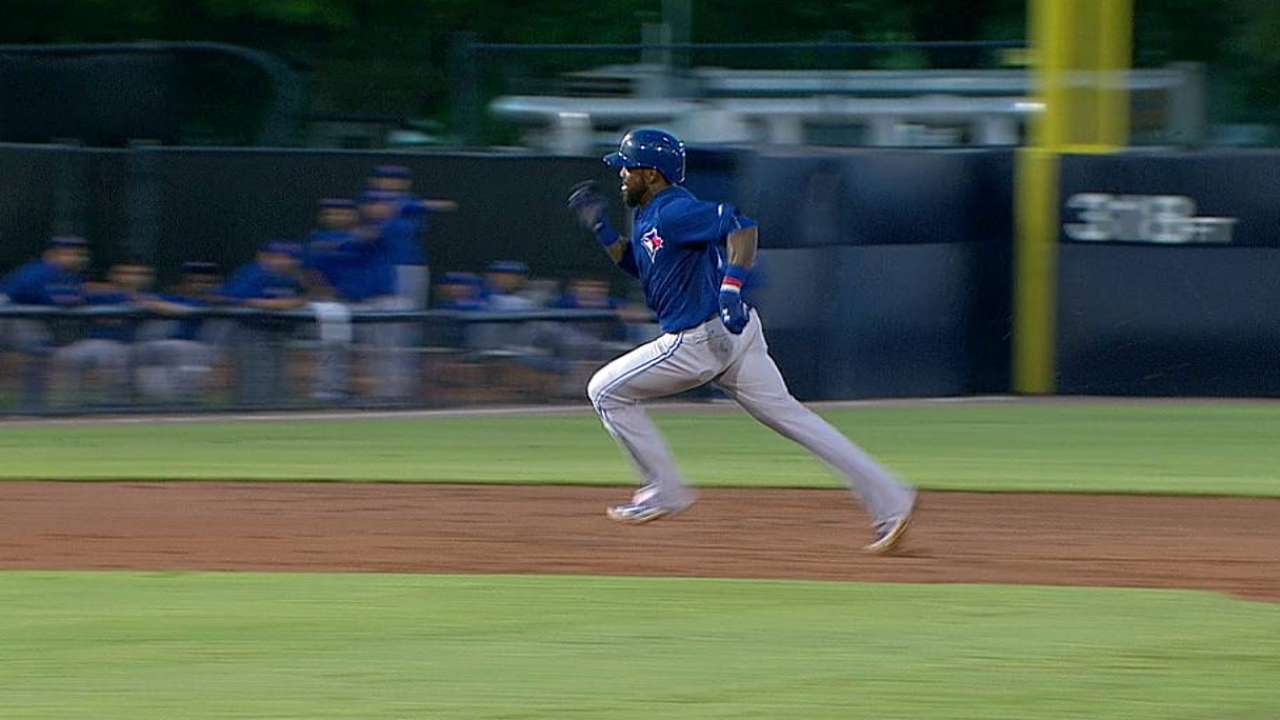 Reyes led off the third with a triple off Dellin Betances and scored on a Donaldson groundout for the decisive run of the Blue Jays victory.
Toronto starting pitcher Drew Hutchison went four innings in the win, throwing 60 pitches and allowing a pair of runs on four hits and a walk. During his fourth and final inning, New York first baseman Mark Teixeira launched a solo home run to center field in his second at-bat of the game.
The Yankees first got on the board after Garrett Jones walked with one out in the second and scored after consecutive singles by outfielder Chris Young and middle infielder Stephen Drew.
"It's just a process of continuing to build up," Hutchison said. "There's just a couple of times where I missed a few times and then I was able to get back into rhythm a little bit; just one of those things when you're out there and you're trying to get everything back going again."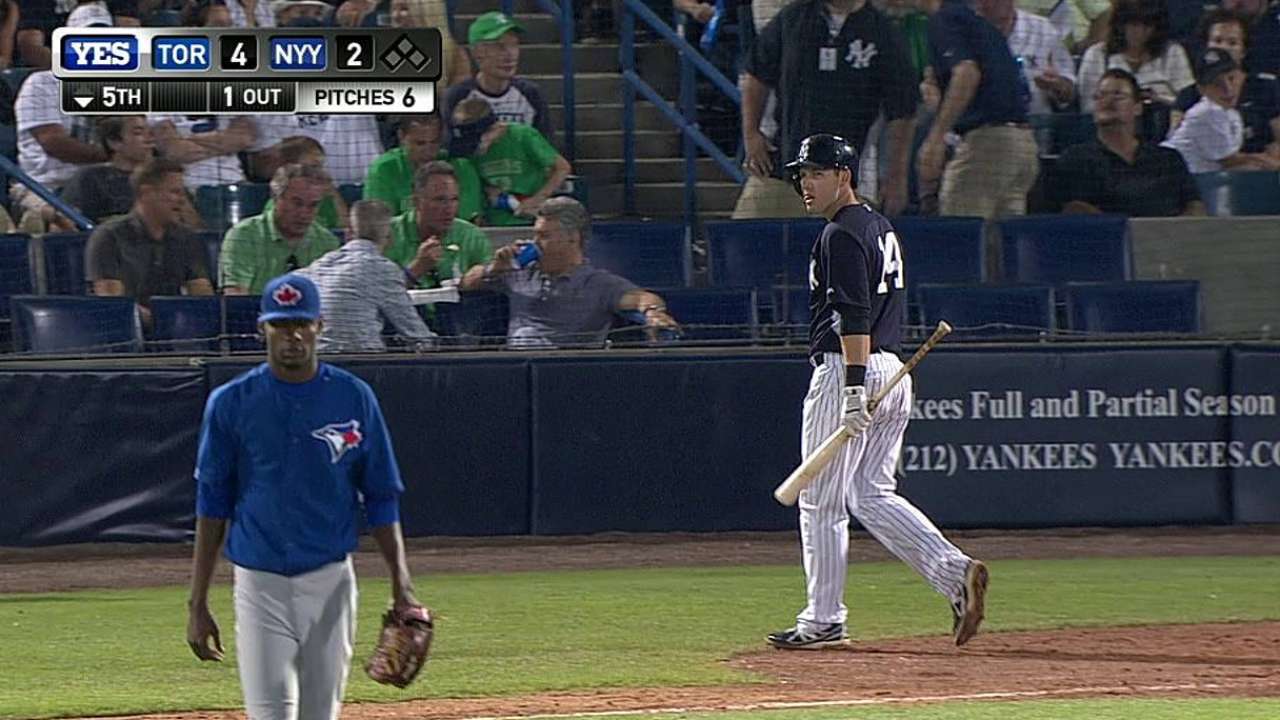 Young right-hander Miguel Castro impressed, throwing 2 2/3 shutout innings. The 20-year-old also picked up a pair of strikeouts.
The Yankees gave most of their regulars a chance for three at-bats to mixed results -- Teixiera and outfielder Carlos Beltran each went 1-for-3, and Alex Rodriguez and outfielder Brett Gardner each went 0-for-3 -- while Toronto's top three hitters all capitalized on at least one of their three plate appearances.
Up next for the Blue Jays: Left-hander Mark Buehrle will take the mound when the Blue Jays host the Rays on Wednesday afternoon at Florida Auto Exchange. Buehrle will be making his third start of the spring and is expected to throw five innings. Aaron Loup, Steve Delabar, Jeff Francis, Wilton Lopez and Kyle Drabek are tentatively scheduled to pitch in relief. Loup and Delabar appear to be locks to make the Opening Day roster while Francis, Lopez and Drabek are competing for the remaining spots in the bullpen. Fans can listen to the game live on Gameday Audio at 1:07 p.m. ET.
David Wilson is a contributor to MLB.com. This story was not subject to the approval of Major League Baseball or its clubs.