Braves finalize multiyear partnership with Comcast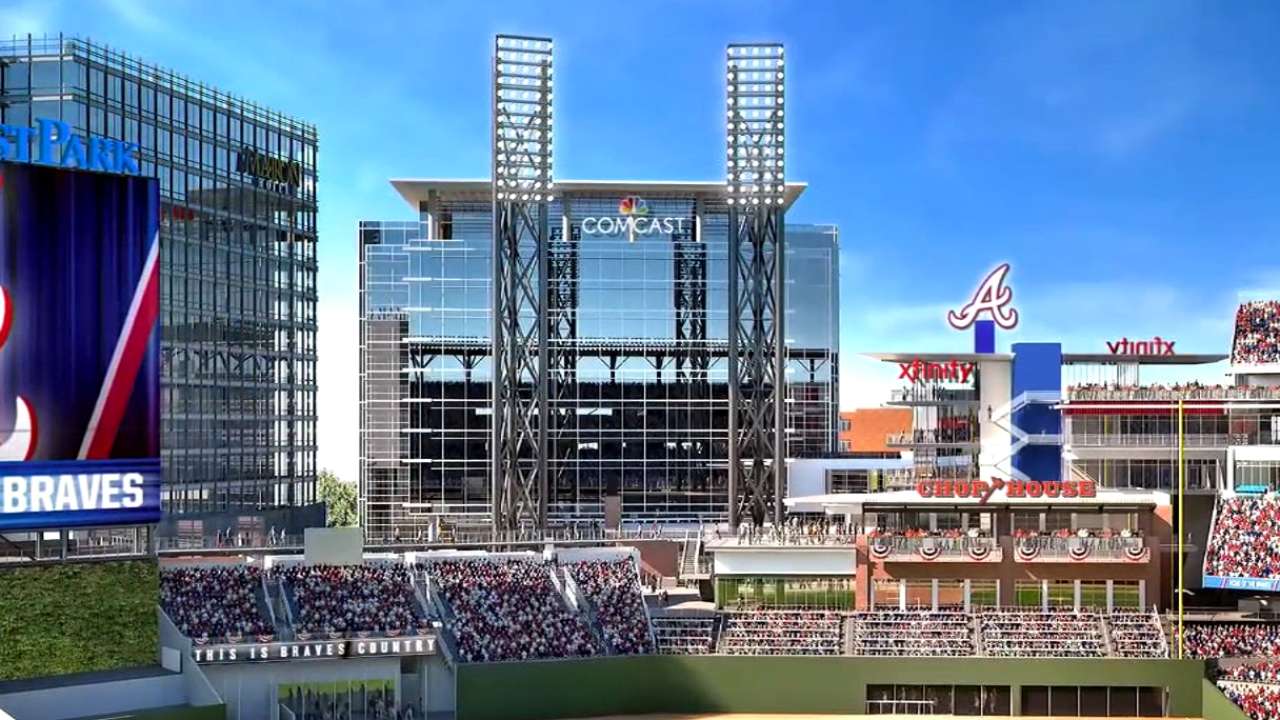 ATLANTA -- The Atlanta Braves and Comcast are believers in the potential of technology. On Tuesday morning, they agreed to head into the future together, signing a multiyear partnership.
The multiyear deal will allow the Braves to tap into Comcast technology and offer an extremely fast network of Internet capability for their new home, SunTrust Park, and allows Comcast to become the primary tenant in a nine-story edifice that, once completed, will serve as its new southern and midwestern headquarters.
"Today is a major milestone for our new ballpark and mixed-use project," said Braves chairman and CEO Terry McGuirk, speaking in front of a group of nearly 100, including such dignitaries as Georgia Gov. Nathan Deal, Comcast chairman and CEO Brian Roberts, Georgia Attorney General Sam Olens, Braves president John Schuerholz, executive vice president of business operations Mike Plant, and executive vice president of sales and marketing Derek Schiller. "One of our goals in this project has always been to create the most technologically advanced ballpark and mixed-use community ever built. To that end, we have engaged the premier partner to help make that a reality, Comcast -- the largest and most important media, entertainment, technology company in the world."
Gov. Deal sees the partnership as a boon to the state of Georgia and a game-changer as far as wooing future business to the state.
"I think all of us should be celebrating the fact that this partnership has occurred," said the Governor. "Comcast has been a longtime good business and corporate partner of the state of Georgia. To see them take this extra step and do it in conjunction with another facility, such as the Braves, is very, very encouraging. I truly think it changes the dynamic of future partnerships across our state, and maybe across the country."
The dynamic of accessing information certainly will be changed on Opening Day 2017 with the opening of SunTrust Park. Comcast's network will provide a terabit of information, offering fans unprecedented high-speed Internet. The Comcast network will include two data centers, each with 10,000 fiber connections that are backed by dual 400 megawatt generators to ensure full redundancy.
"There is nothing like this," said Roberts. "One way to put it is literally all 40,000 people could be sitting at the game [who] want to pull up a 1995 World Series highlight, and every single person on their own screens could watch that [highlight] in a matter of seconds. It's pretty amazing."
Fans will be able to hang out in the XFINITY Lounge, which will be located down the right-field line, and overlook the field on one side and The Plaza on the other. The Lounge is accessible to all fans who have a ticket.
"It's sort of a hip, new tech-oriented place," said McGuirk. "I would think it's going to be more youth-oriented, a younger demographic will want to use it, but it's going to be something that's going to exhibit all of the breakthrough stuff that Comcast is about, that MLBAM is about and can be facilitated by this huge pipe of information that is now going to be available in this ballpark."
As the Braves break in their new home field, Comcast will be working in its new nine-story, 200,000-square-foot office that will serve as the company's headquarters. Roberts sees big things for the facility.
"We have a lab in Silicon Valley, we're building an innovation center in Philadelphia and we're going to put a lab here," he said. "We're going to connect them all virtually together so that the innovation, not just for here in Atlanta or here in Georgia, but all throughout the nation and all throughout the world, as Comcast tries to take that leadership role, this innovation is going to go on for years."
Comcast is expected to hire 1,000 new employees for the facility. Throw in the estimated 5,200 jobs brought in to build the ballpark and the surrounding mixed-use facility, and the expected number of new jobs generated once SunTrust Park and the Plaza's many dining and shopping businesses are put into use, and Gov. Deal's optimism is understandable.
"It is a huge economic impact," said the Governor. "I think we all understand that we all live in a very digital age, and access to high-speed Internet is one of the major driving forces in determinations by businesses as to where they're going to locate. We've already seen the benefit of that here in this North Metro area in particular. This will simply add to this dynamic."
The Braves' eagerness to stand at the forefront of technology is exciting to Schuerholz.
"It's exciting for us, definitely, to partner with a company like Comcast, and they with us," Schuerholz said. "It's just a sign that this is the kind of project at the level we said it was going to be -- very elaborate, very high end, very aggressive. We're delighted to be partners with those guys.
"The kind of technology that Comcast brings to the table and this partnership with us and into our ballpark, at SunTrust Park, is going to take us into the future as well," he added. "Why not be on the cutting edge of new technology? And be partners with a great organization that knows how to do it better than anybody."
Perhaps most exciting to McGuirk is that there are still two years -- "100 weeks," as he put it in his remarks -- of innovation before the Braves even hit the field at SunTrust Park.
"We've made huge strides in the past few years, but frankly, some of the technological breakthroughs that we're going to be putting in the new ballpark probably haven't been invented yet," said McGuirk. "In the next two years we'll be adding. The idea of what we can do in the future, it's all aspirational. The sky's the limit."
Jon Cooper is a contributor to MLB.com. This story was not subject to the approval of Major League Baseball or its clubs.