Hughes sharp as he ups pitch count
Righty tinkering with changeup to bolster repertoire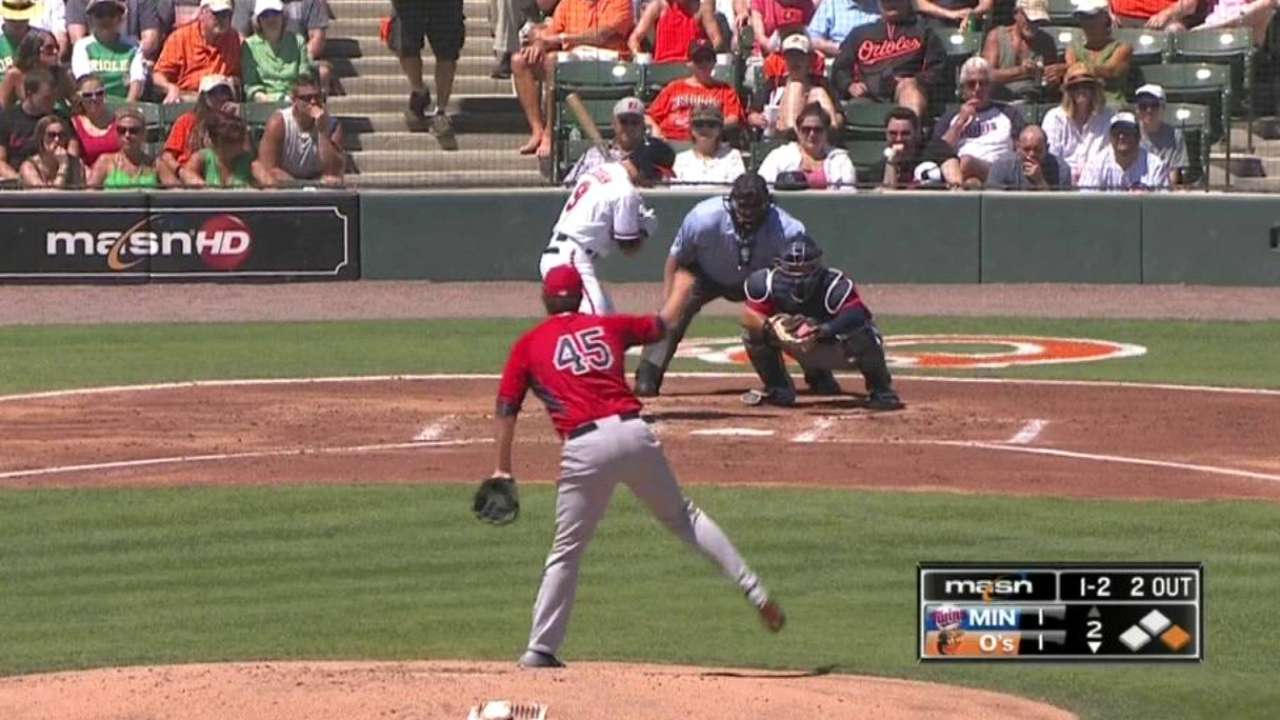 SARASOTA, Fla. -- After struggling in his first two Grapefruit League outings, Twins right-hander Phil Hughes bounced back with a solid outing against the Orioles on Tuesday.
Hughes entered with a 13.50 ERA after giving up a combined four runs in 2 2/3 innings over his first two starts, but he was much sharper against Baltimore, allowing just one run on one hit and a walk over four innings in Minnesota's 10-9 victory. The lone run he gave up came on a solo shot from Chris Davis in the first inning on a fastball on the outer-half of the plate hit to left field. Hughes, though, settled down after that and needed just 45 pitches to get through four innings, which forced him to throw 15 extra pitches in the bullpen to reach his pitch count.
"It was kind of the opposite of my first two outings," Hughes said. "For a minute there, I didn't think I'd be able to get through two, but then I was able to get through four and had to throw a few extra in the 'pen, so it was a positive day on that front. It was good to get my work in and hopefully take another step my next time out."
Hughes also admitted his changeup remains a work in progress, as he's trying incorporate it as a fourth pitch this spring. He said he threw four against the Orioles and none were good pitches, so it remains something he'll tinker with his this spring. But he said it's not a crucial pitch for him, as he used it only a handful of times last year, but he still finished with a 3.52 ERA and just 16 walks in 32 starts last year.
"It's just about getting repetitions with it and trying to get comfortable to see if I can make it a fourth pitch for me to be effective," Hughes said. "I threw maybe four or five last year, so it's not necessarily a pitch I have to have, but if it can be another weapon for me, that's great."
Rhett Bollinger is a reporter for MLB.com. Read his blog, Bollinger Beat, and follow him on Twitter @RhettBollinger. This story was not subject to the approval of Major League Baseball or its clubs.