Despite rough results, Verlander pleased
Righty tops out at 94 in third Grapefruit League start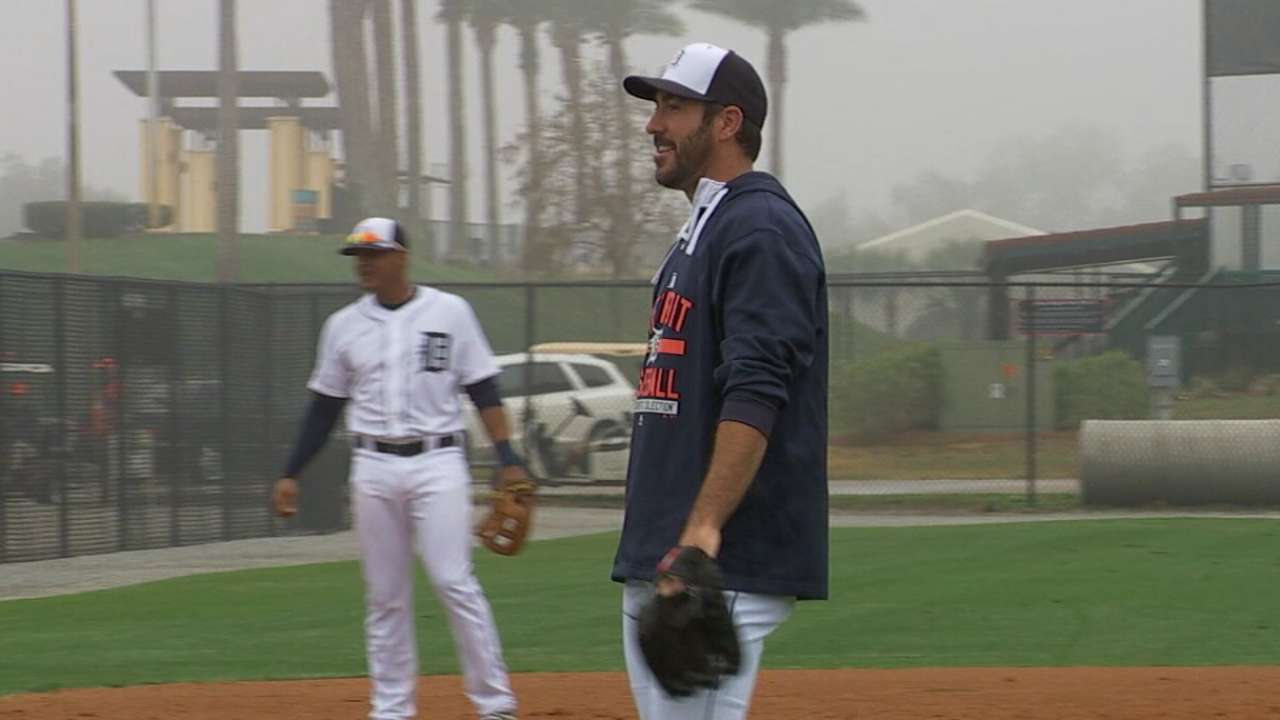 LAKELAND, Fla. -- Justin Verlander can turn most anything into a competition, to the point that teammates know how to push his buttons. A couple of questionable readings from the Joker Marchant Stadium radar gun led to the pitch velocity readings going dark.
"I know in the first inning, I was 91-94 and the first pitch said 88," Verlander said. "I don't think they want me out there freaking out."
And yet, even he couldn't get worked up about Spring Training runs, rare as they have become for him.
"Yeah, I'm pretty happy about giving up runs right now," Verlander joked after his four-inning, four-run defeat Tuesday to the Nationals at Joker Marchant Stadium. "I needed to give up some runs, get that out of the way."
When Ian Desmond tripled and scored in the opening inning, it was the first run Verlander had allowed in Grapefruit League play since March 27, 2013. When Tony Gwynn Jr. sent his slider over the right-field fence a couple innings later, it was the first Spring Training home run off him since Carlos Corporan and Matt Dominguez hit back-to-back homers on March 21, 2013.
For all the woes that plagued Verlander last season, all the cautiousness with his return from core muscle surgery, he posted 20 scoreless innings last spring. If he needed an example of how little Spring Training statistics translate into the regular season, that would be it.
Even so, when he dominated the league in 2011 and 2012, his Spring Training numbers tracked closely with his regular-season success: 48 2/3 innings, 43 hits, nine earned runs, 48 strikeouts in those two springs combined.
For someone whose Spring Training career was atypical for a while, this was pretty routine for most players in a Spring Training: Four innings, five hits, four earned runs, a walk and three strikeouts. He threw 44 of his 60 pitches for strikes.
"This was a typical spring start," he said, "where the numbers don't show it, but I'm pleased."
Gwynn's home run came off the slider, a secondary pitch that has traditionally ranked low on Verlander's list of priorities, but a pitch that is taking on increasing importance as he enters the second half of his career, not just the second half of Spring Training.
"In a real game, if my slider's that bad, I'm not really going to throw it," he said. "It's usually the last thing I work on because it's not that far off of a fastball. It's easier to locate than a curveball."
He paid for not locating the slider. An inning later, he paid again, this time for not locating a 2-2 fastball where he wanted. He watched Kila Ka'aihue drive it over the right field scoreboard, usually the last place Verlander wanted.
"I tried go up and in," Verlander said, "and it crept middle in. That was just another situation where that probably wasn't the sequencing that I really would've done, but I really wanted to try to ride one in there. Just didn't quite get it there."
Verlander's velocity was on the uptick, regularly hitting 92-93 while topping out at 94 mph according to a scout in attendance.
Verlander remains on a path that would put him on the mound for Opening Day if he pitches every five days. Again, though, manager Brad Ausmus didn't announce an Opening Day starter, leaving it officially open for Verlander and David Price, even if Verlander would seemingly have the inside track to continue an Opening Day streak that dates back to 2008.
Jason Beck is a reporter for MLB.com. Read Beck's Blog and follow him on Twitter @beckjason. This story was not subject to the approval of Major League Baseball or its clubs.