Strasburg makes strong case to start opener
Williams not ready to name Opening Day pitcher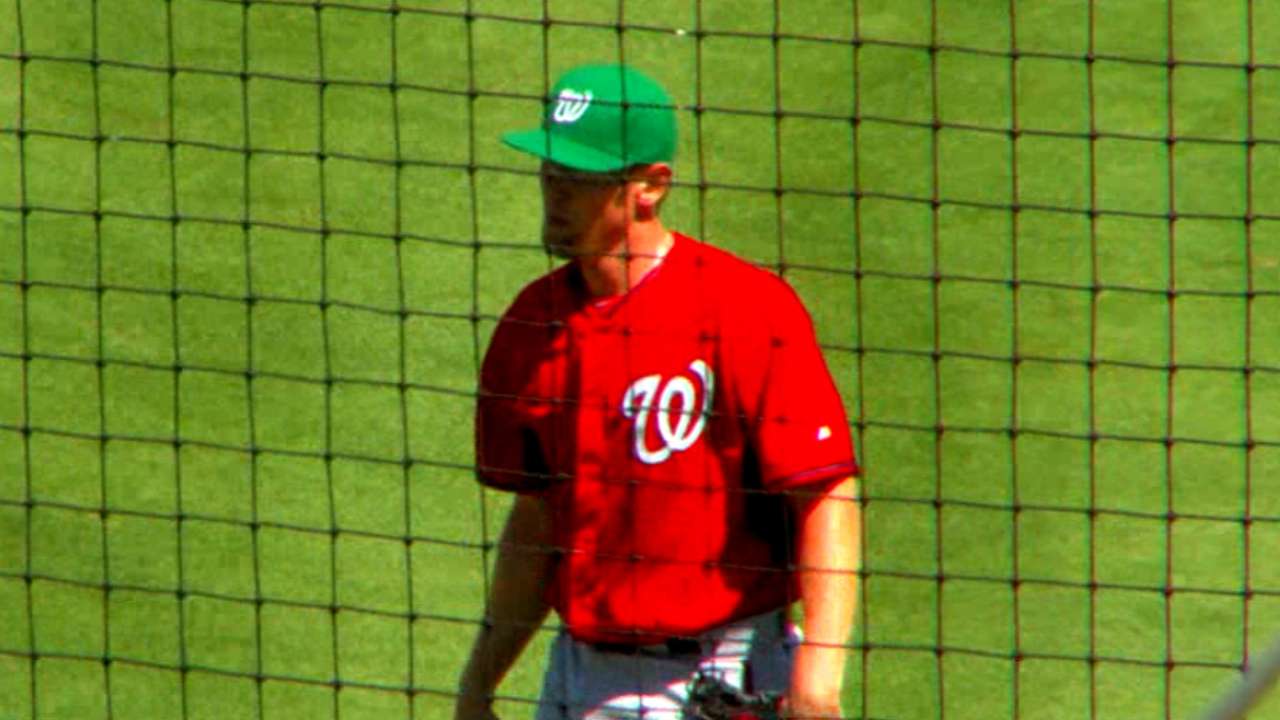 LAKELAND, Fla. -- Stephen Strasburg still remembers his first Opening Day start. It was 2012 at Wrigley Field, where he allowed one run on five hits and struck out five in seven innings as the Nationals beat the Cubs, 2-1.
His second Opening Day start a year later carried just as much importance, because it was his first at Nationals Park. That day he scattered three hits across seven scoreless innings in a 1-0 victory against the Marlins.
"I think it's something that you can tell your kids about someday," Strasburg said after Tuesday's 6-4 win over the Tigers. "I've only known Opening Day in a Nationals' uniform. My first one being in Wrigley was special, and the second one being at home was great as well.
"I think there's something to that atmosphere and everything, but at the same time you're not just preparing for the first game, you're preparing for games that matter, especially at the end."
Strasburg, who has started the last three Opening Days for the Nationals, was in dominant form against the Tigers on Tuesday afternoon at Joker Marchant Stadium. He held Detroit to three hits, and he struck out five in four innings.
And while Strasburg acknowledged the importance of past outings on Opening Day have carried with him, he did not offer the same about the potential of starting this year.
"I just worry about what I can do," Strasburg said. "I want to go out there and give the team the best opportunity to win the ballgame, so I'm just trying to go out there and do my job."
Nationals manager Matt Williams has to sort through that quandary. He has five starters who have legitimate credentials to receive the ball for the season opener on April 6 against the Mets.
"It's prestigious for whoever the guy is," Williams said. "That being said, whoever gets that nod will be excited about it, but I also look at it that every one of our guys has the ability to go out and beat the other team. To put numbers on it is probably not fair to any of them."
Williams was not ready to set the order of his rotation Tuesday, and said part of the reason he has been reluctant to do so stems from the uncertainty that can be caused by injuries.
"To jump out there and say something now is probably not appropriate to any of them," Williams said. "You don't know about how everybody's going to get through the rest of the spring. The decision will be made, and we'll announce it when it's the appropriate time to do so."
Jamal Collier is a reporter for MLB.com. Follow him on Twitter at @jamalcollier. This story was not subject to the approval of Major League Baseball or its clubs.