Hernandez pleased with first spring start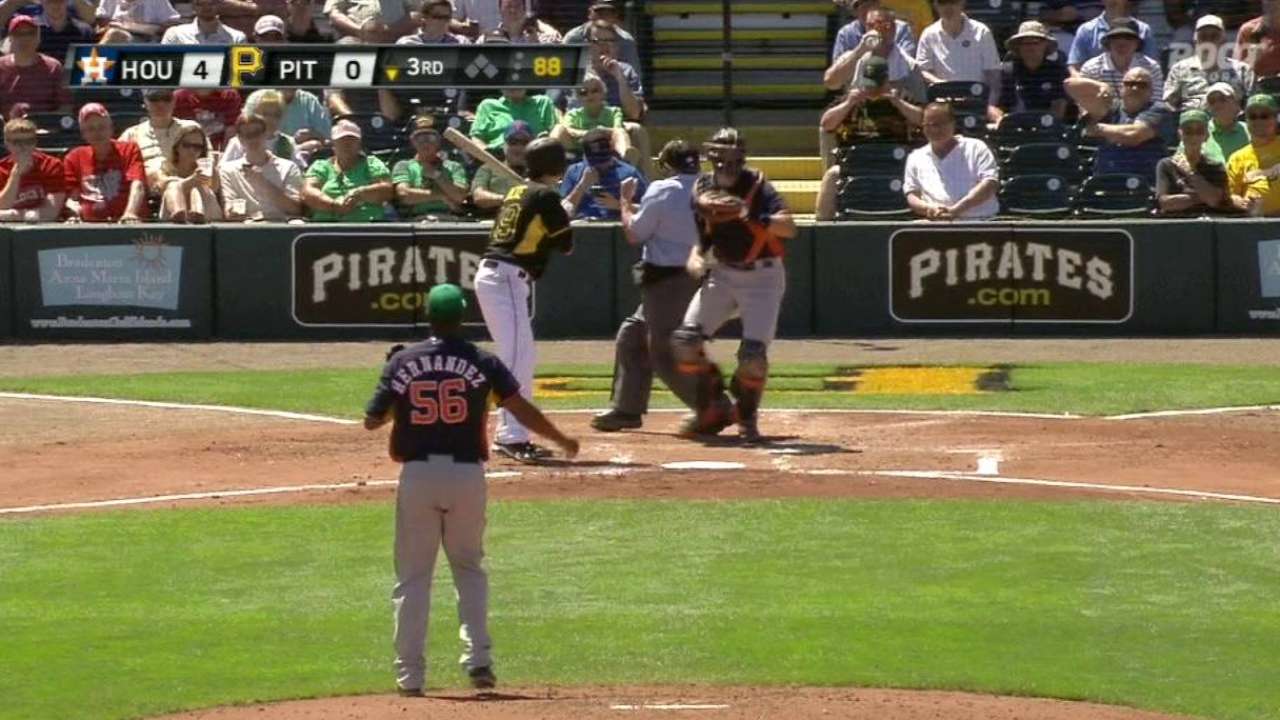 BRADENTON, Fla. -- Astros right-hander Roberto Hernandez came away from his first Grapefruit League start with no regrets on Tuesday afternoon.
Competing for the final spot in Houston's rotation, Hernandez served up three runs -- all coming on a two-out, three-run homer off the bat of Neil Walker in the third -- off four hits and one walk, while also notching a strikeout over three innings of work. He entered the day having allowed two earned runs over five innings in his two previous appearances this spring, both coming in relief.
"My fastball was moving today," Hernandez said. "Then the fastball was flat on the pitch [Walker] hit for a home run, but I can't control that."
Outside of that one pitch, Hernandez was rather pleased with the control he exhibited on his other pitches -- especially his slider. The pitch had been a work-in-progress for the righty, who said it was "much better" on Tuesday after he spent time working on it during his last bullpen session.
"Each time I go on the mound, I think every day is important," Hernandez said. "I won't try to do more than I can do, but every day I pitch, I feel better and better. I'll give everything I have every time I get on the mound."
Every appearance is vital at this point for Hernandez, as he continues to make a bid for Houston's fifth and final starting spot. The veteran hurler is hoping to crack the Opening Day rotation, but still finds himself locked in a battle with a handful of other pitchers.
Two other candidates for that fifth starting spot, Alex White and Dan Straily, followed Hernandez on the mound Tuesday. White allowed one run off two hits and a pair of walks over two innings, while Straily was tagged for three runs off three hits and four walks in his two innings of work.
The next look into the ongoing competition should come on Friday when Samuel Deduno and Asher Wojciechowski are each slated to take the mound in Kissimmee against the Nationals.
Another thing to keep in mind is that Brett Oberholtzer, expected to be the club's No. 4 starter, currently remains sidelined with a lat injury. Though the Astros hope to have Oberholtzer back before Opening Day, they are preparing for the possibility of needing to fill a second rotation spot.
"When you have a competition for one spot, you end up stretching more guys out," manager A.J. Hinch said prior to Tuesday's game. "We got Wojo stretched out, we've got Deduno stretched out, White should get a couple innings [Tuesday], Straily is stretched out [and] Hernandez is stretched out. By building competition for that fifth spot, we have coverage in case things don't progress as quickly as we hope."
Whether or not a second spot indeed becomes available due to Oberholtzer's injury remains to be seen, but the competition for the guaranteed opening at the back of the rotation seems to be far from over at this point.
"The manager hasn't really said anything to me about the competition," Hernandez said. "I come here to do what I'm accustomed to doing. I try to do my job and we'll move forward with what's in God's will."
Paul Casella is a reporter for MLB.com. This story was not subject to the approval of Major League Baseball or its clubs.