MLB.com Columnist
Anthony Castrovince
On star-studded staff, Strasburg has stuff to stand out
In line for OD start over likes of Scherzer, Zimm, righty primed for year everyone's expected of him
LAKELAND, Fla. -- Davey Johnson was here Tuesday checking in on his old team, and he addressed the Nationals' glut of Opening Day starting options simply and succinctly.
"It's probably lined up how [manager Matt Williams] wants it," the former Washington skipper said. "Just count the days."
Stephen Strasburg, having recovered from an ingrown toenail, started Tuesday against the Tigers at Joker Marchant Stadium, and he looked marvelous. So count the days. Assuming a regular schedule of four days' rest from here forward, the righty is right on schedule to start the Nats' highly anticipated April 6 opener at home against the Mets.
Granted, the Nats could use their three off-days late in the spring schedule to mix things up, but you could hardly go wrong with Strasburg as your No. 1. Nobody is smart enough to know which member of the Nats' loaded rotation featuring Strasburg, Max Scherzer, Jordan Zimmermann, Doug Fister and Gio Gonzalez (with Tanner Roark looming in the wings) is going to have the superior 2015 season, but you can pick just about any of them to start the opener without feeling dumb. This is not an especially daunting decision for Williams.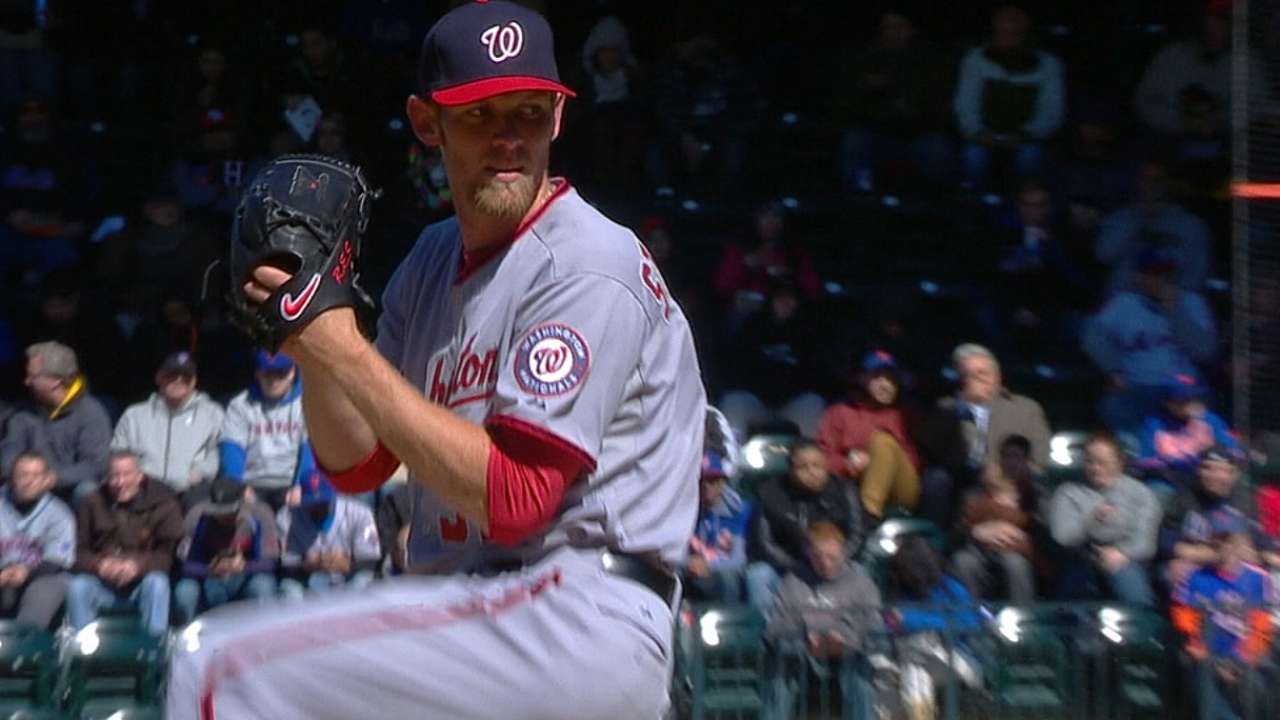 What's far more fascinating is Strasburg's continued development within this supergroup. Throughout his career, he's taken issue with the outrageous attention that surrounded his arrival to the Major League stage, and now he's in a unit in which his talents blend in more than stand out.
"It's probably the way he likes it," pitching coach Steve McCatty said. "All he's ever wanted from Day 1 was to be one of the guys."
But on days like this -- days when he's spotting his breaking ball against the Tigers with such precision that he gets three strikeouts from it with men on third -- Strasburg does much more than merely blend in. On this day, he outpitched Justin Verlander -- a veteran who, like Strasburg, knows the early career attention that comes with a blazing fastball -- and he froze and flustered the Detroit lineup. Strasburg ended the first inning by throwing a curveball for a called third strike on Ian Kinsler, and I swear Kinsler was walking back to the dugout shaking his head before the ball even landed in Wilson Ramos' mitt.
"He was real good today," Kinsler said. "He kept us off-balance."
Strasburg graduated last year. It wasn't just that he finally eclipsed 200 innings years after Tommy John surgery and the infamous 2012 shutdown, though that was a major milestone. It was also his ability, simply, to throw more strikes. And not just strikes that PitchFX would agree with, but strikes that came with swings outside the zone itself. According to FanGraphs.com, Strasburg got swings outside the zone 6.5 percent more frequently, the second-largest improvement of any big league pitcher with at least 75 innings apiece in 2013 and '14 (only Alex Wood had a bigger jump).
On a day like this, you could understand why. When Strasburg is spotting his fastball, changeup and curveball, he can outmatch any lineup. And his continued maturation in terms of understanding opposing hitters is taking him to the levels prescribed for him long ago.
"I just try to throw it in good spots and try not to be too fine," Strasburg said. "When I try to be too fine, I get in trouble. The biggest thing is knowing how to put guys away with two strikes and not leaving the ball over the plate as much."
Tony Gwynn Jr., whose late father coached and mentored Strasburg at San Diego State, was manning center field for the Nats on Tuesday, and he noted how rare it was to get to play straight-up center because of the way Strasburg tails off the mound on each pitch, providing a clear view of the batter. That straight-up vantage point gave Gwynn a good look at what an asset an "on" Strasburg really is.
It reminded him of some of the rave reviews his dad had once given him about Stras.
"I appreciate his maturity on the mound," Gwynn said. "He got into a little bit of a rough patch where he wasn't finding the zone, but he was able to regroup and get the next couple guys out."
That's the kind of maturity it takes to establish durability in this game. Until 2014, it was an open question what a full, unhinged Strasburg would look like at this level. He responded with a major leap in strikes thrown, strikeout-to-walk ratio, and of course, innings accrued.
Verlander, as a function of avoiding the Tommy John travails and playing for an old-school manager in Jim Leyland, made that leap much quicker. And he understands the confidence it can instill in a pitcher.
"It's more proving to yourself that you can do it and stay healthy," Verlander said. "In this game, you do what you train to do. And if you train your body to go out there and throw 200 innings, you're probably going to do it."
Strasburg recovered from the surgery and put himself in position to make a league-high 34 starts last season. The next step in his evolution is firmly shaking off the finesse that can disrupt efficiency. Though the overall innings jump was important, it's nonetheless worth noting that he recorded an out in the eighth just four times last year.
"It's just about him being comfortable in his own skin," McCatty said. "Just going out and trusting himself. That's all. I think he's going to have a really good season. I think that he's learned a lot and how well he does is up to him. It sounds stupid, but he has all the ability in the world, and it's just about him using it. I don't think there's any major step left for him to do, other than go out and just have that one season everybody seems to think he's supposed to have all the time."
Everybody is expecting big things from this Nats' rotation. How could you not? It's a loaded and lethal group that makes this ballclub a prohibitive favorite in the National League East and a popular pick to win the World Series, too. Really, any one of these guys could start Opening Day for any number of clubs, and any one of them could establish himself as the ace among aces.
But count the days. It might all start with Strasburg.
Anthony Castrovince is a reporter for MLB.com. Read his columns and follow him on Twitter at @Castrovince. This story was not subject to the approval of Major League Baseball or its clubs.